Milwaukee Pays $2 Million to Family of Man Who Died in Back of Cop Car
Derek Williams told police that he couldn't breath while sitting in the back of a police car.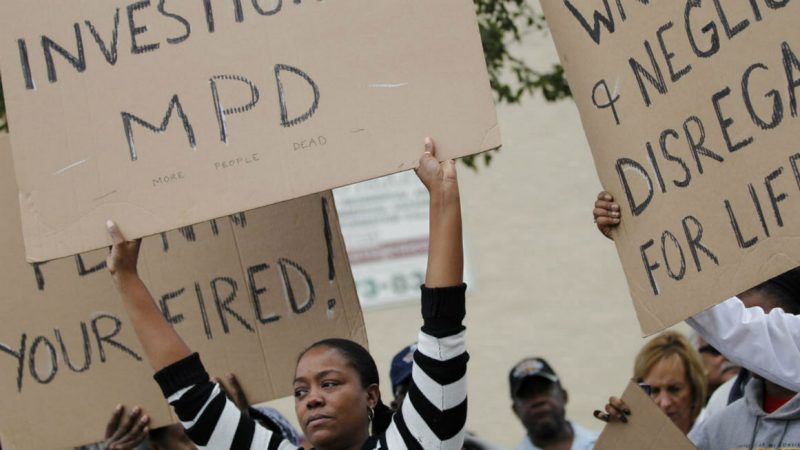 (Kristyna Wentz-Graff/MCT/Newscom)
Eight years after Derek Williams died in the backseat of a Milwaukee squad car, his family is set to receive $2 million in a settlement.
In 2011, Officers Richard Ticcioni, Jeffrey Cline, and Jason Bleichwehl arrested Williams as a robbery suspect. Williams was released from jail earlier that day and was cuffed after running from the officers. Ticcioni reportedly placed his knee on Williams' back during the arrest, causing William to say that he was unable to breathe. While in the back of the squad car, he continued to voice his concerns. Cline told Williams, "You're breathing just fine," even though video from the squad car showed Williams struggling to breathe for several minutes before he died.

Warning: Images may be disturbing to some viewers
A civil suit was filed on behalf of Williams' three children against the officers and the city. The complaint argued that the officers violated a policy requiring them to request assistance for medical emergencies of suspects in their care.
Following the death, the Milwaukee County assistant medical examiner relied on a police statement to conclude that Williams died of natural causes "without incident." Attorneys for Williams' children say that the examiner did not look over police reports or video from the car. Because of this, the medical examiner was not aware of the knee pressed to Williams' back.
After taking that information into account, the cause of death was changed to homicide.
On Tuesday, the city agreed to pay Williams' three young children $2 million over time.
The officers were investigated but never charged. One officer, Bleichwehl, was fired in 2006 for non-disciplinary medical reasons. Police training in Milwaukee has since been updated to address "cultural differences, mental health and physical health conditions that can affect behavior and arrest and pursuit procedures."