Julian Assange Sentenced to 50 Weeks in U.K. Prison for Skipping Bail
And the WikiLeaks founder will be in court again tomorrow.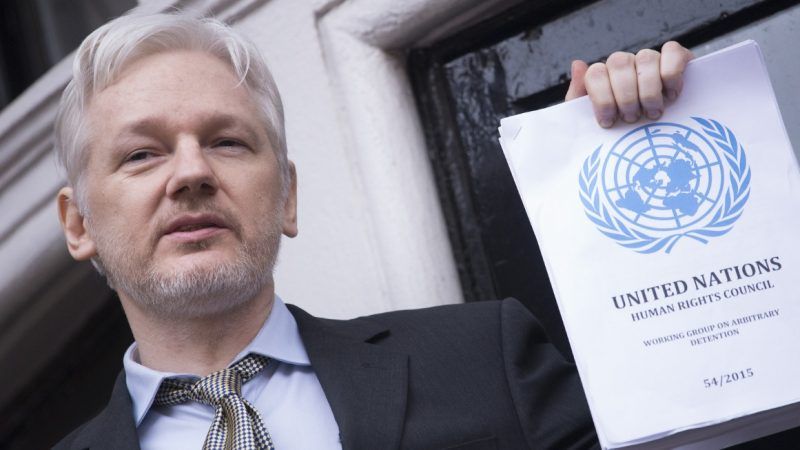 (ECAA/ZDS/Euan Cherry/WENN/Newscom)
WikiLeaks founder Julian Assange was hit with a 50-week prison sentence in a British court on Wednesday for jumping bail.
In 2012, Assange faced allegations of sexual assault, with Sweden requesting he be extradited to that country. As a result, Assange successfully sought refuge at the Ecuadorian Embassy in London, where he stayed until Ecuadorian officials got tired of harboring him and revoked his asylum last month. British police quickly took him into custody.
"By entering the embassy, you deliberately put yourself out of reach, whilst remaining in the U.K.," Judge Deborah Taylor said in court Wednesday, according to Sky News. "You remained there for nearly seven years, exploiting your privileged position to flout the law and advertise internationally your disdain for the law of this country." His stay in the Ecuadorian Embassy cost British taxpayers 16 million pounds (about $21 million), Taylor said, as police had to continuously monitor the building until last month. "It's difficult to envisage a more serious example of this offense," Taylor said.
Swedish prosecutors have since dropped the assault charges against Assange. But as The New York Times notes, it's possible they could reopen the case now that he's no longer confined to the Ecuadorian Embassy. Assange's efforts to seek asylum "undoubtedly affected the progress of the Swedish proceedings" regarding the sexual assault allegations, Taylor said, according to The Washington Post.
But to hear Assange's attorney tell it, the whistleblower skipped out on his bail because he didn't want to be extradited to the U.S. The WikiLeaks founder is perhaps most well-known for publishing hundreds of thousands of classified documents about the U.S. wars in Iraq and Afghanistan. He's also been accused of working with the Russian government to release thousands of Democratic National Committee emails prior to the 2016 presidential election.
Assange "was living with overwhelming fear of being rendered to the U.S.," his lawyer, Mark Summers, told the court, the Associated Press reported. Assange was worried U.S. authorities might send him to the Guantanamo Bay detention camp, which is normally reserved for terrorists, Summers said.
In a letter that Summers read to the court, Assange expressed regret for some of his actions. "I apologized unreservedly to those who consider that I have disrespected them by the way I have pursued my case," he wrote, per the BBC.
"I did what I thought at the time was the best and perhaps the only thing that could be done—which I hoped might lead to a legal resolution being reached between Ecuador and Sweden that would protect me from the worst of my fears," the letter added. "I regret the course that this took; the difficulties were instead compounded and impacted upon very many others."
But Taylor wasn't buying it. "Whilst you may have had fears as to what may happen to you, nonetheless you had a choice, and the course of action you chose was to commit this offense," she said.
So what comes next for Assange? On Thursday, he'll be in court again. This hearing could determine whether he's extradited to the U.S., where federal prosecutors have charged him with helping to crack a password stored on government computers in order to access classified information back in 2010.
The organization Assange founded, meanwhile, doesn't think he's getting a fair shake. "Julian Assange's sentence is as shocking as it is vindictive," the group wrote on Twitter following his sentence. "We have grave concerns as to whether he will receive a fair extradition hearing in the UK."
For more Reason coverage of Julian Assange, you can click here.