It Took Good Samaritans 2 Hours and $150 To Paint a Crosswalk That D.C. Ignored for 6 Months
Yet another example of private citizens taking it upon themselves to do what the government is incapable of.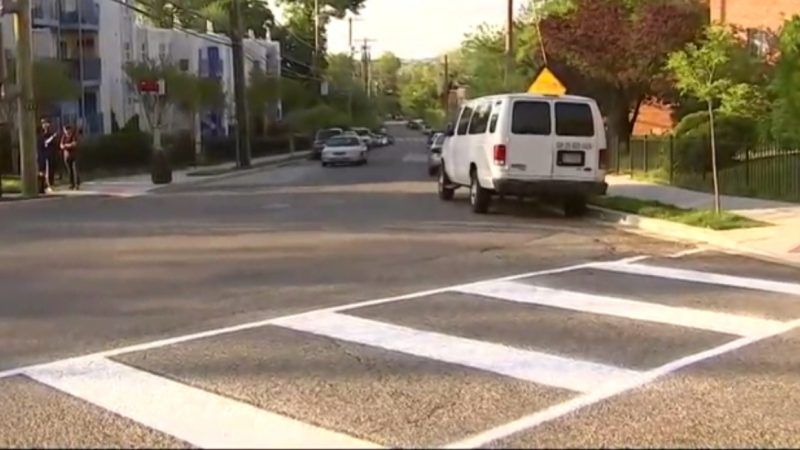 Two hundred seventy days. That's how long the District Department of Transportation (DDOT) of Washington, D.C., said it might take to get around to painting a single crosswalk.
They weren't kidding. Ronald Thompson of Anacostia told WTTG he made a formal request for the crosswalk to be painted back in October. For months, nothing happened. Then, on Easter Sunday, a pedestrian, 31-year-old Abdul Seck, was hit and killed by a car at an intersection just blocks away.
So Thompson decided he didn't want to wait anymore. At a vigil for Seck, Thompson met Michael Kaercher, who agreed that road safety was a big issue. "These kids I see, these parents, these grandparents walking their kids to school, they do not have a safe accommodation here," Thompson told WTTG. This past Sunday, the two men took it upon themselves to do what DDOT wouldn't, city approval be damned
Kaercher was the one who did the actual painting. "It was such an obvious project that I could do safely, without posing any significant risk to myself and no risk at all to other parties," he told WTOP. And it's not like the job required painting expertise or a significant commitment of time and resources. "The most painting I've ever done before was my dining room wall," Kaercher added.
All told, it took about two hours and required $150 worth of supplies.
Amazingly, Kaercher may have been breaking the law. Around the country, it's generally illegal for residents to paint crosswalks or install traffic signage on public roads. It's not clear whether DDOT will take action, as the agency declined to answer WTTG's questions regarding the legality of Thompson and Kaercher's actions.
"Of all the things to possibly get arrested or fined for, helping to make people's lives a little bit safer and a little bit less stressful? I'm fine with that," Kaercher told WTTG.
Now, DDOT did have an explanation for why they hadn't painted the crosswalk in the months since Thompson made his request. Per a statement provided to WTTG:
The general pavement marking service level agreement is 270 days for turnaround due to marking installation being very weather dependent. The conditions for installation generally only occur from March to November. The agency often installs markings well before the 270 day turn-around time and we are evaluating whether the SLA should be changed. Mr. Thompson's service request came in at the end of the 2018 pavement marking season. DDOT has his request in cue and expects it to be installed shortly. DDOT has received 417 service requests for pavement markings in 2019 and closed 141 of them. Our safety team will be investigating the location to see if additional markings, signage and speed humps are needed in the area.
This is yet another example of private citizens taking it upon themselves to do what the government is incapable of. It's not always the government's fault. As a resident of the D.C. metro area, I know firsthand that the weather can get nasty, and I assume painting a crosswalk in the dead of winter isn't exactly fun.
The problem is that we expect the government to fix these problems in the first place. Yet time and again, private citizens have shown they're much more adept at this type of thing. Consider the masked anarchists who took to the streets of Portland in 2017 to patch up potholes. (Amazingly, a transportation bureau spokesperson suggested they might be breaking the law.) And in 2018, Domino's answered the age-old question: Who builds roads in a libertarian society? The pizza chain helped fix roads in numerous states around the country. It was the perfect solution, as Reason's Christian Britschgi noted at the time:
Roads exist to service people's transportation needs, whether that's getting to and from work, schlepping freight between cities, or, yes, delivering freshly cooked pizza. Aligning the funding of roads with the purposes they're used for would make infrastructure more responsive to the end user.
Just last month, I wrote about Monte Scott, a 12-year-old Michigan boy who used a garbage can full of dirt to fill at least 15 potholes near his family's home last week. Scott told the Muskegon Times he'd wanted to fill potholes for months, and finally did so following a half-day at school. "People complain and complain, and the city never fills them up," he said. "And I feel horrible because they never do it. They should fix the streets."
If there's one takeaway from these stories, it's that while local governments may struggle to ensure the roads are safe, private citizens are getting real results.