12-Year-Old Michigan Boy Fills Neighborhood's Potholes Because the Government Won't
He's taken it upon himself to do what the government is apparently incapable of.
A 12-year-old Michigan boy has taken it upon himself to do what the government can't seem to manage.
Monte Scott of Muskegon Heights used a garbage can full of dirt to fill at least 15 potholes near his family's home last week. "I didn't want people messing up their cars like my mom did," he told WZZM. "If somebody were to drive down the street and hit a pothole, and then would have to pay like $600-700 to get their car fixed, they would be mad."
Scott has gone viral in recent days after a video posted to Facebook on Wednesday showed him at work:
"He really got a garbage can filling these potholes," a woman can be heard saying in the video. "Because his granny drive down this street and they down here."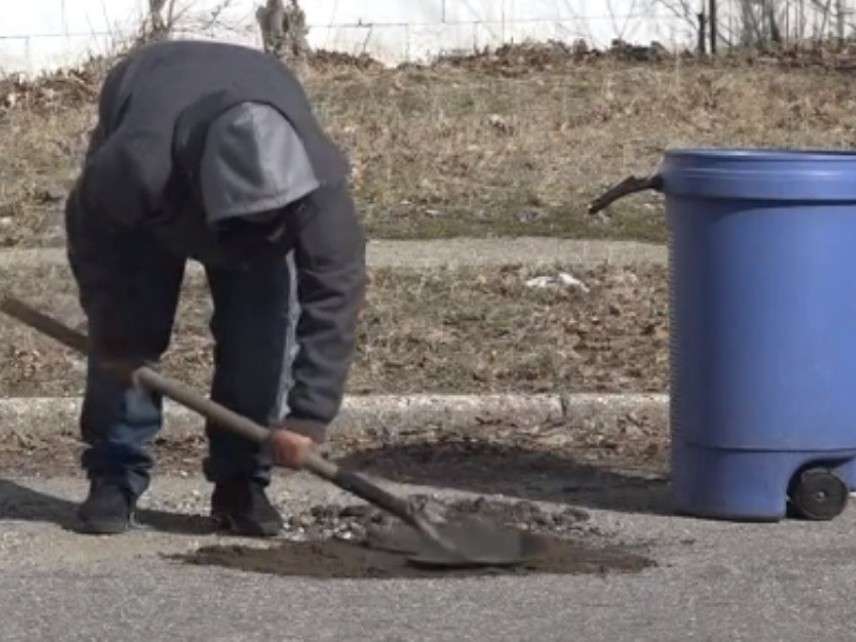 Scott told the Muskegon Times he's wanted to fill potholes for months, and finally did so following a half-day at school. "People complain and complain, and the city never fills them up," he said. "And I feel horrible because they never do it. They should fix the streets."
His mother, Trinell Scott, expressed similar sentiments. "What are they doing with the money people are paying with taxes?" she asked the Times. "You could lose control of your car if you hit a pothole and then you could hit a pole."
According to Muskegon Heights Mayor Kimberley Sims, potholes are a major issue in the area. Sims told the Detroit Free Press she feels somewhat bad "the problem is so bad that [Scott] feels he has to do that."
This is not the first time private citizens have taken it upon themselves to fix the roads. In 2017, masked anarchists took to the streets of Portland to patch up potholes. Amazingly, a transportation bureau spokesperson suggested they might be breaking the law.
And in 2018, Domino's answered the age old question: Who builds roads in a libertarian society? The pizza chain helped fix roads in numerous states around the country. It was the perfect solution, as Reason's Christian Britschgi noted at the time:
Roads exist to service people's transportation needs, whether that's getting to and from work, schlepping freight between cities, or, yes, delivering freshly cooked pizza. Aligning the funding of roads with the purposes they're used for would make infrastructure more responsive to the end user.
Michigan, meanwhile, has the worst roads in the United States, according to a study released in October. The state and local governments there have shown themselves to be utterly incapable of filling potholes on a timely basis. While Gov. Gretchen Whitmer (D) may have campaigned on a promise to "fix the damn roads," it sure looks like a 12 year old is actually getting real results.