Rule Change on Abortion Referrals 'Creates Unreasonable Barriers' Says U.S. Judge
Plus: "we need a president who recognizes sex work as work," says Mike Gravel; how kid-friendly pot paraphernalia killed decriminalization; more...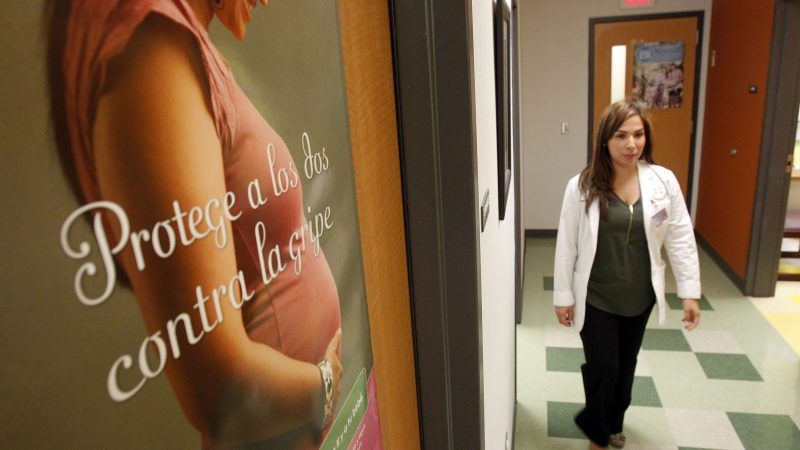 (DELCIA LOPEZ/REUTERS/Newscom)
A rule banning health clinics from referring patients for abortions if they receive federal family-planning funds has been blocked nationwide, per a new U.S. District Court ruling.
The Thursday order from Judge Stanley Bastian puts a temporary injunction on a rule change issued by the U.S. Department of Health and Human Services (HHS) in March. HHS had barred any group that gets certain federal funds from "promoting, encouraging, or advocating abortion" in any way or from providing patients with specific information about where they can obtain one.
In addition, such entities would have to maintain a "clear physical and financial separation" from any related entities that perform abortions, a move meant to strike a blow at Planned Parenthood.
Under the long-standing rules of Title X funding—which theoretically supports reproductive health and family planning services for low-income Americans—using this money to perform or support abortion services was already off limits. But with the March HHS policy, doctors and other staff at places that received Title X funds would also be prohibited from referring patients to abortion providers or offering information about the procedure in a way that seemed to condone it.
"The Department believes that, in most instances when a referral is provided for abortion, that referral necessarily treats abortion as a method of family planning," the HHS guidance states. Thus "such a referral makes the Title X project or clinic a program one where abortion is a method of family planning, contrary to the prohibition against the use of Title X funds in such programs."
In his decision, Judge Bastion says the rule change "reverses long-standing positions of the Department without proper consideration of sound medical opinions and the economic and non-economic consequences." He found it likely that the change runs afoul of the Affordable Care Act and "likely violates the central purpose of Title X, which is to equalize access to comprehensive, evidence-based, and voluntary family planning."
Bastian also found that the change would likely be considered "arbitrary and capricious" under the Administrative Procedure Act.
Banning referrals and certain sorts of talk around abortion, he adds, "creates unreasonable barriers for patients to obtain appropriate medical care; impedes timely access to health care services; interferes with communications regarding a full range of treatment options between the patient and their health care provider, restricts the ability of health care providers to provide full disclosure of all relevant information to patients" and "violates the principles of informed consent and the ethical standards of health care professions."
---
FREE MINDS
Porn story riles school paper. A high-school journalism teacher in Stockton, California, is fighting administrators over a school newspaper story on an 18-year-old student who appears in porn films. "This young woman has quite a story to tell," says the teacher. "She has every right to tell her story, and we have every right to report it."
---
FREE MARKETS
How kid-friendly paraphernalia killed legal pot. Smithsonian magazine looks at how the 1970s momentum toward decriminalizing marijuana failed:
I remember the first time I saw them. I was in the Library of Congress, looking through old issues of High Times magazine. The advertisements for certain products—like the BuzzBee Frisbee (with a special pipe so you could literally "puff, puff, pass"), "You're the Dealer!" board game, and pictures of clowns hawking rolling papers—seemed both charmingly representative of the mid-1970s as well as pretty blatant in their appeal to kids. The ads also spoke to the enormous paraphernalia market that had risen as a result of a dozen states decriminalizing the possession of up to an ounce of marijuana between 1973 and 1978. The numerous ads that lined the pages of High Times (as well as the existence of the magazine itself) give some insight into just how vast the marketplace, and its clientele, was at the time.

That booming paraphernalia market, however, would also prove to be decriminalization's undoing.
---
FREE MOVEMENT
The relationship between U.S. border patrol agents and paramilitary groups is a little too cozy, according to an article in The Washington Post. Border authorities mostly let the vigilantes do their thing, even when that thing is impersonating actual law enforcement agents.
"The apparent cooperation of federal border agents and civilian militias is a disturbing sign that President Trump's open disregard for what he calls America's "very stupid" immigration laws is taking hold in perilous ways," the authors suggest. "A fusion of vigilantes and the state is a particular threat to the Constitution and one of the signs of rising authoritarianism that historians warn democracies to guard against."
---
ELECTION 2020
"We need a president who recognizes sex work as work." Here's independent 2020 presidential candidate Mike Gravel after writer and porn actress Sydney Leathers announced that she's supporting him:
We're honored to have Sydney's endorsement. We need a president who recognizes sex work as work just like any other work, and doesn't draw arbitrary lines. We need to recognize the humanity of all people, no matter their occupation. https://t.co/fihtdcsFQU

— Mike Gravel (@MikeGravel) April 25, 2019
---
QUICK HITS
Click through to the screenshots of JetBlue's comments about its facial recognition program for some truly terrifying stuff:
This is only the beginning. https://t.co/tfvm01NrT0

— Edward Snowden (@Snowden) April 25, 2019
"The U.S. economy grew at a solid 3.2% annual rate in the first three months of the year, a far better outcome than expected," reports the Associated Press.
The New York Attorney General's Office is opening an investigation into Facebook's email harvesting practices.
Some news about Reason's old friend Preet Bharara:
Preet Bharara said that the #Bronx120 were members of two violent street gangs that had "terrorized their neighborhood" for years. Turns out, more than half were never alleged to be in gangs, and two thirds were not convicted of violence. Most sold weed. https://t.co/QCwWJsLvSP pic.twitter.com/tnbjne6dAd

— Alice Speri (@alicesperi) April 25, 2019
Maryland's Terrible Cyberbullying Law Gets Worse With The Addition Of Jail Sentences For Inducing Suicide Attempts https://t.co/lZXySt8nJi

— techdirt (@techdirt) April 25, 2019
Kaytlin Bailey Asks Gloria Steinem To Listen to Sex Workers - YouTube https://t.co/f6koVC0t04

— Decriminalize Sex Work (@DecrimSex) April 25, 2019