Movie Review: Avengers: Endgame
Robert Downey Jr., Scarlett Johansson and Chris Hemsworth assemble a decade's worth of superheroes for a long, fond…farewell?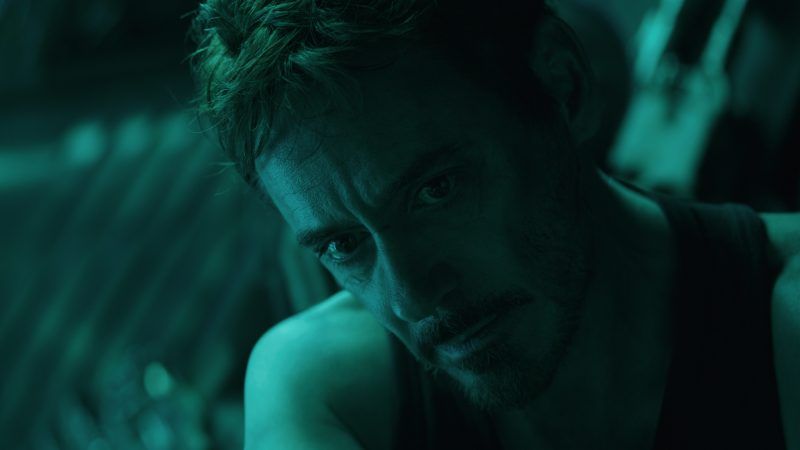 Rounding the bend into hour three of Avengers: Endgame, I heard a snurfling sound to my right. A discreet peek revealed that the guy next to me was semi-weeping, blotting away the odd tear with his shirt sleeve. Jeez, I thought. And then I realized…
Never mind. This is a superhero movie that delivers all the requisite action (and, unlike last year's Avengers: Infinity War, doesn't over-deliver it), but mainly takes aim at the heart—and scores again and again. The picture is also consistently funny, thanks largely to Chris Hemsworth's Thor (by now a veritable riff machine), the trash-talking raccoon Rocket (again voiced by Bradley Cooper), and the incomparable Robert Downey Jr. (whose Tony Stark takes a squint at the quarrelsome quadruped and says, "For a second I thought you were a Build-A-Bear").
There's a lot going on, thus the movie's length (although, honestly, it doesn't register as overlong). Directors Anthony and Joe Russo and writers Christopher Markus and Stephen McFeely—all returning from Infinity War and all veterans of a pair of Captain America films as well—have done a splendid job of wrapping up 11 years' worth of MCU storylines spread across 21 films (from the 2008 Iron Man right up to this year's Captain Marvel). This has allowed them to bring back a sizable crowd of characters from the earlier films, and the fact that we're already familiar with these people—that we don't have to get to know them, and can just enjoy re-embracing them—is the reason the movie radiates so much warmth.
Not all of the Avengers are on hand initially. The picture begins at that moment at the end of Infinity War when the mad intergalactic environmentalist Thanos snapped his fingers and wiped out half of the inhabitants of the universe. So the first thing we see is a flashback to an idyllic country scene with the bow-and-arrow specialist Hawkeye (Jeremy Renner) enjoying some off-duty downtime with his wife and kids. It's a beautiful day. Then, suddenly, the wife and kids disappear, without so much as a poof! Next we look in on billionaire inventor Tony Stark, who's drifting through space a thousand light years from Earth with Thanos's disaffected cybernetic daughter, Nebula (Karen Gillan).  They're very nearly out of oxygen.
Five years pass. We discover that Stark somehow made it back to his home orb and is now living in a lake house in the Northern California countryside. Steve Rogers/Captain America (Chris Evans at peak charisma) and Natasha Romanoff/Black Widow (Scarlett Johansson in an interestingly shaded performance) arrive there one day with Scott Lang (Paul Rudd) in tow. Lang—Ant-Man!—was trapped in the "Quantum Realm," as you may remember; but he's back now, with a big idea: time travel. If the Avengers can just round up the six Infinity Stones that gave Thanos his world-wrecking power they could…well, it's a pretty wild idea he's got, but who knows. Stark, Rogers and Romanoff sign on, and soon they're able to recruit three other former colleagues, all of whom have gone through some radical changes. Hawkeye, who may have seen The Deer Hunter one time too many, is battling katana-wielding killers on the rainy night streets of Tokyo. Hulk (Mark Ruffalo, getting some major screen time at last) has overcome his anger issues and now wears glasses and normal (if very large) clothes and poses for selfies with young fans. And Thor, now basically a beer sponge, has gone seriously to seed.
So that's the setup. The Avengers split into three teams of two each and start scouring the universe. Along the way they encounter many familiar faces, some of them their own (the old time-travel thing). Deep thoughts are traded with the bald-headed Ancient One (Tilda Swinton), mentor of the late Dr. Strange. Chris Pratt does some geeky dance moves to an old '70s Redbone hit. Chadwick Boseman makes a roaring entrance with a squad of Wakandans from Black Panther. Tessa Thompson's Valkyrie wings in for a moment, Tom Hiddleston's Loki passes through, and even Red Skull—remember Red Skull?—floats around in a black cloak at one spooky point. The movie is so packed with marquee talent that there apparently wasn't enough dialogue to go around: Natalie Portman's onetime Thor squeeze Jane Foster gets very little to say, and Michael Douglas's Hank Pym (the original Ant-Man) is left lineless entirely.
Endgame is the best of the Avengers movies, I think. Maybe the final confrontation with Thanos could have been trimmed (a minion here, a monster there), and maybe somebody could have had a talk with Brie Larson, whose Captain Marvel is an oddly sour presence. But overall there's little not to like. The lack of a post-credits teaser scene feels strange after all these years—is this really the end? Will Disney really be putting this multi-billion-dollar franchise to bed now? Well, we know that Tom Holland's Spider-Man is an ongoing proposition, and that Johansson's Black Widow spinoff is still in some sort of endless pre-production; and judging by a comment that Captain America makes to Valkyrie here it seems likely she'll be back in some bigger way. The first age of the Avengers may be over, but Marvel superheroes will surely continue assembling.