N.J. Gov. Phil Murphy Wants To Raise Gun Permit Fees by 2,000 Percent
But most gun crimes are carried out with out-of-state firearms.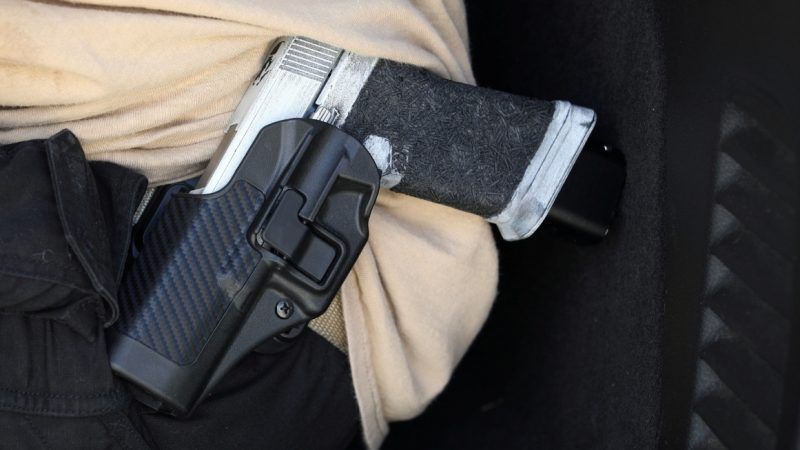 (LOREN ELLIOTT/REUTERS/Newscom)
New Jersey Gov. Phil Murphy, a Democrat, is renewing his push to strengthen the already-strict guns laws in the state by raising the fees required to buy a firearm by 2,000 percent or more.
New Jersey residents already have to jump through a lot of hoops to buy a gun, though Murphy's proposal would make the process considerably more expensive. As State Police Capt. Stephen Jones detailed to New Jersey 101.5 in 2016, it starts at the police department, where would-be gun owners must apply for a Firearms Purchaser Identification Card. It takes about a month or more for the police to run a background check on someone's criminal and mental health history. (This check is in addition to the one required by federal law at the point of sale for people looking to purchase a firearm from a licensed dealer.) The New Jersey ID card itself currently costs $5, but Murphy wants to raise the price to $100.
Potential handgun buyers must go through an additional, separate process to obtain a handgun permit, which currently costs just $2. Under Murphy's proposal, it would cost $50.
And what happens if you want to carry that handgun around? Well, good luck. It's largely illegal to open carry a handgun (though not a legally owned rifle or shotgun). Carrying a concealed handgun is permitted, but New Jersey is a "may issue" state, meaning you have to prove that you have a good reason to carry. It costs $20 to obtain a concealed carry permit. If Murphy gets his way, that will rise to $400.
Right now, a New Jersey resident looking to buy a handgun for concealed carry purposes is looking at $27 (at least) in state fees. That would go up to $550 under Murphy's proposal, an increase of more than 2,000 percent. His proposed 2020 state budget also calls for a 2.5 percent excise tax on gun sales, as well as a 10 percent ammunition tax, NJ.com reported last month.
"There's no war on responsible gun owners," the governor claimed to The New York Times recently. "We can support the efforts of the attorney general, state troopers, county and local law enforcement, to do the stuff we need to do: track crime, track gun violence, combat trafficking of illegal guns."
Murphy specifically cited the $10 cost to obtain a dog license in Jersey City, comparing it to the $2 cost of a handgun purchase permit. "That is backwards and it must change and it will change," Murphy said at a Rutgers University event on Tuesday.
It's a curious argument, to be sure. Dog licenses have absolutely nothing to do with handgun purchase permits, and even if they did, lowering the cost to get a dog license is a better solution than making it even harder to buy a gun. New Jersey, after all, already has the second-strongest gun laws in the country, after California, according to the Giffords Law Center To Prevent Gun Violence.
Amazingly, Murphy's own budget suggests that his proposal won't help gun violence go down. "In 2018, roughly 80 percent of guns used in the commission of a crime came from out of state," he notes in the budget. Making it more difficult to legally obtain a gun in-state, of course, will do nothing to lower this number.
"Most crime guns in the Northeast are thought to come from the 'iron pipeline' from the South, and then they're sold on the street," Daniel Feldman, a professor of public management at the John Jay College of Criminal Justice, told the Times.
Murphy wants to spend the new revenue on anti-gun violence initiatives. The various additional fees would raise about $9 million revenue, just a small fraction of his $38.6 billion proposed budget, which needs to be approved by the end of June.
It's Murphy's latest effort to make New Jersey's gun laws even more strict. In November, he signed into law legislation banning "ghost" guns (i.e. homemade firearms, particularly 3D guns, that are made from untraceable parts).
As expected, Second Amendment advocates and gun store owners are not pleased with his proposal to raise fees.
"It's specifically designed to deter people that can't afford it or don't have the time to go to the police department, take three [or] four days off of work, to be able to go apply, to go pick up the application," New Jersey Second Amendment Society President Alexander Roubian tells WNBC.
"Anything that increases or puts a tax on law-abiding citizens that want nothing more than to be able to protect themselves is discriminatory and is specifically designed towards targeting low-income individuals," Roubian, who's threatening a lawsuit, adds to WNYW.
Mel Katz, who owns Defense Security in East Windsor, New Jersey, expressed similar concerns about the limited resources of many gun owners.
"The majority of the people who are buying firearms are blue-collar. It's a hobby. They go hunting. They go target-shooting," he told NorthJersey.com last month. "And it's discretionary funds they use to support that hobby."
"But if now they want to go out and buy a handgun for $400 or $500, and it's going to cost them $100 just to get a permit to purchase," Katz added.
Lisa Caso, the owner of Caso's Gun-A-Rama in Jersey City was a bit more blunt. "I think what Murphy would want to happen," she told the Times, "is for every gun shop in the state of New Jersey to just close."
It is difficult to see what good would come out of Murphy's proposal. Considering this is the same state that banned high-capacity magazines, only for very few citizens to actually turn over their illegal magazines once a federal appeals court allowed the ban to take effect, it's not all that surprising. New Jersey politicians like to enact strict-sounding gun laws, but their effectiveness in actually lowering crime doesn't seem to matter all that much.
Murphy's proposal, meanwhile, faces an uphill battle in the state legislature. "We are the most progressive state in the nation when it comes to gun reform," state Senator Stephen Sweeney (D–3) previously told NorthJersey.com. "And just to check a box to say you did something, I'm not sure that's necessary."
Citing sources in Trenton, New Jersey's capital, WNBC's Brian Thompson reported that Assembly Speaker Craig Coughlin (D–19) is "very skeptical" about the proposal as well.
An editorial regarding the proposal in the New Hampshire Union Leader may have characterized the plan best. "That will put the poor people in their place. No guns for you! The rich will still be able to afford weapons, of course. And since restrictive gun laws have never stopped criminals, they, too, will acquire them," the editorial reads. "Utopia is near at hand."