Activists Launch Fresh Effort To Get Rent Control on California's State Ballot
Fresh from their 2018 defeat, California's rent control advocates are back with another statewide ballot initiative.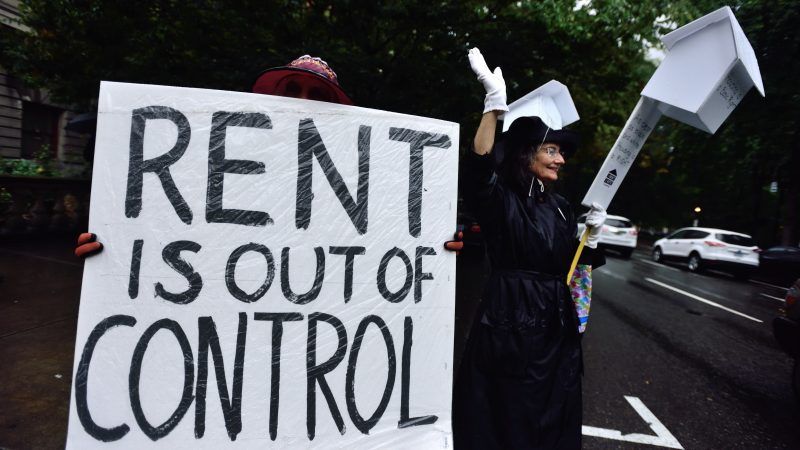 (Alex Milan Tracy/Sipa USA/Newscom)
Undeterred by the drubbing their last measure received on election day 2018, California's rent control advocates are back with another ballot initiative that would pave the way for price regulation of rental housing across the state.
On Monday, members of the AIDS Healthcare Foundation (AHF) and their housing advocacy division, Housing is a Human Right, announced that they had filed to place a new rent control measure the 2020 November state ballot.
The AHF, and its controversial president and co-founder Michael Weinstein, had been the main drivers behind 2018's Prop 10, a ballot measure that would have repealed California's existing state law limiting local governments' ability to impose rent control—known as the Costa-Hawkins Act.
Despite the $25 million spent by the Yes on Prop 10 campaign—$21 million of which came from AHF alone—the initiative was thrashed, getting only 40.5 percent of the vote and managing to lose in liberal strongholds like Los Angeles County.
Why try again so soon after such a crushing defeat?  According to Weinstein, because the problem Prop 10 was meant to address, escalating housing costs, hasn't gone away.
"Among the 17 million renters in California, the suffering is unabated," said Weinstein in a press call yesterday. He also expressed concern that state legislators are not doing enough to advance rent control bills, according to the Sacramento Business Journal.
Currently working its way through the California Assembly is AB 1482, which would cap annual rental increases at 5 percent plus inflation. The bill, sponsored by Assemblyman David Chiu (D–San Francisco) and introduced as part of a larger package of rental regulations, is scheduled for a committee hearing later this week.
The AHF's new ballot measure is less ambitious.
Instead it would repeal Costa-Hawkins—which bans the imposition of rent control on buildings built after 1994—and allow local governments to regulate rental prices on buildings more than 15 years old. It would also cap the amount landlords could raise rents statewide at 15 percent after a tenant moves out.
This measure—known as the Rental Affordability Act—is more specific than AHF's failed Prop 10 initiative, which would have merely repealed Costa-Hawkins.
This is likely done to address what many saw as Prop 10's primary defect: it didn't actually impose rent controls, it just removed barriers to local governments imposing them.
This allowed opponents to paint Prop 10 as something radical and dangerous, while denying supporters the ability to point to anything concrete the measure would actually do.
Whether the AHF's new initiative will succeed where the last one failed remains to be seen. The measure still has to go through the long and expensive signature-gathering process before it can qualify for the 2020 ballot.
Even if it does make it on the ballot, landlords and developers are sure to fight it tooth and nail, arguing that rent control will only make California's housing problems worse by deterring new housing construction.
"This past November, California voters of all political stripes rejected Proposition 10 by an overwhelming margin," said Tom Bannon, CEO of the California Apartment Association, which represents landlords. "Voters recognized that Weinstein's proposition would have brought construction of affordable- and middle-class housing to a halt, worsening California's housing shortage."
Weinstein is also a highly controversial and polarizing figure within the already-contentious world of California housing politics.
Just last week, the AHF ran an ad campaign lambasting another major housing reform in the state legislature, SB 50, which would upzone land near transit stops and job centers, as a handout to developers looking to bulldoze minority neighborhoods.
In addition to spreading falsehoods about the bill, AHF's ad campaign did little to ingratiate itself to housing advocates and voters who are amenable to both upzoning and rent control.
The AHF's inept politicking is not something free marketers should necessarily bemoan. Rent control has long been criticized by economists as a great way to reduce the construction of new housing. Capping the returns developers can make on new apartments will encourage them to build fewer of them, the thinking goes.
A 2018 study published by the National Bureau of Economic Research on rent control expansion in San Francisco found that the policy, while helping some tenants stay in their home, led to citywide rent increases and more rapid gentrification.
Folks who really want to see housing become more affordable should focus less on imposing restrictions on prices, and instead on lifting restrictions on new development.
Recent examples of supply-side housing reform include examples like Seattle and Portland, where a boom in apartment construction is starting to push rents down after years of steep increases, or Houston, where the ease of creating new suburban housing has kept prices in check.
Public comment on the AHF's ballot initiative is open until May 20, after which the state attorney general will issue an official ballot title and summary.
CORRECTION: This article initially referred to Michael Weinstein as AHF's CEO, and Housing is a Human Right as a PAC.  In fact, Weinstein is a the group's president an co-founder, and Housing is a Human Right is its housing division.