Ontario's Glacial Booze Reforms Aren't Enough
It's hard to undo decades of bad policy with a single bill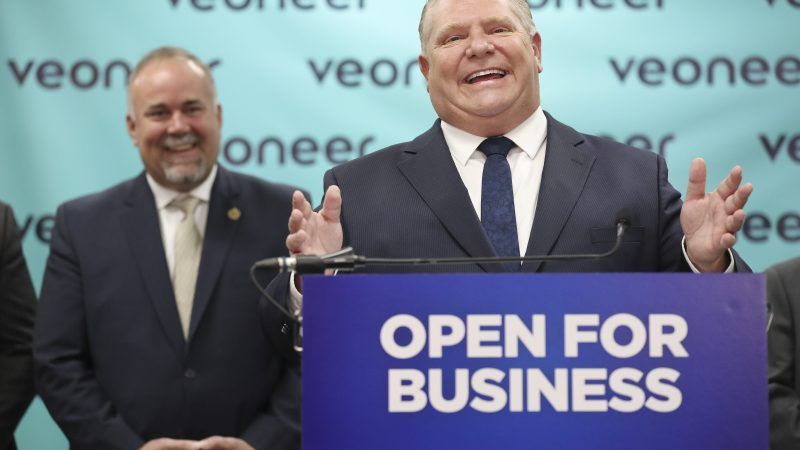 In Canada, a new Ontario provincial budget released last week proposes to loosen alcohol consumption rules in the province, including allowing licensed establishments to start serving alcohol at 9 a.m., legalizing tailgating, letting local governments set rules that would allow people to consume alcohol in public parks, and letting breweries, wineries, and distilleries serve more than mere samples. Other proposed changes include plans to allow convenience stores to sell beer and wine, legalizing happy hour advertisements, and postponing a new wine tax that was set to take effect this month.
The proposals come after the provincial government recently sought public comment on its plans to "moderniz[e] the rules for the sale and consumption of alcohol in Ontario."
"The cornerstone of putting people first is consumer choice and convenience," Finance Minister Vic Fedeli said of the plans. "This is why our government is taking steps to modernize the way we sell, distribute and consume alcohol in Ontario."
Three things appear to be true of Ontario's alcohol laws. First, they're in great need of reform. Second, people such as Fedeli are talking openly about the need for changes. Third, the first and second points above are true largely due to decades of inadequate half-measures masquerading as real reform.
A 1997 article by the Mackenzie Institute, a Canadian think tank, lists a host of inane provincial booze laws throughout recent history, including that, "until about 1970, Ontario's bars were required to have a separate Ladies entrance and a room where escorted gentlewomen might enjoy a beverage with a respectable male companion." More recently, in 2011, it was a pretty big deal when Ontario alcohol deregulation measures allowed licensed establishments to give you a free drink on your birthday. Yay.
The elephant in the room is Ontario's liquor control board, known as the LCBO, which has long been reviled both as the heart of the province's booze-law problem and a powerful obstacle to reform.
Much of the hatred toward the LCBO comes from the "quasi-monopoly" it enjoys over alcohol sales. Another facet of the LCBO that Ontarians detest is the strong LCBO union that uses its power to head off competition from private sellers.
"Our prohibition-era alcohol system is not about protecting drinkers or maximizing revenues for the government," wrote Candice Malcolm, of the Canadian Taxpayers Federation, in a 2014 piece in the Toronto Sun. "It is about power and control, particularly for government-sector unions."
Ontario's awful alcohol rules have consequences. Toronto is the province's—and Canada's—largest and most international city. But Toronto is also derided as boring. And when someone paints Toronto as un-fun, bad booze laws usually get the blame.
"To be fair, much of Toronto's lameness comes from the fact the city happens to be located in Ontario," wrote Benjamin Boles at blogTO in a great 2014 post that details the city's and province's rich history of terrible alcohol laws, including temperance laws that stayed on the books in Toronto into at least the late 1990s. "The province's liquor laws are legendarily strict and often bizarre."
But Ontario's bad alcohol laws don't exist in a vacuum. To be clear, Canada has some pretty rotten alcohol laws in force around the country.
Those that restrict the movement of alcohol across provincial borders are some of the worst. Unfortunately, the country's Supreme Court chose to uphold those laws last year.
The national government has also seen fit to adopt new and highly intrusive and draconian steps to combat drunk driving.
One such measure, which took effect nationwide in December, gives police the terrifying "power to demand a breath sample at the roadside, without reasonable grounds." Critics have assailed the measure as a frontal assault on civil liberties.
"The country has been tending towards a police state for some time," columnist Arthur Weinreb wrote last year. "Nowhere are the losses of individual rights accepted by so many people as when these rights are taken away in order to combat drinking and driving." Weinreb reveals that a police officer used the law to pull over a 70-year-old man who'd dropped off a variety of empty beer cans and the like at a recycling center.
Yet a police spokesman said officers would use to law to target "cars leaving licensed establishments or leaving the downtown," the Guelph Mercury Tribune reports.
"The officer told him the three cases of empties were a lot, he was obviously a drinker and he was then asked when he last had a drink," Weinreb writes. "[The man] said he last drank around midnight the day before." The police officer then demanded the elderly man take a breathalyzer test.
While the national government has made the country's booze laws fodder for columnists, the prospects for disentangling the Ontario government from alcohol sales appear largely to be a welcome development among the same crowd.
"I strongly dislike [center-right Ontario Premier Doug] Ford and pretty much everything he's done, both in and out of office, but I'm simply not hyperpartisan enough to argue that his booze proposals are inherently bad ideas," writes columnist Emma Teitel. "They're not. Ford is a crappy leader—the kind who values populist gobbledygook over research and whose education minister believes neglect promotes resilience—but even crappy leaders have decent ideas sometimes."
Consider me a fan, then, of good ideas from crappy leaders.