Senate Bill Would Ban Smoking and Vaping for Americans Under Age 21
Plus: Six-week abortion bans are proliferating, extremism as excuse for censorhip, Soylent made a snack bar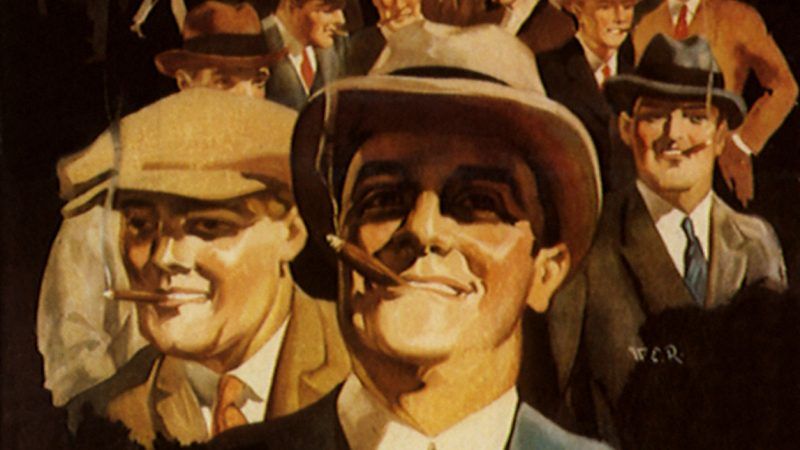 ( Universal Images Group/Newscom)
Making teen vaping a federal crime. In a sign of just how truly topsy-turvy 2019 is, the backer of a bill to make it illegal for anyone under age 21 to buy tobacco products is not only a Republican but one hailing from Kentucky, where tobacco has long been a top crop. Senate Majority Leader Mitch McConnell said yesterday that his "T21" proposal would cover all tobacco products and e-cigarettes.
"For some time, I've been hearing from the parents who are seeing an unprecedented spike in vaping among their teenage children," he said. "In addition, we all know people who started smoking at a young age and who struggled to quit as adults. Unfortunately it's reaching epidemic levels around the country."
Actually, just the opposite is true about tobacco. In 2016, cigarette smoking among U.S. adults stood at about 15.5 percent, down from 20.9 percent a decade or so earlier and around 42 percent in the 1960s.
Meanwhile, vaping has proven useful to helping people quit more harmful cigarettes. And its popularity among teens may not be ideal, but if it prevents them from taking up actual smoking, that's a net win. Unless, of course, you're a tobacco farmer or politician from a state representing them…
Cigarette companies, which also own vaping products and cannabis lines now, will be just fine without the new recruits; it's people like McConnell's constituents who lose most.
Lest there's any doubt how little "Big Tobacco" cares about a raised cigarette smoking age:
Tobacco giants Altria, British American Tobacco and e-cigarette maker Juul have all thrown their weight behind raising the minimum buying age. Altria CEO Howard Willard and Juul CEO Kevin Burns have both urged legislation in recent op-eds. Altria started running "T21" ads earlier this month in The Washington Post, The Wall Street Journal and other newspapers.
It's not going to affect their bottom lines, and supporting a raised smoking age makes them look good. Win-win.
And some winning to go around for the carceral and regulatory state, too: this invites all sorts of new policing of black market cigarettes, busts of teens vaping, undercover inspections at local shops … It's a boon for authorities, elites, and control of all sort. Just not for entrepreneurs, consumer choice, individual rights, and all those pesky little things.
---
FREE MINDS
"The strength of the internet for fostering free expression lies in its decentralized nature, which can support a diversity of platforms." Emma Llansó, director of the Center for Democracy & Technology's Free Expression Project, has an op-ed in Wired this week looking at the dangerous trend toward centralized tech regulation "and opaque censorship of the global internet," often done under the guise of stopping terrorist and extremist content. Read the whole thing here.
---
FREE MARKETS
Soylent made a snack bar. "Soylent's American expansion has, for the most part, been surprisingly conventional," notes The New York Times of the product once touted as an optimal meal replacement drink for enterprising biohackers who couldn't be bothered with solid food.
Once a niche product only available on the web, it now sells at 4,400 Walmarts around the country, where it sits near familiar cold drinks, like milk. (Soylent sells unusually well in Grand Forks, N.D., the company said, offering no theory as to why that might be.) Soylent is now available in ready-to-drink (RTD) form on Amazon, in airports and carwash waiting rooms, and in thousands of other retail locations, supplied by major beverage distributors.
---
QUICK HITS
There's been a "fundamental shift in the landscape of abortion in America," with groups in several states bringing forward and passing near total abortion bans in anticipation of them making it to the Supreme Court. Michael Gonidakis, president of Ohio Right to Life in Columbus, said "Now is our time. This is the best court we've had in my lifetime, in my parents' lifetime."
A new study by the University of Minnesota Law School finds that displacement by decline is a far more prevalent challenge than displacement by gentrification.

Some thoughts:https://t.co/K5BRk00jZo

— Jason Segedy ???????? ???????????????? (@JasonSzegedi) April 18, 2019
"Believers in the pro-Trump QAnon conspiracy theory approached the long-awaited publication" of Robert Mueller's investigative report with anticipation that it would reveal the secret arrest of Hillary Clinton and crimes committed by her and other prominent Democrats. It did not.
---
FOLLOW UP
Reason on Mueller report. The Mueller report continues to be the big story today (obviously). You can find a searchable copy of it here and see what Reason folks are saying about it below: