I Gave My Dog CBD Oil To Calm Him Down and Help His Separation Anxiety
Spoiler alert: He's still a rowdy boy.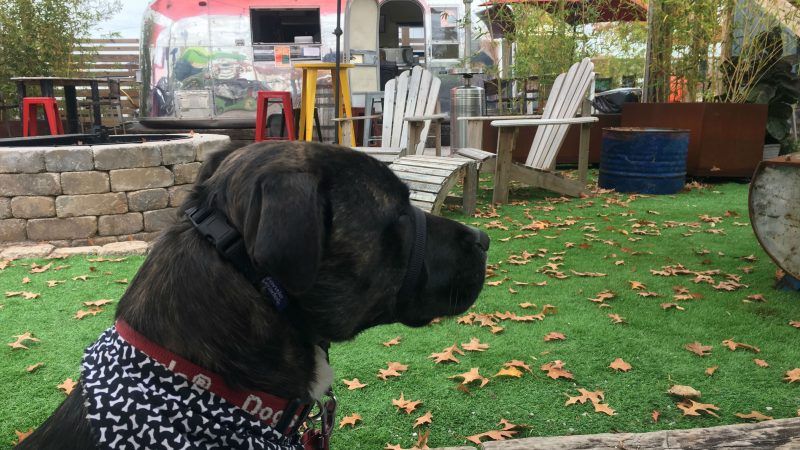 The first time I heard about cannabis products for dogs was when a video of Permit Patty, the CEO of a pet cannabusiness, went viral after she called the cops on a young girl selling water. Since then, I've been intrigued by the idea of pets using drugs. So I decided to volunteer my own dog for a Weed Week assignment: I was going to see how he responded to cannabidiol (CBD). 
I adopted Bishop from Davidson County Animal Control last August when he was about a year old. Someone found him running around the Nashville streets and sent him off to the shelter. No one claimed him for a month, so I decided to make him a Davis after falling in love with his face online. Shortly after the adoption, I signed him up for basic training. We had some rough patches along the way, but he's been a different dog since his graduation and I worry a lot less when we leave the apartment together.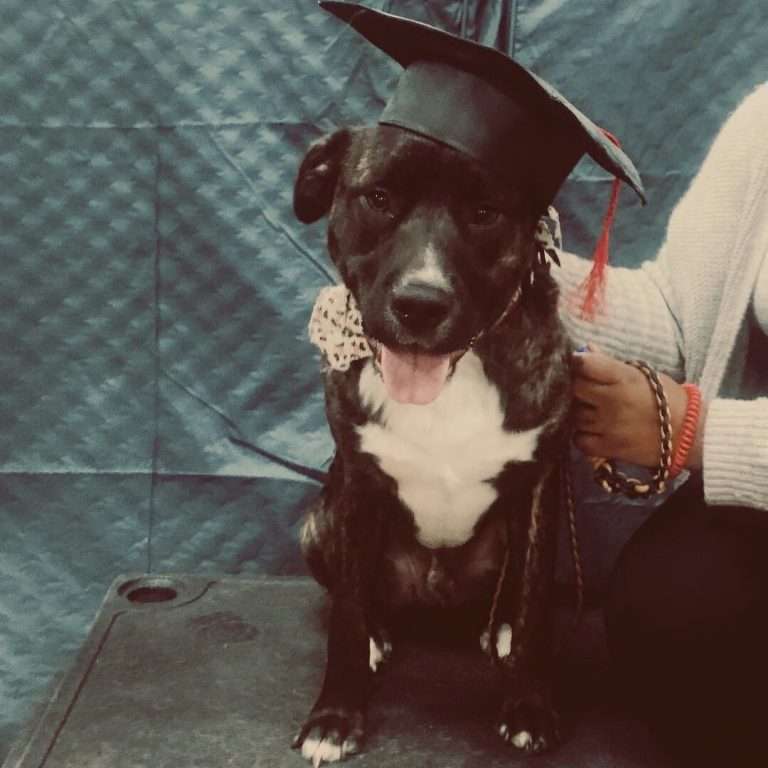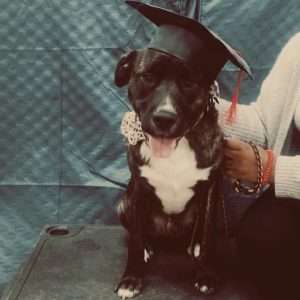 It's when I leave him in the apartment that the problems begin.
Bishop is crate-trained, so I put him in his nook with some toys, treats, and calming music if I have to leave the apartment for a short period. If I anticipate a longer time away from home, I let him roam the apartment with toys, treats, and calming music. (I've read that crating a dog for too long can have detrimental effects on its mental state.) But each time I leave Bishop to roam free, I almost always hear clawing at the door and crying moments after I shut it.
When I come back, it always looks as though a tornado flew around the room. Bishop knocks down furniture and tears through books and papers. One time I returned to find that Bishop had managed to unlock the front door. While some of this could be chalked up to him being a puppy in need of some more training, I wondered if CBD could help him. CBD has only been approved by the Food and Drug Administration as a therapy for two types of treatment-resistant epilepsy in children, but a growing body of research suggests it can treat anxiety as well. 
Perhaps it could even treat anxiety in a dog.
The prep: I reached out to Bishop's trainer and to Jason Amatucci of VA Hemp for some thoughts on my assignment.
"We have found that many pet owners that use CBD for their cats and dogs really love it and say it works for tackling problem behavior or just giving their pet a better sense of overall calm," Amatucci told me. This is comparable, he explained, to the way CBD can reduce anxiety in humans.
Amatucci noted that unlike CBD, THC is actually quite bad for pets. Should a pet mistakenly consume a product with THC in it, a vet can administer activated charcoal to the animal. He added that while CBD products have a trace of THC, it's "not at a level which would cause toxicity."
I also asked Bishop's trainer about using CBD products for pet anxiety since he knows my dog's temperament the best. Essentially, he told me that he's heard of other pet owners using it with success. And since he didn't say anything bad about using it, I decided to continue with the project.
I looked up local CBD shops in Nashville and found no shortage of retailers that carried pet-specific products. I decided to use an oil since it had more potency and could be delivered on a treat, and chose a formulation that apparently tastes like bacon.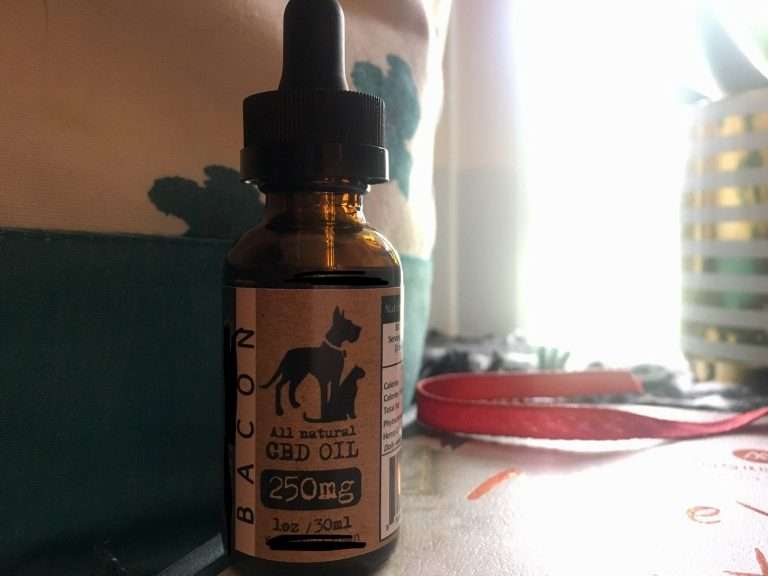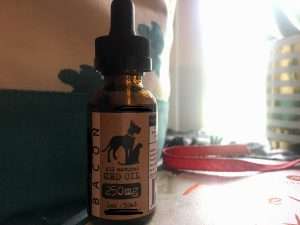 Day 1: I decided to take Bishop to the Nashville Cherry Blossom Festival. I woke up early to go to Mass and came back just in time for Bishop's morning feeding. We had a few hours until we had to meet some friends at the festival.
I grabbed a hard treat and poured a dropper-full of CBD oil on top (the recommended dose was one dropper-full twice a day). I put the treat up to his nose. He sniffed it and turned away.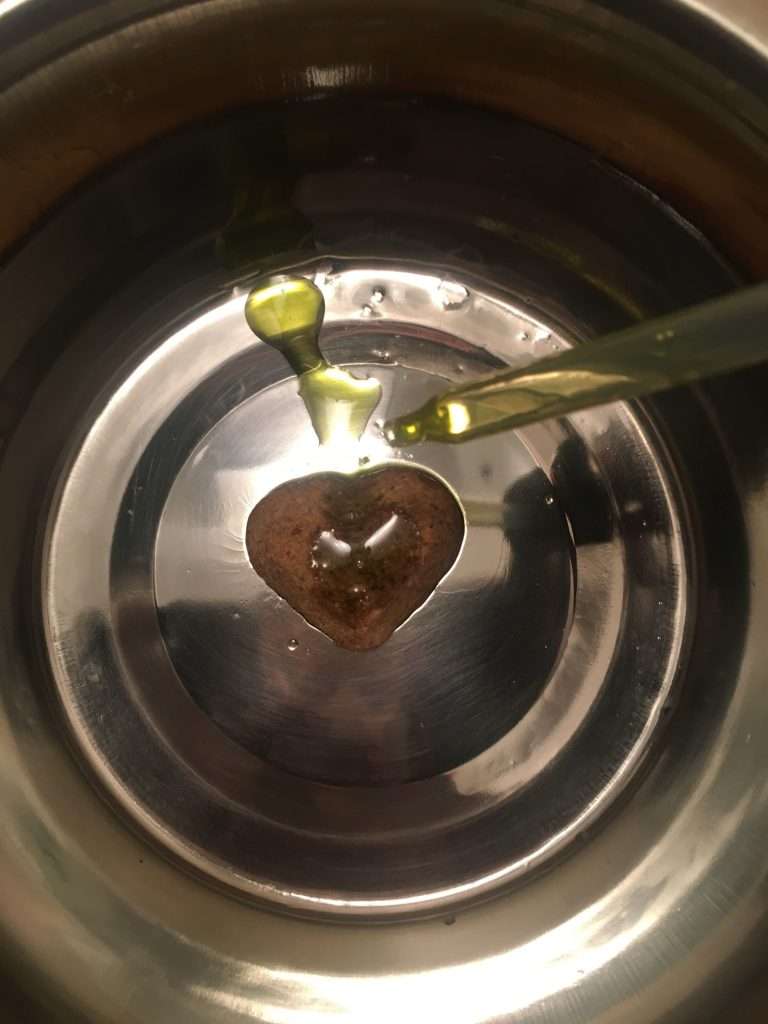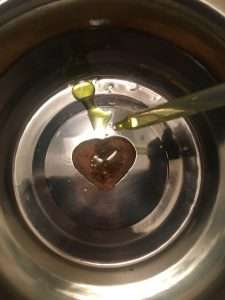 Oh fudge, I thought.
Bishop will eat anything and everything, except medicine. Bishop is so anti-medicine that his vet once wished me luck when I said I didn't have anyone to help me pour his eye drops. This was after it took three of us to hold him down in her office so she could administer the first dose.
I mentally kicked myself for not considering this possibility and wondered what to do. Then it hit me that I still hadn't fed Bishop.
I had him sit and wait while I poured his food in a bowl. Then I placed the laced treat in the middle, hoping he would accidentally eat it.
The sucker ate it.
Later, I filled a backpack with water, a collapsible water bowl, and some training treats, and we made our way downtown to the festival.
On the drive, I wondered what I could expect for the day. Bishop doesn't bark often, but he can get pretty rowdy if the wrong type of dog passes by. Would the CBD reduce his tendency to lose his mind?
As I wondered this, Bishop was running across the backseat of the car to hang his head out of both windows. Apparently, the oil hadn't kicked in.
And honestly, it never really seemed like it did.
Bishop did well with the training treats, socialized with the other humans, and didn't make any attempts to eat food that didn't belong to him. He even let some of the bigger dogs (his favorite kind) sniff his butt.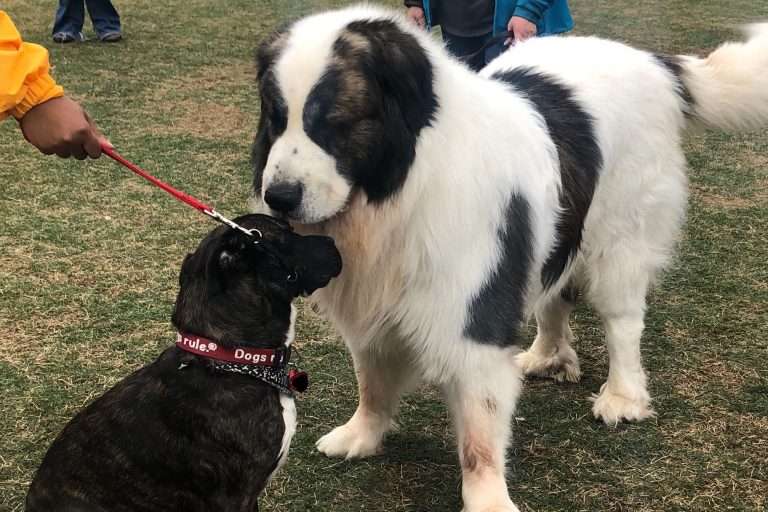 But none of this stopped him from freaking out when the wrong sort of dog passed by. He was so crazy that he started to jump on the girls we were hanging out with at the festival. I had to apologize several times and use some basic training tricks to get him to calm down.
The other girls eventually wanted to go up to the observation deck, so I said Bishop and I would take the stairs and meet them there. Halfway up, Bishop's back legs began to shake.
Oh no, I thought. I've poisoned him.
I didn't actually think that he was having a reaction to the CBD oil, but I always briefly entertain the craziest possibilities when it comes to animals (or babies) doing things that I don't understand. Following a water break and a quick trip to the bathroom, Bishop felt better. Then we tried to rejoin the girls, and Bishop's legs started to shake again.
And that's how I learned that despite our hikes at Percy Warner Park, one of the highest points in Nashville, my dog is actually quite terrified of heights.
After Bishop and I got home, I made some dinner, fed him once again, and crocheted while we watched some movies. I chose not to give Bishop the second dose since he was pretty calm for the rest of the evening.
Day 2: Remembering what happened yesterday, I poured Bishop's food and placed another laced treat in the very middle. He ate it, but not before taking it out of the bowl to inspect it first. Then my own anxiety began to build up.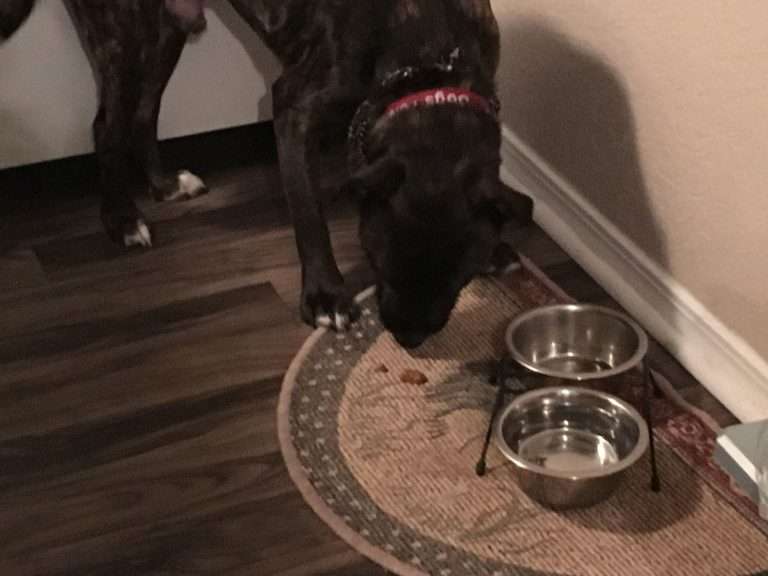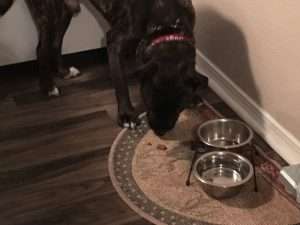 Today was Sunday Mass, which runs a whole heck of a lot longer than daily Mass. It was time to let Bishop roam the apartment alone with my poor, vulnerable books and furniture.
I got dressed for Mass and positioned the gates of his playpen in such a way that he'd have to grow human legs in order to reach the front door handle. I left some treats around the apartment, put on some calming nature sounds, and sweated bullets while I begged St. Francis and St. Roch to intercede on my behalf while I was gone.
Then I left. I didn't hear any scratching at the door or crying.
The Palm Sunday Mass was longer than usual. There was the distribution of the palm fronds, a long procession into the church, and the interactive Gospel reading was several pages long instead of several paragraphs. The homily also lasted a bit longer. While everything was beautiful and I left feeling assured about my spiritual life, it didn't stop me from worrying about my apartment as I drove home.
Once inside, I was thoroughly surprised that other than the barrier having been moved, the floor was clear of paper bits. I mentally prepared myself for the worst of it as I walked towards the main part of my apartment.
Where, it turns out, Bishop was relaxing in his crate.
He raised his head and his ears fell while he looked at me. He only does that when he knows he did something wrong.
I checked the rest of the living room, the dining area, the kitchen, my bedroom, and even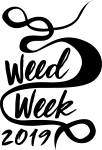 the bathroom. I couldn't believe that everything was untouched. I secretly thanked the oil and the saints while continuing to look for whatever made Bishop's ears go droopy.
Then I noticed that the blanket I put over my Lovesac was knocked to the floor and there were remnants from Bishop's toy on top. Considering he is well aware that he's not supposed to be on there, I concluded that this was the worst of the offenses.
We spent the rest of the day doing some work and getting prepared for the Game of Thrones premiere. I opted against the second dose again because Bishop was otherwise calm.
What did I learn? At the end of the day, I don't know that the oil had much of an effect on Bishop.
He clearly suffers from some separation anxiety, and he can be aggressive with other dogs. As with humans, drugs can only fix so much of an animal's psychology. I'm also not sure what I can tell from just a couple of doses. I will admit to hoping that the CBD drops would essentially be a miracle cure. That, after just a dose or two, he wouldn't be a bad dog ever.
Clearly, CBD is not a miracle cure for rowdy boys.
Still, I'm open to using it again the next time I leave him home alone. After all, with the exception of the playpen and the beanbag, this was the first time Bishop didn't completely destroy the apartment.
So Bishop can go ahead and enjoy his CBD treats for several Sunday masses to come. As for his behavior when we go out, it looks like I'll be calling his trainer soon.