Nobody Thinks They've Gotten a Recent Tax Cut, but a Majority Have: Reason Roundup
Plus: Silk Road 2.0 creator sentenced, and FUCT at the trademark office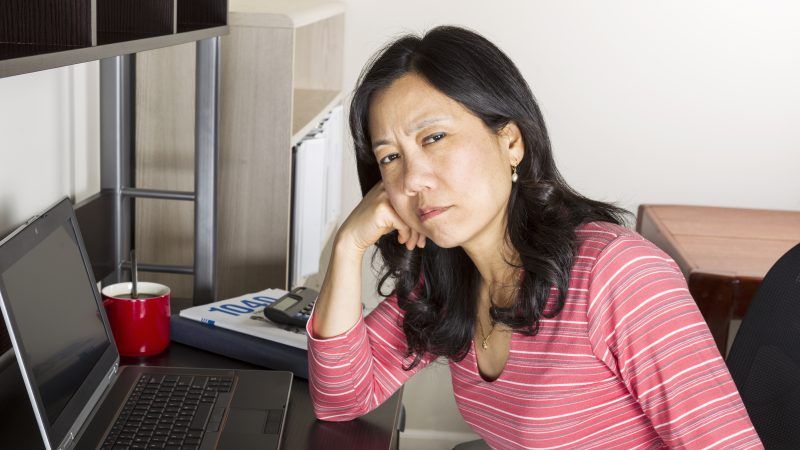 ( Ingram Publishing/Newscom)
Fewer than 40 percent of Americans surveyed think they've seen a tax cut since 2017, when President Donald Trump signed the "Tax Cuts and Jobs Act." In fact, most people think their personal tax burden has gone up. But "independent analyses have consistently found that a large majority of Americans would owe less because of the law" and "preliminary data based on tax filings has shown the same," reports The New York Times. Meanwhile, "not even one in 10 households actually got a tax increase."
Data from the Tax Policy Center show 64.8 percent of Americans got a tax cut, while SurveyMonkey/New York Times data found only 39.6 percent thought they got a tax cut.
People with household incomes of less than $30,000 were the most likely to accurately perceive the situation (32.1 percent got a tax cut, and 30 percent think they did). Much larger tax-cut perception and reality gaps exist at higher household income levels:
About 69 percent of people with a household income of $30,000 to $50,000 got a tax cut, but just 36.1 percent think they did.
Nearly 82 percent of those in the $50,000 to $75,000 range got a tax cut; 41.5 percent think they did.
86.6 percent of households making $75,000 to $100,000 saw a tax cut, but just 47.9 percent think they did.
And 89.5 percent of those in the $100,000 or more bracket got a tax cut, while just 46.4 percent think they did.
"To a large degree, the gap between perception and reality on the tax cuts appears to flow from a sustained—and misleading—effort by liberal opponents of the law to brand it as a broad middle-class tax increase," write the Times' Ben Casselman and Jim Tankersley.
FREE MINDS
FUCT at the trademark office. The clothing company FRIENDS U CAN'T TRUST—that's FUCT, for short—has taken its battle with the U.S. Patent and Trademark Office all the way to the Supreme Court. The office denied founder Erik Brunetti's request, citing a federal rule against registering "scandalous" trademarks. "Now the Supreme Court on Monday, for the second time in two years, will review whether provisions of a federal law, the Lanham Act, violate the First Amendment," reports CNN. The first case, from 2017, involved a band called The Slants. Read (or watch) more about that case here.
FREE MARKETS
Silk Road 2.0 creator sentenced. Ross Ulbricht, creator of the original darknet digital marketplace Silk Road, was relegated to two consecutive lifetimes in federal prison. But after the federal government seized Silk Road in 2013, a Silk Road 2.0 quickly took its place, thanks to the efforts of "Dread Pirate Roberts 2" Thomas White.
"White was arrested in 2014" by the U.K.'s National Crime Agency, writes Tim Cushing, "but his sentence has only now been handed down." And "the creator of Silk Road 2.0—doing double the business of Silk Road 1.0 at its peak—is looking to be out of prison years before his inspiration sees freedom."
White was sentenced to 5 years and four months in prison. "There's your compare-and-contrast. In the US, drug crimes are the worst crimes," Cushing writes.
"Our government argues lengthy sentences for drug cases are needed to deter others from drug dealing. Seeing how quickly the new Silk Road replaced Ulbricht's version makes it clear lengthy sentences aren't deterring anything."
QUICK HITS
Sen. Kamala Harris (D–Calif.) has released a decade and a half worth of tax returns. In 2018, Harris and her husband's combined gross income was $1.89 million.
The Mueller report is reportedly being released sometime this week.
Whole Earth's "3 Nut Butter" clearly contains the word nut in its name. Its label lits "Peanut, Pecan & Walnut" under that. But because Whole Earth didn't use the specific nut-warning language required by U.K. regulators ("contains nuts"), the country's Food Standards Agency has recalled the product.
All your passwords belong to us:
DEA demanded a user's login details from LastPass https://t.co/vzNdWflk0g

— threat level: beige (@TimCushing) April 15, 2019