'Nobody Wants To See a Government Speech Police': Senate Republicans Threaten To Regulate Facebook and Twitter
They say the social media companies display a bias against conservatives.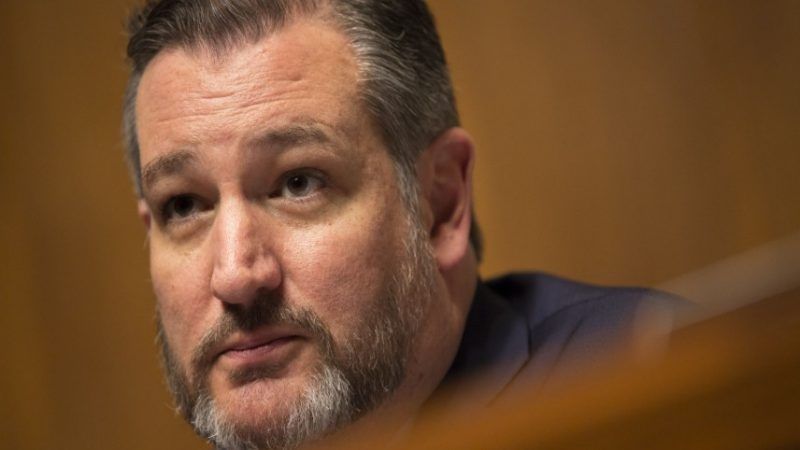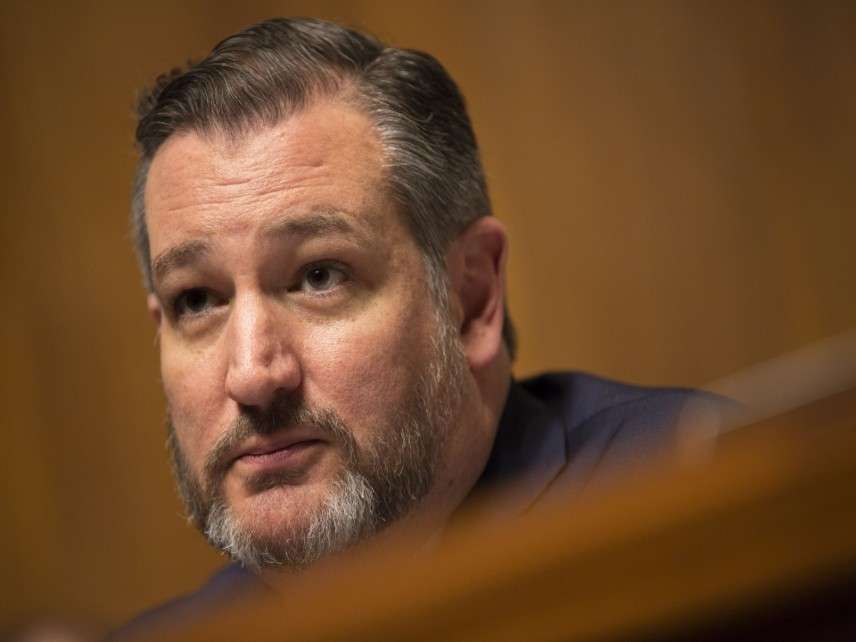 Facebook and Twitter were in the spotlight again on Wednesday. The Senate Judiciary Committee grilled the companies' top execs over a perceived anti-conservative bias, with some Republicans renewing calls for government regulation of social media platforms.
Sen. Ted Cruz (R–Texas) opened the hearing, saying that "nobody—or at least nobody in their right mind—wants to see a government speech police." But he outlined several ways where he wants government intervention. Most notably, he suggested that social media networks could lose their status under Section 230, which protects the content-sharing companies from various lawsuits.
If that happened, Facebook and Twitter would be liable for any and all libelous comments made on their sites—a tall order, especially when you remember that Facebook gets a billion new posts each day. Such a move would almost certainly lead to increased censorship, with tech companies actively seeking to quash comments that might attract lawsuits.
Cruz also proposed using antitrust laws to break up big tech, and he said that cases of alleged censorship could be litigated as fraud.
Whether or not social media platforms push an anti-conservative agenda has been a matter of ongoing debate, as much of the evidence is anecdotal. Sen. Marsha Blackburn (R–Tenn.) mentioned that her campaign announcement video was temporarily removed from Twitter in 2017 after it was deemed inflammatory. She likened social media to a "town square," saying a sheriff—in this case the federal government—is necessary to preserve fairness and order. Carlos J. Monje, Jr., the director of public policy and philanthropy for Twitter's presence in U.S. and Canada, apologized and said the company had "made the wrong call" in taking down her ad.
Meanwhile, ranking member Mazie Hirono (D–Hawaii) lambasted the notion that social media platforms discriminate against conservatives. She named a number of anti-bias efforts undertaken by social media platforms to appease Republicans and listed a range of experts who had found no evidence to support such claims. That social media companies are blind to ideology can be seen in the case of Sen. Elizabeth Warren (D–Mass.), Hirono argued. Not unlike Blackburn, the liberal presidential hopeful recently had a campaign ad removed by Facebook.
Hirono claimed that the real threat is the online proliferation of conspiracy theories and hate speech, which she said requires more rigorous moderation. "I hope that going forward, this subcommittee will focus on the real issues facing America, like hate speech, like voter suppression, like looking into the emoluments clause," noted Hirono.
Francesca Tripodi, a sociologist at James Madison University, testified that her research shows "conservative content creators excel at search engine and social media optimization."
Throughout the hearing, Cruz focused heavily on pro-life sentiment, which has been at the center of the censorship dispute. The senator introduced a briefly blocked tweet from Marjorie Dannenfelser, president of the Susan B. Anthony List, which features a Mother Teresa quote characterizing abortion as "profoundly anti-women." Monje said that pro-choice groups have had content removed when they, too, were in violation of Twitter's policies—although what those policies are remains unclear.
He also rejected allegations that Twitter has a bias against any political ideology, referencing an internal study that found no statistically significant difference in the number of people that see tweets from Democrats versus Republicans.
Neil Potts, the public policy director at Facebook, also pushed back on the accusations of bias. "We are committed to encouraging dialogue and the free flow of ideas," he said, citing a laundry list of internal efforts meant to ensure ideological diversity in content review efforts. "We take that neutrality seriously."
But Cruz pressed Potts on Facebook's stance against hate speech, raising concerns over the company's history of removing posts that are deemed emotionally injurious.
Not all Republicans on the committee expressed a desire to monitor social media practices. "I differ from some of my colleagues in the approach I take to this," said Sen. Mike Lee (R–Utah). "I don't view you as a public utility. I don't view you as being owned by the government, but some of my colleagues see it differently." Yet in a moment of cringeworthy political theatre, Lee angrily pressed both execs to concede that their respective companies are dominated by liberal employees. They almost certainly are, as both are based in Silicon Valley. But it's information that neither is privy to.
The hearing likely accomplished very little—if anything—as Democrats and Republicans stood firm in their respective positions. Even so, they came to a rare area of agreement, with both sides calling for the tech giants to be more transparent.
"To be sure, we must take seriously the fact that YouTube, Facebook, and Twitter play an increasingly important role in how our society gains access to news and information," said Tripodi. "Unfortunately, the opaqueness of their operational tactics allow unsubstantiated conspiracies to hold weight."