Bird and Lime Scooters To Leave Raleigh Due to City Regulations
Both companies say the city's restrictions are too burdensome to stay.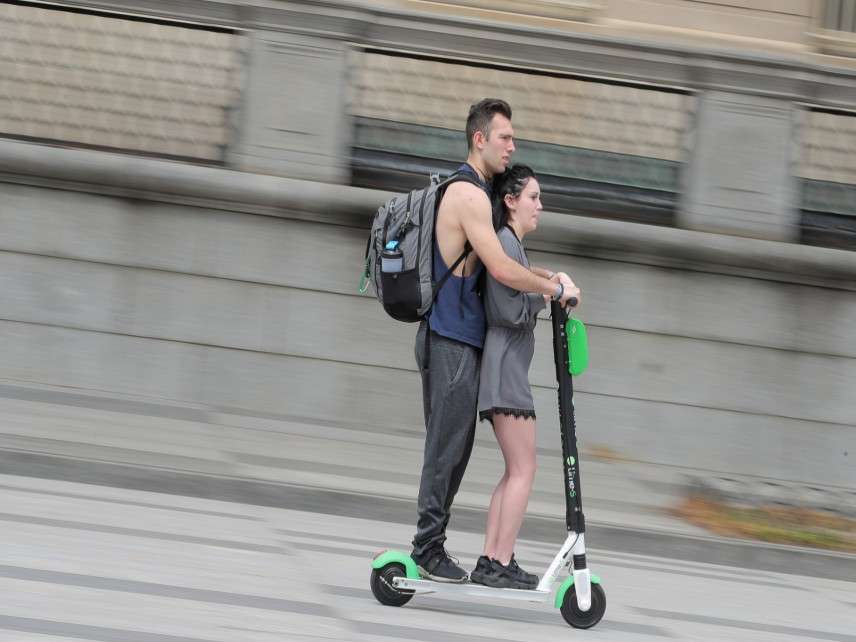 Come summertime, getting around will be a bit harder—and a lot less fun—in Raleigh, North Carolina. Bird and Lime, the popular electric scooter companies, are leaving.
"Despite our efforts to partner in good faith, the city has decided to impose some of the most onerous regulations in the country, and unfortunately we cannot continue to operate under such restrictive rules," a spokesperson for Lime told Reason. The company hasn't set a date for its departure, although its current agreement with the city will expire on July 31.
The restrictions include a $300 fee per scooter (up from $100), a 500-vehicle maximum, and rules around where users can ride and park. E-scooter companies allow riders to deposit vehicles on the sidewalk, as opposed to finding a docking station.
When the regulations were implemented in December 2018, Lime only had 300 vehicles scattered around town. But Bird had 1,100, forcing the company to scrap more than half of its Raleigh-based operation. That dramatic decline in availability will hurt the environment, they say, increasing traffic congestion and hampering the eco-friendly company's capacity to provide a sustainable (and exciting!) mode of transportation. Lime claims that every mile traveled via scooter offsets 350 grams of carbon emissions compared to driving.
It also stands to hurt some of the city's more vulnerable occupants, whose access to the cost-friendly scooters will inevitably fall. When Washington, D.C., mulled a similar cap, Bird's chief legal and policy officer wrote that such a move "incentivizes e-scooter providers to put their vehicles only in popular, high-density areas," as opposed to "historically underserved areas that would most benefit from an affordable and reliable transit option."
Bird will leave Raleigh by April 30. The company struggled to maintain its affordability amidst the $300 per scooter fee, adding an additional $2 base charge to the $1 required to unlock a vehicle and the 15 cents per minute to ride. Raleigh will reportedly use that money to enforce the new restrictions and create educational materials on scooter rules, according to The Raleigh News and Observer.
"Even when the City Council's high fees forced us to raise fares, we were encouraged by the loyalty of a growing community of residents who want to see Raleigh be an innovative leader on transportation, economic development and climate policy," Sam Reed, director of government partnerships at Bird, told Reason in a statement. "Unfortunately, Raleigh city officials refuse to amend their burdensome regulations on e-scooter providers, and it no longer makes sense for us to provide our service under the city's restrictive leadership."
Reed mentioned Charlotte, N.C., as a model for how the state can take advantage of the environmentally-friendly scooters without hindering their potential. The Queen City lifted its vehicle cap in January and doesn't yet charge a scooter fee, although they are exploring options for the latter.
"We work closely with cities around the world who really want to have low-cost, environmentally friendly transit for their residents," said Reed. "We have an awesome working relationship" with Charlotte, he noted, adding that Bird is "looking for ways to extend our partnership."
While its operations grow across the state, Bird's partnership with Raleigh will cease to exist—for now. That could change though, if Raleigh legislators are willing to take a cue from friendlier cities like Charlotte.
"Our time in Raleigh must come to a close but we hope to return in the future when city officials are ready to be more amenable to our business and industry as well as the needs of their constituents," Reed said.