Trump Administration Labels Iran's Revolutionary Guard Corps a 'Terrorist Organization'
And Iran looks to reciprocate.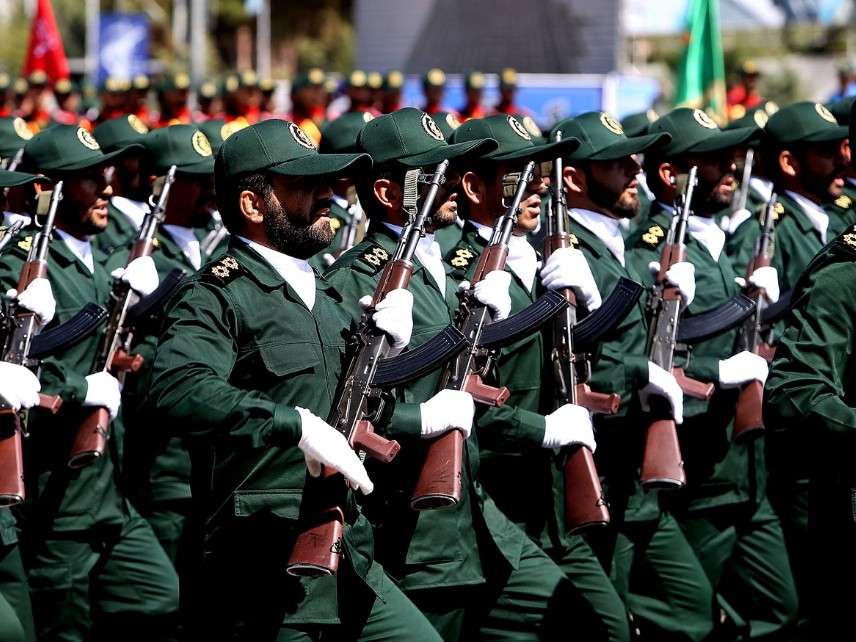 The Trump administration said today that it is designating a powerful Iranian paramilitary organization as a foreign terror group.
The Islamic Revolutionary Guard Corps (IRGC) has long faced accusations of sponsoring global acts of terror. A White House press release cites several examples, including an alleged 2011 plot to assassinate Saudi Arabia's ambassador to the United States. The IRGC has also been known to support various militant groups in the Middle East.
"The Iranian regime is the leading state sponsor of terror," says the press release. "It exports dangerous missiles, fuels conflicts across the Middle East, and supports terrorist proxies."
"This action sends a clear message to Tehran that its support for terrorism has serious consequences," President Donald Trump declares in a separate statement. "We will continue to increase financial pressure and raise the costs on the Iranian regime for its support of terrorist activity until it abandons its malign and outlaw behavior."
The IRGC is not part of Iran's normal military, though it is a government organization that answers to the nation's supreme leader. This move—the first time the U.S. has labeled an entity within another government as a terror organization—means any American conducting business with the IRGC could face criminal charges.
Secretary of State Mike Pompeo says it will be another week before the new designation takes effect.
Relations between Iran and the U.S. have been tense for a while, especially since Trump withdrew last year from the two nations' Obama-era nuclear deal. "We will answer any action taken against [the IRGC] with a reciprocal action," says a statement issued by a majority of Iranian lawmakers, according to Reuters. "So the leaders of America, who themselves are the creators and supporters of terrorists in the [Middle East] region, will regret this inappropriate and idiotic action."
Iranian Foreign Minister Mohammad Javad Zarif has reportedly sent a letter to President Hassan Rouhani calling on Iran to label U.S. military forces in the Middle East "terrorist groups." Since then, Iran has dubbed the U.S. a "supporter of terrorism" and the U.S. Central Command a terror group.
Trump's action came after much debate within the administration, The New York Times reports, with Pompeo and National Security Adviser John Bolton pushing for the designation.
"There is a reason that successive administrations have held off designating the I.R.G.C. as a terrorist organization, and why many of Trump's own military and intelligence officials are said to be highly opposed to the move: The potential blowback vastly outweighs the benefits," Jeffrey Prescott, a Obama-era member of the White House National Security Council, tells the Times. "It will put our service members in Iraq and throughout the region at additional risk with nothing to show in return."
John Glaser, director of foreign policy studies at the libertarian Cato Institute, expressed similar sentiments on Twitter:
Sanctions are always a form of collective punishment. They always harm innocent people. Today's sanctions on Iran have no strategic basis and will not alter Iran's policies. https://t.co/Ksr89YTpAk

— John Glaser (@jwcglaser) April 8, 2019
The IRGC is, no doubt, a shady organization that does very bad things. But officially labeling it a terror group won't necessarily decrease, and may well increase, its willingness and ability to cause harm.