Complicated Rules For Foraging Aren't Helping Our National Parks
Let the people pick berries!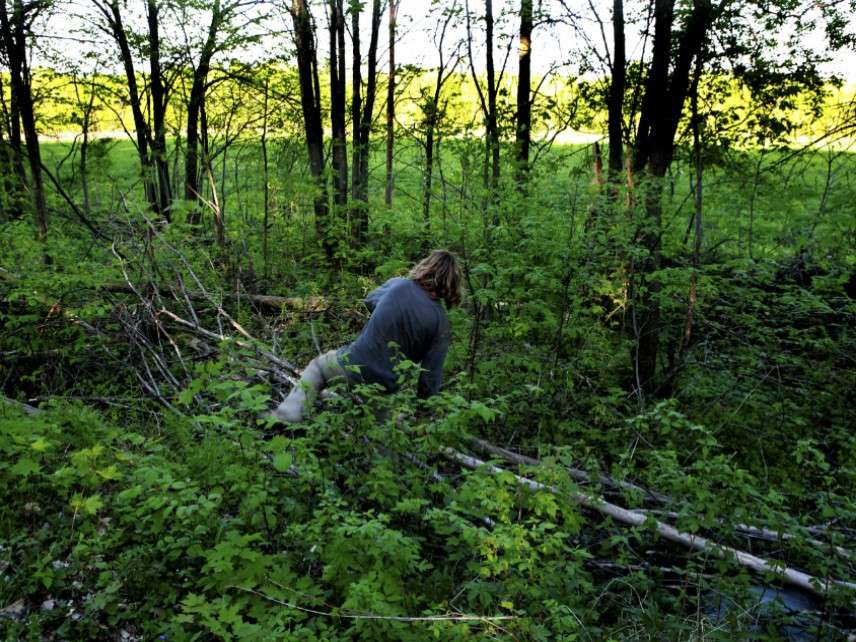 Officials from the National Park Service (NPS) announced an agreement last week with the Eastern Band of Cherokee Indians that will allow select tribal members to forage for an edible plant called sochan in Great Smoky Mountains National Park (GSMNP). The agreement allows up to three-dozen permitted tribal gatherers (plus up to five accompanying family members) to harvest sochan in the park.
The change, reports the Asheville Citizen-Times, "returns the right by the Cherokee to pick and fry up the kale-like sochan, also known as green headed coneflower, on their ancestral land as they had done for thousands of years." Officials also announced they're considering allowing park visitors to harvest ramps, a hipster-friendly species of wild onion.
This agreement is a groundbreaking move on the part of the NPS, but it doesn't go far enough.
The origins of U.S. anti-foraging laws, which I traced in a 2018 Fordham Urban Law Journal article, Food Law Gone Wild: The Law of Foraging, were borne out of white Americans' fears of and hatred for Native Americans, who I write "were probably the earliest victims of anti-foraging laws in the New World."
While foraging is enjoying a renaissance, so too are penalties for engaging in the practice. Foraging regulations in this country vary wildly, and tend to be far more restrictive than is reasonably necessary. For example, as I detailed in a 2015 column, a Maryland man was fined $50 and hauled into court for picking berries in a local park. I include several other examples of fined foragers in my 2016 book Biting the Hands that Feed Us: How Fewer, Smarter Laws Would Make Our Food System More Sustainable.
The NPS has slowly been evolving on the issue. In 2016, the agency modified rules for foraging in national parks, allowing individual Native American tribes "to request to enter into agreements to conduct gathering activities." In addition to a request, the new rules require both an environmental assessment and a formal finding that foraging will not significantly impact the relevant wild food in the park.
The agreement announced last week appears to be the first such agreement crafted under the modified rules.
It doesn't take a genius to recognize that the Cherokee aren't overly excited about the new agreement, which includes restrictions on harvesting methods, locations, uses, and other factors, all detailed here.
"For thousands of years, the Cherokee gathered sochan and other plants from these mountains," reads a statement from the tribe announcing the recent sochan agreement (emphasis mine). "This agreement is a first step toward restoring those gathering rights."
Elsewhere, the tribe notes that the process for getting the sochan agreement on the books required the tribe to pay the federal government $68,000 for an environmental assessment, one of merely nine steps in the process, which "irk[ed] some leaders" of the tribe.
Foraging opponents worry that allowing the practice will lead to overharvesting, but in sochan's case, the opposite is actually true. "Cherokee methods of gathering sochan were found to boost seed production," the tribe notes. Put another way, prohibiting the tribe from harvesting sochan has harmed sochan seed production and, hence, is bad for the tribe and bad for sochan populations.
I also find it hard to get too excited by the agreement announced last week. It's a complicated, expensive, and time-consuming regulatory amendment that will just allow a few dozen people out of more than 300-million Americans to harvest the leaves of a sunflower cousin in a National Park.
I made the case for allowing foraging in all NPS units in a 2017 piece for the New Food Economy. In the column, I urged a shift "from the default [foraging] ban that exists under the current rules—which mandate that all foraging in a given park is illegal unless a superintendent allows it—to something like much more permissive, akin to all foraging in a park is legal unless a superintendent prohibits it."
Allowing foraging in a park isn't an all-or-nothing proposition. Park superintendents may—and do—allow foraging while also placing limits on the foods that visitors may harvest, methods of harvest, uses, quantity, and location, along with particular prohibitions for wild foods that have been overharvested (e.g., declaring that visitors may not harvest mushrooms in a park).
If overharvesting of any species is (or becomes) a problem in a given park, then the park superintendent is empowered to limit the quantity of that species visitors may gather in the park, restrict harvesting methods or locations, or by temporarily prohibit foraging for that species until it recovers.
With 46 of 61 National Parks already allowing some form of foraging of some things, it's a hop and a skip to having the default policy be that foraging of everything is allowed at all 61 parks, with park superintendents responsible for introducing temporary, species-specific restrictions when circumstances require it.
That way, more Americans, Native and non-native alike, would be encouraged to visit our National Parks and to learn about and enjoy the tremendous abundance and variety of wild foods that grow there, including sochan. After all, that's a central reason the parks exist in the first place.