White Plains, New York, Will Finally End Its Ban on Amusement Arcades
Pinball and Pac-Man: no longer illegal.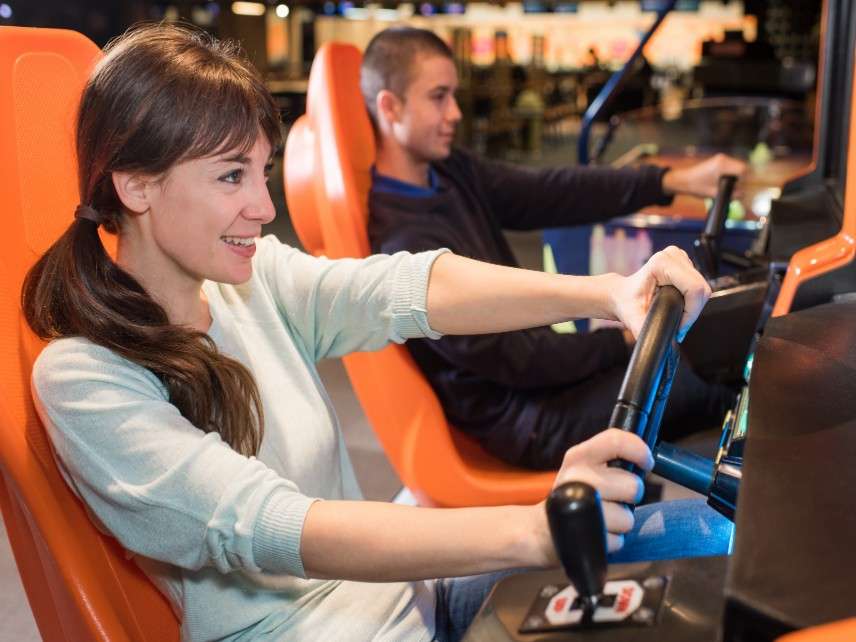 In a victory for the young and the young at heart, a city in Westchester County, New York, is moving to strike down its harebrained ban on arcades.
White Plains—a popular suburb outside of Manhattan—inched closer to sanctioning fun this week, with the city council signaling they will scrap a law that has barred business owners from opening "amusement arcades." The ban's repeal will also pave the way for laser tag and Esports establishments, both of which were barred under the prohibition as well.
The city's ban was first implemented in the '70s, briefly repealed, and then reinstated in 1999.
Why the discrimination against arcades, which breed family friendly fun in malls across America? White Plains Mayor Thomas Roach thinks he knows the source, and it's as insidious as ever: Times Square.
"There was a time when Times Square was seedy, and they had a lot of arcades," he told the New York CBS affiliate. "Things were happening there that were not favored, and I think, in general, communities didn't think arcades were a good thing to have."
The centrally located Manhattan plaza—laden with jumbotrons and envied by tourists everywhere—does have an arcade or two. It also has its fair share of restaurants, bars, clothing shops, convenience stores, and hotels, which were fortunate enough to avoid prohibition in White Plains.
But that's not the entire story, as arcades have had a slew of critics since their inception in the early 20th century. Gambling was commonplace at such establishments, and the arcade's reputation as a smoky den of sin promulgated widely. In 1942, New York Mayor Fiorello LaGuardia confiscated the city's pinball machines, and in a highly publicized news appearance, smashed some with a sledgehammer and then dumped them into the Long Island Sound.
The 1970s saw a resurgence—the dawn of an arcade golden age, so to speak—with businesses transitioning from pinball to computerized role-play games. Popular options included the legendary Pac-Man, as well as Asteroids and Space Invaders—pioneers in the "shoot 'em up" genre. That irked some politicians, church leaders, and concerned citizens, who worried about violence in video games and fretted over what trouble the youth might get in if left to their own devices. They soon saw to it that White Plains was washed of its debauchery.
Luckily for arcade-lovers in White Plains, though, pinball machines and Pac-Man are no longer canceled.