Rand Paul and Alexandria Ocasio-Cortez Found Something They Can Agree On
Both the libertarian-leaning Republican and the democratic socialist want Trump to withdraw U.S. troops from Syria.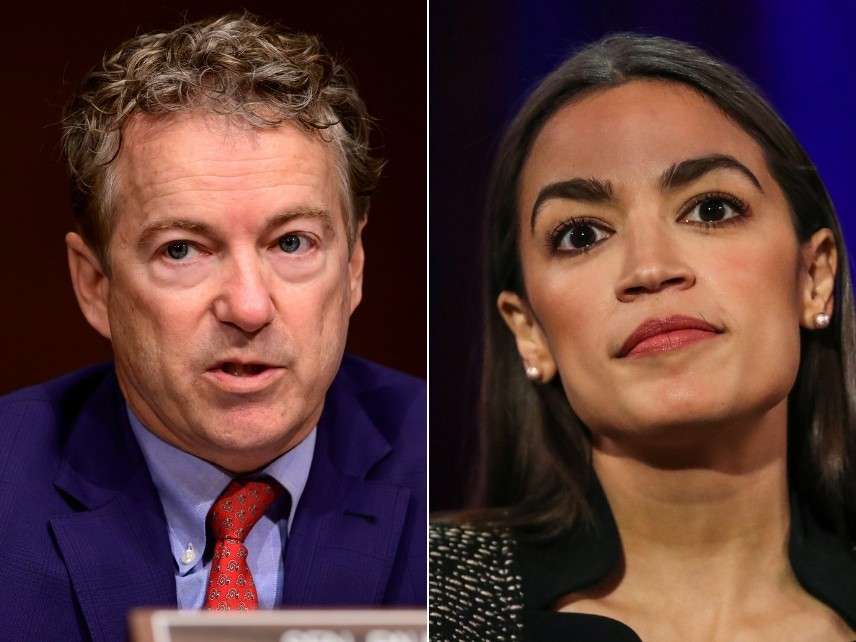 Regular Reason readers are no doubt familiar with the policies espoused by both democratic socialist Rep. Alexandria Ocasio-Cortez (D–N.Y.) and libertarian-leaning Sen. Rand Paul (R–Ky.). To put it bluntly, they are about as far apart on the political spectrum as two people can be.
But the two politicians "have found common ground" (as the Associated Press put it) on the issue of U.S. involvement in Syria. Paul and Ocasio-Cortez were two of 12 congressional lawmakers to sign a letter to President Donald Trump praising him for his stance on Syria and encouraging him to withdraw U.S. troops from the country soon.
"We write in bipartisan support of your announcement of the start of a 'deliberate withdrawal' of U.S. military forces in Syria, and we welcome the completion of this process within the next six months," the letter reads. "It is long past time to rein in the use of force that goes beyond congressional authorization, and we look forward to pursuing this longstanding bipartisan objective with your Administration."
It's been more than three months since Trump posted a message to Twitter explaining why he planned on withdrawing U.S. troops from Syria. His reasoning was simple (and valid): With the Islamic State group defeated, there is no longer any reason for American soldiers to stay.
As Reason's Christian Britschgi and others have pointed out, Trump's stance on this issue has earned him bipartisan criticism, especially from within his own administration. This may be why the timetable for the troop withdrawal was extended from 30 days, to four months, to some undetermined future date.
The letter from Paul and Ocasio-Cortez notes that Congress never authorized the president to send soldiers to Syria, and asks the Trump administration to place "an increased focus on diplomacy to ensure minimal disruption and prevent needless loss of life."
"Finally, we hope this will serve as a model for ending hostilities in the future—in particular, as you and your administration seek a political solution to our involvement in Afghanistan," the letter concludes.
Aside from Paul and Ocasio-Cortez, the other signatories include Sen. Mike Lee (R–Utah), Reps. Justin Amash (R–Mich.), Andy Biggs (R–Ariz.), Jeff Duncan (R–S.C.), Paul Gosar (R–Ariz.), Ro Khanna (D–Calif.), Ted Lieu (D–Calif.), Thomas Massie (R–Ky.), Ilhan Omar (D–Minn.), and Bill Posey (R–Fla).
They're absolutely right. As Reason's Robby Soave has argued, there's just no good justification for U.S. troops to be in Syria. ISIS has largely been defeated. Keeping U.S. troops there will not protect Americans from terror attacks. The Constitution gives Congress the authority to authorize military intervention, and in this case, it has not.