ACLU Challenges Laws Criminalizing Panhandling
The civil rights group argues that such laws infringe on free speech.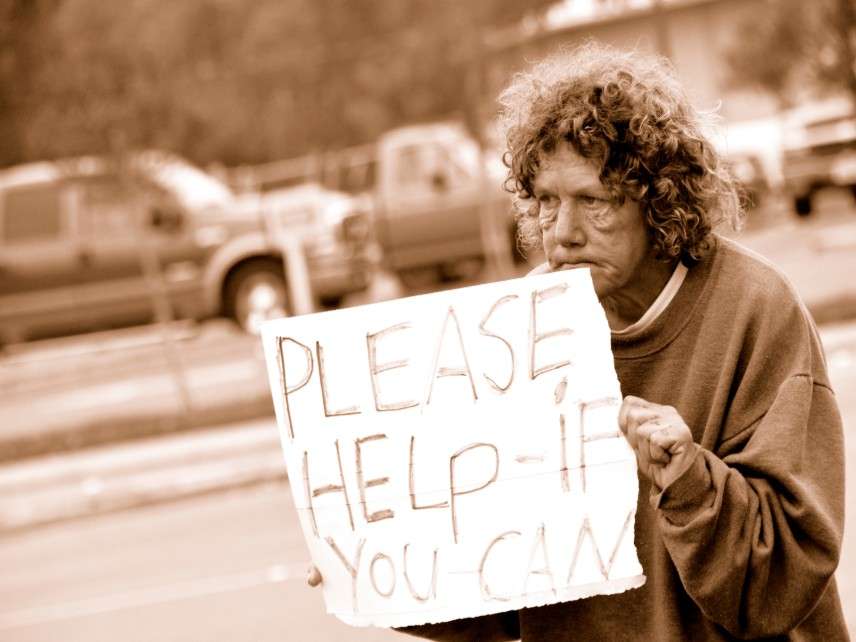 Depending on where you live and where you're standing, asking for money may be a crime.
The American Civil Liberties Union (ACLU) recently filed a pair of lawsuits—one in Summit County, Ohio, and the other in Fall River, Massachusetts—to change that. Both municipalities prohibit panhandling on public roads.
Carol Rose, executive director of the ACLU of Massachusetts, said in a statement that "asking for help" has been criminalized by the Bay State. "This Massachusetts law and Fall River's enforcement of it are unconstitutional attacks on free speech that prey on those who are most vulnerable."
Asking for help is indeed the crux of the issue in Massachusetts. The state's panhandling ban only applies to personal donations; it does not punish the selling of goods or services, nor does it prohibit individuals from soliciting cash for something philanthropic.
"Under this statute, if someone holds up a 'Newspapers for sale' sign next to a roadway, the request for funds is lawful," Ruth Bourquin, senior attorney at the ACLU of Massachusetts, said in a statement. "If a sign says 'Save the whales,' the request is lawful if the sign seeks money for an organization with a permit from local police. But if a sign says 'Homeless—anything helps,' the request is strictly illegal. That's offensive to the Constitution and to the values we hold as a Commonwealth."
The civil rights nonprofit has successfully challenged ordinances in nearby Worcester and Lowell, which banned "aggressive panhandling" and criminalized the act of begging within 20 feet of various public places. Those included bus stops, banks, restaurants, and theatres, where beggars were automatically deemed "aggressive" for so much as holding a sign. Arrests left panhandlers vulnerable to the associated fines and court fees—money they likely didn't have, considering the nature of their offenses.
In the Lowell case, the city argued that curbing panhandling was a matter of public safety. It creates a "raucous alternative culture," city officials said, namely because it attracts the "modern-day court jesters or buffoons" who are engaging in "parasitism."
Judge Douglas Woodlock of the U.S. District Court for the District of Massachusetts disagreed. Arguing that the restriction encroached on First Amendment rights, he said that begging is an "expressive act." Lowell had a "content-based intent in enacting the Ordinance," Woodlock wrote, as evidenced by "the City's fervent denunciation of the culture of panhandling."
In Summit County, Ohio—where the ACLU's second case is pending—a statute not only forbids begging near roadways, but makes criminals out of those who donate. The local council passed the measure a few weeks before Christmas.
"It was a season of misery and pain and suffering," Leon Wilson, who was censured for panhandling in Summit County's Bath Township jurisdiction, told Cleveland's ABC affiliate. "Every day I'm surviving—every day just to survive day by day. Not month by month." He is unable to work because of a disability, he said.
The county is arguing that donating to panhandlers situated on roadways can elevate traffic risks. But the ACLU isn't convinced.
"The Bath Township Police told our client, 'I want you to leave and never come back,'" said ACLU staff attorney Elizabeth Bonham in a statement. "Mr. Wilson is being harassed for exercising his constitutional rights. The First Amendment means that cities and counties cannot penalize people for helping each other."