Cops Charge University of Arizona Students With Misdemeanors for Disrupting Event
"Student protest is protected by our support for free speech, but disruption is not."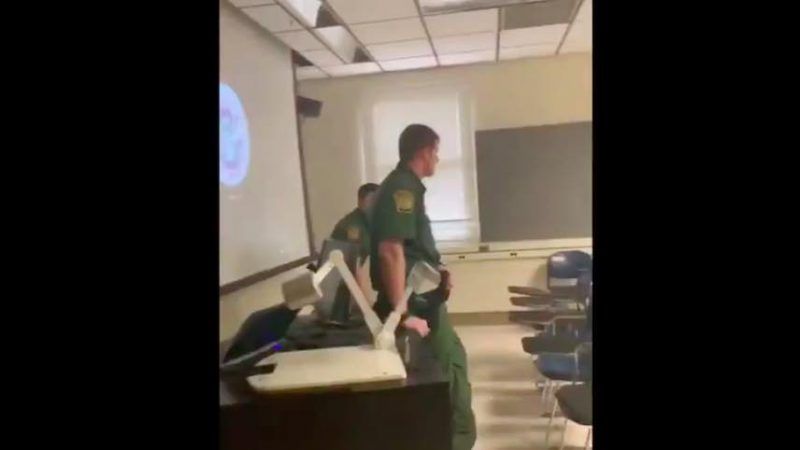 (Screenshot via Lone Conservative)
Two University of Arizona students face misdemeanor charges after disrupting a Career Day event that featured border patrol officers.
The incident took place on March 19. The officers were speaking with students inside a classroom when two activists entered the classroom and began heckling. One, a female student, shouted "murder patrol" continuously at the officers and claimed that their presence on campus made her unsafe. Organizers asked her to leave, but she refused. The activists later followed the officers outside, where a larger group of protesters were waiting.
WATCH: Far-left protesters at the University of Arizona protest Border Patrol agents on campus by likening them to the KKK and calling them the Murder Patrol repeatedly.

h/t denisseisdead IG pic.twitter.com/iwPmNYRzFC

— Lone Conservative (@LoConservative) March 20, 2019
"University police determined today they will be charging two of the students with interference with the peaceful conduct of an educational institution, a misdemeanor," said Arizona President Robert Robbins in a statement.
The students may also be facing academic sanctions.
Robbins argued that this was a free speech issue: Protesting the officers was acceptable, but not if it meant disrupting the event.
"At the core of these inquiries is the University of Arizona's commitment to free speech," said Robbins. "The student club and the CBP officers invited by the students should have been able to hold their meeting without disruption. Student protest is protected by our support for free speech, but disruption is not."
The university did not immediately respond to a request for comment.