Brickbats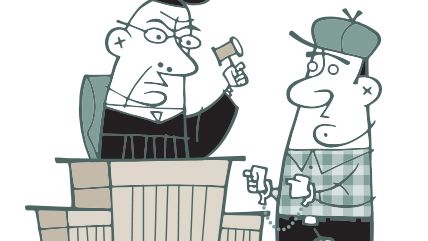 Fire officials showed up at the UpperWest wine bar in Cambridge, Massachusetts, and told the owner the restaurant could no longer use candles at tables, citing a city ordinance. The ordinance turned out to be a new paragraph on the fire department's website that had been added without public comment or notice. "Some person put a sentence on the website," UpperWest owner Kim Courtney told a local news station. "That does not create a law." The city's licensing commission disagreed, suspending the bar's alcohol license for three days for the violation.
Health officials fined a Quebec theater $500 after an actor lit a fake prop cigarette during a performance of the play Conversations Avec Mon Pénis. Marc Gourdeau, artistic director of the Premier Acte theater in Quebec City, said the offense occurred during a scene in which a man argues with a woman dressed as a giant penis. "The penis is OK, killing people is OK, all kind of things is OK—but smoking sage cigarettes is not OK," he complained.
An investigation by the South Florida Sun Sentinel concluded that the state's schools routinely fail to report crimes that take place on campus. The newspaper found that many schools have reported no crimes at all, even after major crimes were reported in the media. Florida law requires schools to report crimes to state officials but contains no penalties for those that don't.
The London Underground mass transit system pulled a Christmas-themed ad for Lumen, a dating app for those over 50. The ad features a shirtless "sexy Santa" with gray hair and a gray beard and features the tag line "Pull a cracker this Christmas," an apparent double entendre referring to the British tradition of Christmas "crackers," or tubes containing prizes and candy that pop when pulled apart. Transport for London, the government agency responsible for the Underground, said the ad objectified the man and that the company should come back with a clothed model and a less suggestive tagline.
A Missouri judge has ordered David Berry Jr. to watch the movie Bambi at least once a month during the year he will spend in jail after being convicted of poaching deer.
After Abigail Peck was offered a job at Connecticut's B.W. Tinker Elementary School, she told them she used medical marijuana for ulcerative colitis. Although she had a valid Florida medical marijuana card, the school system's human resources office pushed back her start date so she could get a Connecticut card as well. But when Peck got the card and tried to start her job, she was fired instead. In a statement, the school system's attorney said that, regardless of state law, marijuana use violates Tinker's drug-free policy.
A worker in a Milwaukee tow lot found a crying 4-year-old girl in a van that had been towed there about eight hours earlier, after the girl's mother was arrested on suspicion of drunk driving. According to city policy, vehicles are supposed to be searched before they're towed and again when they arrive at the lot. The temperature in the city dropped to 18 degrees that night, and the girl required an emergency room visit to check for symptoms of exposure.
This article originally appeared in print under the headline "Brickbats".