Oops! Construction of Overbudget, Overdue Light Rail Project Accidentally Destroys Historical Site
Is this the world's sloppiest light rail project?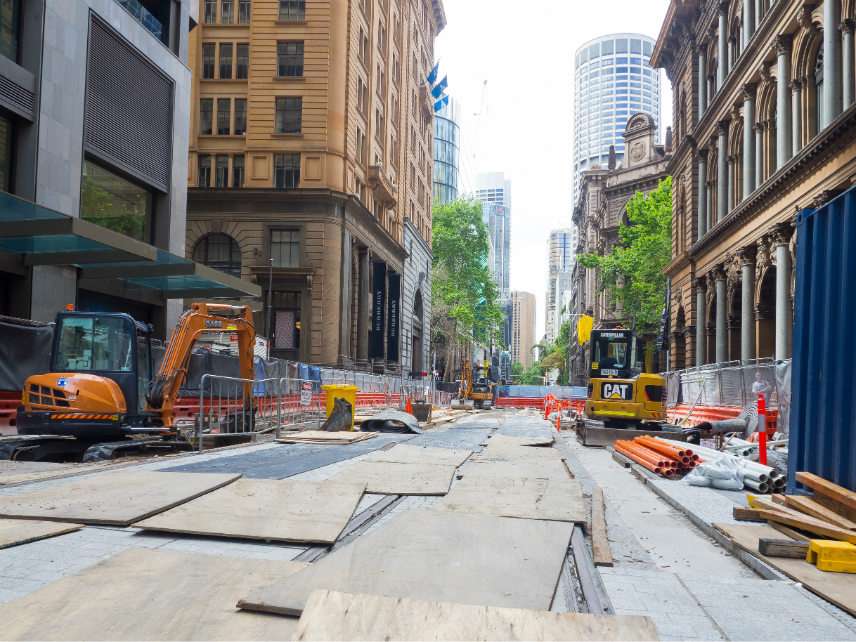 Sydney's light rail line is millions of dollars overbudget and a year behind schedule. It has ruined small businesses in its path. It accidently tore up a valuable public art installation. And now it has managed to destroy a piece of Australian history too.
The Sydney Morning Herald reports that the people building the line, which is supposed to carry passengers on a 7.5-mile route from the city's central business district to its eastern suburbs, managed to dig up and destroy a tool-making site once used by the indigenous peoples of the area. The site served as an "epicenter" of trade between aboriginal people's and early British colonists, historical consultant Scott Franks tells the Morning Herald.
Some 22,000 stone and glass artifacts were discovered at a site along the planned route back in 2016, prompting Aboriginal groups to call for construction pause until the historical significance of what was found could be determined. The New South Wales (NSW) government ignored the request. A study of the initial findings, first reported by the Morning Herald yesterday, suggests that decision has come at the cost of a valuable historical resource.
The revelation is just the latest is the series of black eyes for the project.
In October 2018, Australia's ABC News reported that construction work on the light rail line had managed to destroy a AU$500,000 public art installation.
In August of that year, 60 small businesses filed in a class action lawsuit against the Transport for NSW—the state transportation ministry—claiming $40 million in damages and lost business as a result of light rail construction-induced road closures, noise, and other disruption. An additional 50 businesses have since signed on to the suit.
This, mind you, is just the collateral damage from a project that should never have gone through in the first place.
In 2012, staff at Transport for NSW produced an analysis of 26 different possible light rail routes, finding that at most, a project would produce $880 million in value compared to $1.1 billion in costs.
The 2012 report was buried, and a new one released in early 2013 concluded that the benefits of light rail did exceed the costs once "non-conventional benefits" (such as the joy people will get from knowing future generations will have access to light rail) were included.
Since then, costs have only escalated. The project is now said to cost $2.1 billion. The full line will not be operational until March 2020, a full year behind schedule.
Acciona, the contractor tasked with building the light rail line, is now locked in a vicious legal battle with the NSW government, with Acciona claiming crucial information about the project's scope was hidden until after the papers had all been signed. NSW officials have said the delays and cost overruns are the result of Acciona's incompetence, although that has not stopped the state government from giving the company millions in new contracts.
There are a lot of good reasons to be wary even of light rail projects that are based on realistic assumptions and managed impeccably. But Sydney's light rail has benefitted from neither decent management nor plausible assumptions about its costs and benefits. The results of that sloppiness are still being felt.