Kim Foxx, the State's Attorney Who Let Jussie Smollett Go, Has a Lot of Explaining to Do
"A case with the consequential effects of Mr. Smollett's should not be resolved without a finding of guilt or innocence."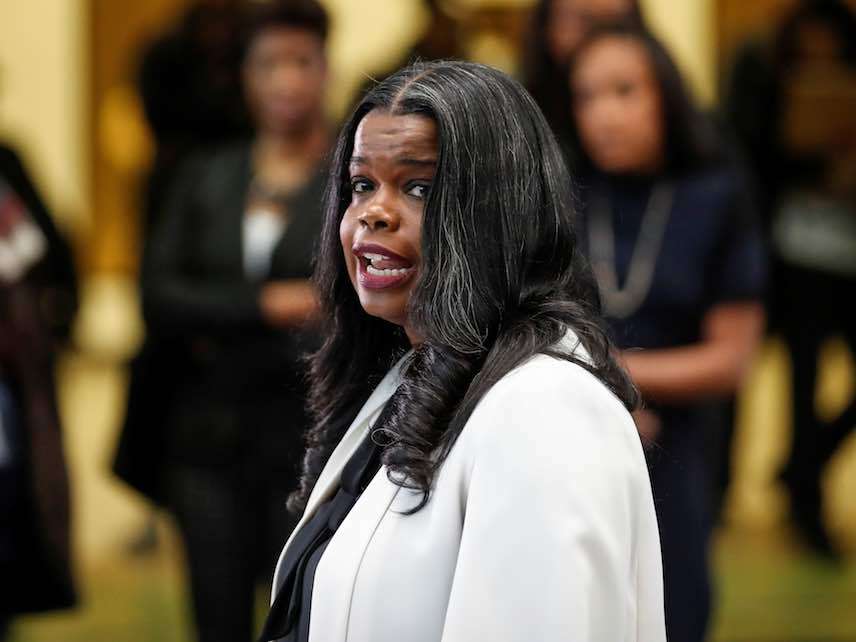 As an outraged public continues to wonder why Empire star Jussie Smollett is no longer facing charges for allegedly faking a hate crime, the National District Attorney's Association is criticizing prosecutor Kim Foxx for her decision to dismiss the case.
"When a prosecutor seeks to resolve a case through diversion or some other alternative to prosecution, it should be done so with an acknowledgment of culpability on the part of the defendant," the organization said in a statement. "A case with the consequential effects of Mr. Smollett's should not be resolved without a finding of guilt or innocence."
The group raises some very valid concerns about Foxx, the state's attorney. It was previously reported that Foxx recused herself from the Smollett case in February, but it appears she did not file the paperwork to do so officially. This meant that the judge could not appoint a special prosecutor to handle the case, and instead, Foxx's offices continued to be principally involved in bringing Smollett to justice. Her recusal was in no sense meaningful.
This matters, because Foxx had been in contact with supporters and relatives of Smollett—including Tina Tchen, a former aide to First Lady Michelle Obama. The relative and Foxx ostensibly discussed getting the Chicago police to turn the entire matter over to the FBI, which Foxx attempted in vain to make happen.
Tchen is not the only political friend Smollett and Foxx have in common: Sen. Kamala Harris (D­–Calif.), is another. Foxx has described Harris as mentor, and Harris appeared at a rally with Smollett and his sister, according to CBS Chicago.
There are obviously a lot of connections between politicians and Hollywood, and the existence of such connections does not prove that Foxx let Smollett off as some kind of favor. But Foxx herself has shot down one of the more plausible alternative explanations, which was that the case was simply not nearly as strong as the police had made it out to be. Foxx has maintained that the evidence was solid and that "this office believed that they could prove him guilty." For some reason, they simply did not want to.
Foxx's office has tried to spin the outcome as a win-win: Smollett forfeited a $10,000 bond and completed 16 hours of community service. But Smollett's attorneys have correctly pointed out that no formal agreement was ever reached, and Smollett was never required to admit guilt.
It would have been perfectly appropriate to show Smollett leniency. In general, we should not send people to prison unless they pose some actual danger to society. Community service and some sort of fine is a perfectly reasonable conclusion to this case—but only alongside an admission of guilt. Smollett inflamed the entire nation at a time when many people are especially concerned that hate crimes are increasing and President Trump has something to do with it. On its face, what happened to Smollett seemed to confirm this misleading premise. If the prosecutors believed Smollett was guilty, and that they could prove it, then they really should have compelled him to acknowledge that there are no ski-mask-wearing "MAGA country" mercenaries prowling the streets of Chicago in the middle of the night.