Prosecutors Drop All Charges Against Jussie Smollett
The FBI is still investigating, however.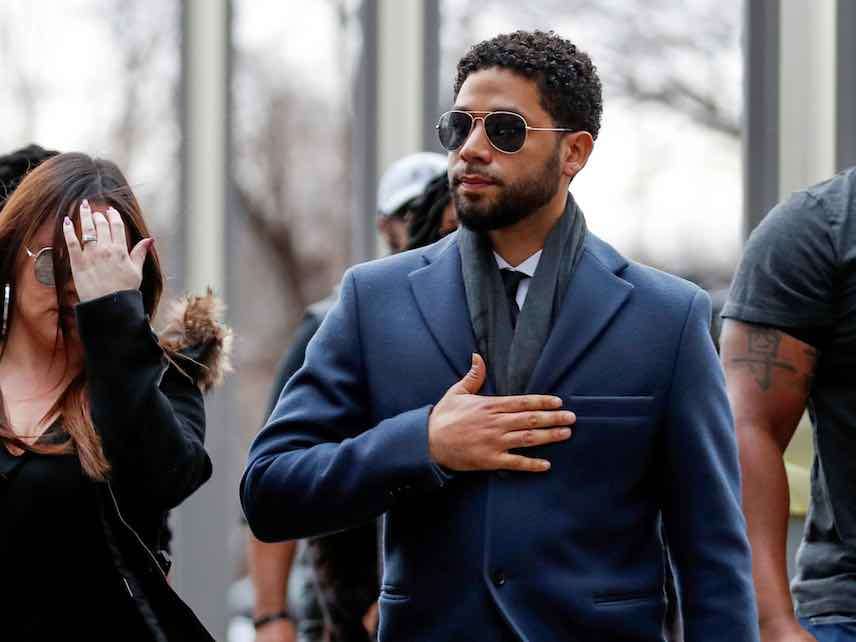 There has been another twist in the Jussie Smollett saga: Prosecutors dropped all charges against the Empire actor who had been accused of orchestrating a hoax hate crime against himself.
State attorney Kim Foxx made the unexpected announcement Tuesday: "After reviewing all of the facts and circumstances of the case, including Mr. Smollett's volunteer service in the community and agreement to forfeit his bond to the City of Chicago, we believe this outcome is a just disposition and appropriate resolution to this case."
Note that this outcome is not the result of a plea deal—prosecutors simply decided they did not want to go ahead with the case, which is now sealed.
"Today, all criminal charges against Jussie Smollett were dropped and his record has been wiped clean of the filing of this tragic complaint against him," said an attorney for Smollett at a press conference. "Jussie was attacked by 2 people he was unable to identify on January 29th. He was a victim who was vilified and made to appear as a perpetrator as a result of false and inappropriate remarks made to the public, causing an inappropriate rush to judgment."
Smollett initially told police that two men had attacked him on the streets of Chicago in the middle of the night, and that they had yelled "MAGA country." Since Smollett is black and gay, the assault was considered a possible hate crime.
But the police quickly came to view Smollett as a suspect, and believed that he had paid two brothers—one of whom had been an extra on the show—to stage the attack. The brothers, Abel and Ola Osundairo of Nigeria, were athletic trainers who had worked with Smollett, and they eventually admitted to authorities that they were involved. Police arrested Smollett, and a grand jury indicted him on 16 charges of making false statements.
Less than a month later, Smollett is a free man. It's impossible to say for sure what exactly went wrong, but prosecutors clearly decided that the evidence they had was not as rock solid as Chicago PD had implied in their repeated statements to the press. It's also possible the police really screwed up somewhere. Indeed, the cops' contention that a check paid by Smollett to the Osundairo brothers was intended to cover the hoax was bound to become a sticking point, as it had become plausible that the money actually was for training costs. The brothers were questioned extensively, and suspects do occasionally slip up and make incriminating but false statements under such conditions.
Still, there's no alternative theory of the case, and it's fairly obvious the brothers were indeed involved—they were caught on camera near the scene of the crime. But the prosecutors decided, for whatever reason, that proving Smollett's involvement was not worth their time. Foxx had exchanged text messages with supporters of Smollett, and had recused herself from the case two weeks ago. Police are evidently furious with her.
Smollett agreed to forfeit his bond, and perform community service, though again, not as part of a plea deal.
Smollett isn't in the clear yet, however. The FBI is still investigating a threatening letter he received in the mail a week before the alleged attack. If forensics teams find evidence Smollett sent the letter to himself, he would face very serious federal charges.