PETA Sics Cops on California Foie Gras Dinner
Radicals team up with the food police to infringe on our right to eat.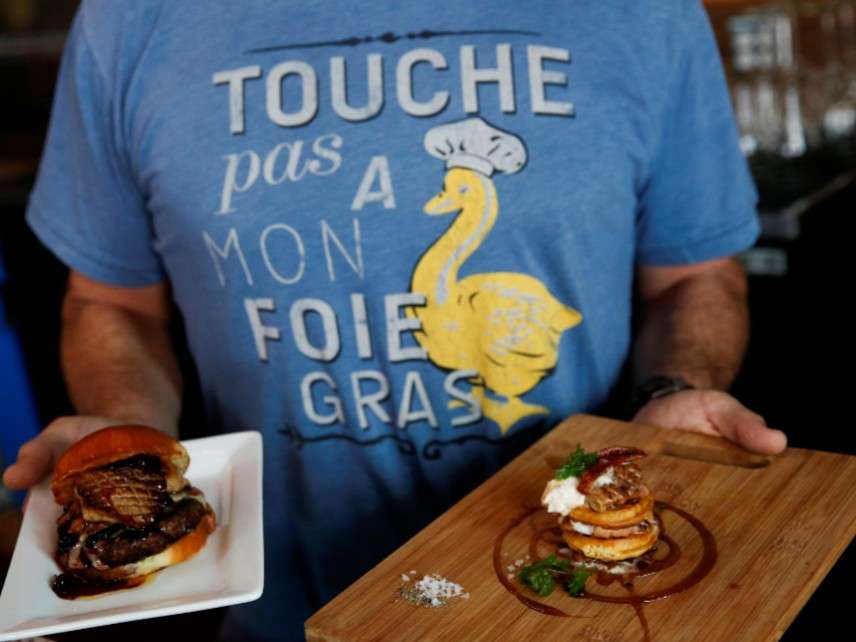 Earlier this week, a small salumeria in Nevada City, California, was forced to cancel a foie gras-themed dinner after PETA, the animal rights group, sicced the local police on the popular local retailer.
The Ham Stand, which specializes in house-made sausages, cured and smoked meats, sandwiches, and other fare, opened last year in Nevada City, about an hour's drive west of the Nevada border. It's gathered positive reviews on Yelp and elsewhere.
The Ham Stand marketed the foie gras dinner on its Facebook page and elsewhere. The dinner menu, which I tracked down here, was to include a trio of foie gras appetizers and a seven-course foie gras tasting menu.
A PETA spokesperson says the group learned about the dinner and contacted the Nevada City police, leading to the dinner's cancellation and a police visit to The Ham Stand.
(Jason Jillson, owner of The Ham Stand, quibbles with PETA's claim that their actions caused the dinner to be cancelled. "I cancelled the dinner the day before the authorities showed up due to lack of interest, contrary to what PETA had to say," Jillson told me this week.)
PETA bragged about its actions in a press release, reminding readers that the group opposes human consumption of not just foie gras, but of any animals whatsoever. "[A]nimals are not ours to eat," the group declared in its statement. (Instead, I guess animals are for all these other animals to eat.)
"PETA hopes that the Nevada City Police Department's swift action will inspire kind people across the state to blow the whistle on any would-be foie gras peddlers," the PETA release adds.
Rather than inspiring others, though, PETA's tattletaling appears to be part of a concerted effort on the part of animal rights groups to harass California restaurateurs and food sellers. The San Francisco Chronicle reported this week that the Animal Legal Defense Fund (ALDF), another animal rights group, says it recently sent foie gras warning letters to several Bay Area restaurants and the San Francisco Police Department. The Chronicle also reports the ALDF warnings "may be [based on] inaccurate or outdated" information.
I reached out this week to Jillson, owner of The Ham Stand, to learn if he intended for The Ham Stand dinner to serve as a protest of California's foie gras ban. Jillson told me by phone and email that he didn't.
(There's certainly precedent for a multi-course foie gras dinner in a place where doing so may violate the law. I attended a protest dinner in Chicago in 2007, during the period when that city foolishly banned foie gras, and wrote all about the nine courses of foie gras I ate in delicious protest.)
"I did it to use up product I had on hand," Jillson tells me. "I legally acquired it from Sonoma Saveur. I bought it before the Supreme Court decision, when it was still legal. Foie gras is not the draconian thing it used to be."
California passed its first-and-only-state-in-the-nation foie gras ban—an embarrassing outlier I've written about time and again—in 2004.
I wrote an amicus brief to the U.S. Supreme Court last year, on behalf of Reason Foundation (which publishes Reason) and the Cato Institute, in support of ending the foie gras ban. In January, as I discussed here, the Supreme Court chose to leave the foie gras ban in place for the time being, while the case winds its way through the lower courts.
Though California's foie gras ban is a farce, that doesn't mean it lacks punitive effect. As Eater noted recently, those who resist the ban could face prosecution and thousands of dollars in fines. All for serving foie gras, which is legal to sell and eat in every other state in the nation.
Yes, I've eaten my share of foie gras. But I've also defended the rights of vegan groups and others when government unconstitutionally restricts their rights in favor of meat producers. That's because the constitution protects every person's right to eat meat or vegetables or some combination thereof. California's foie gras ban is abhorrent not because foie gras is tasty to me and others, but because it violates our rights. It's a case about freedom generally and food freedom specifically, not foie gras.
Vegans, by definition, must avoid eating animals. For the rest of us, animals should be ours to eat if, when, and where we wish.