Florida Republicans Advance Bill That Would Sharply Limit Restoration of Voting Rights to Felony Offenders
A Florida House committee advanced a bill that would require people with felony records to pay off their court debts before they could regain the right to vote.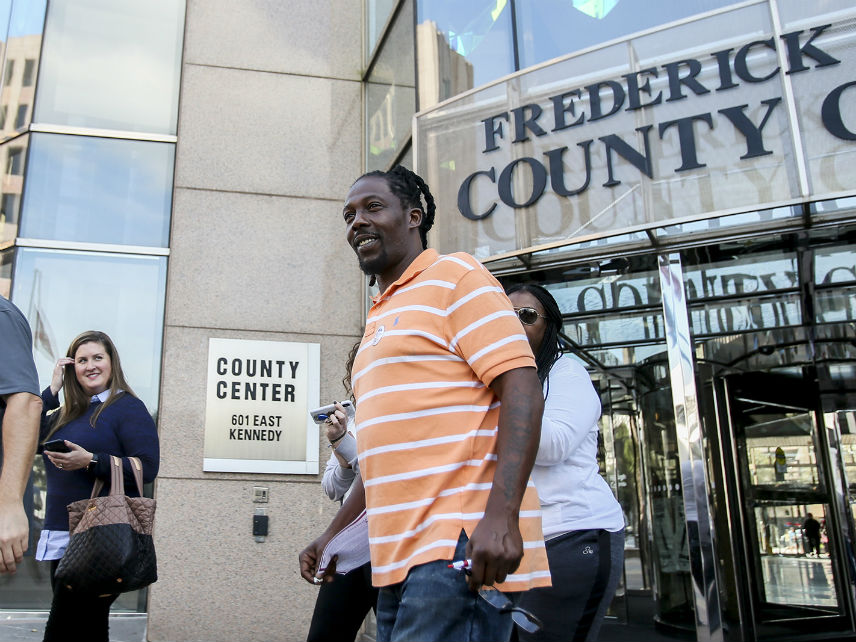 Last November Florida voters passed a constitutional amendment restoring voting rights to an estimated 1.4 million people with felony records. It was the largest single expansion of the franchise in decades—in a critical swing state, no less—but a bill moving through the Florida Legislature would sharply limit its scope.
A Florida House committee advanced a bill Tuesday that would require felony offenders to pay off court debts before they could regain the right to vote. It would also expand the number of crimes for which one would remain ineligible to vote.
Civil liberties groups and supporters of Amendment 4, however, say that such an imposition will effectively amount to a poll tax.
Many U.S. states have tacked on dozens of various fees and fines over the decades to fund their judicial systems, and Florida has been one of the most prolific. For example, the Fines & Fees Justice Center found that Florida courts, which are funded almost entirely through fines and fees, had "115 different types of fees and surcharges, the second highest number in the country."
As a result, WLRN reported, Florida residents would have to pay back hundreds of millions of dollars to restore their voting rights. The outlet found that, "Across the state, over $1 billion in felony fines were issued between 2013 and 2018 alone, according to annual reports from the Florida Clerks and Comptrollers, a statewide association. Over that five year period, an average of only 19 percent of that money was paid back per year."
In a press release Tuesday, the American Civil Liberties Union (ACLU) of Florida said the proposed bill "will inevitably prevent individuals from voting based on the size of one's bank account."
"This is exactly what we were worried about from the beginning—legislative attempts to undermine the will of the people who voted for second chances and to rid Florida of the last vestiges of its Jim Crow era past," said Kirk Bailey, the Florida ACLU's political director.
Florida voters passed Amendment 4 by a resounding 64 percent. Until then, Florida had maintained the toughest felon disenfranchisement laws in the country. While organizers hailed the amendment's passage as a historic success, debate immediately began over how it would be carried out.
After the passage of Amendment 4, civil liberties groups and other supporters said it was clearly self-implementing. All former felony offenders who completed their sentences had to do was show up at their county office and register. In early January, the new law went into effect, and thousands of Floridians did just that.
However, Florida Republicans and GOP Gov. Ron DeSantis' office said it was unclear from the text of the amendment exactly who qualified. What counted as completion of sentence? Did that include parole and court fees?
The Miami Herald reported that the House bill specifically would:
Require ex-felons pay all court fees and fines before being eligible, even if those fees are not imposed by a judge.

Require the Department of Corrections to notify each inmate of his or her obligations before being released.

Define "felony sexual offenses" to include a wide array of crimes, including prostitution and placing an adult entertainment store within 2,500 feet of a school.

Require the Secretary of State to set up a process for determining which ex-felons are eligible to vote.
Florida news outlets have also reported that Florida Republican Sen. Jeff Brandes would like to expand the definition of murder in the bill to include attempted murder. The Florida Senate has not yet introduced a similar bill, though.
Desmonde Meade, the president of the Florida Rights Restoration Coalition and a formerly incarcerated man who became one of the leading figures of the fight to pass Amendment 4, said the organization "is opposed to any Amendment 4 legislation that creates additional barriers to voting for returning citizens who would otherwise be eligible based on the passage of Amendment 4."
Meade continued: "Any legislation proposed should neither limit the rights created by Amendment 4 nor infringe upon the will of Florida voters."