Seattle City Council Overcomes NIMBY Opposition To Pass Big Upzoning Bill
The legislation is far from perfect, but does move the city in the right direction.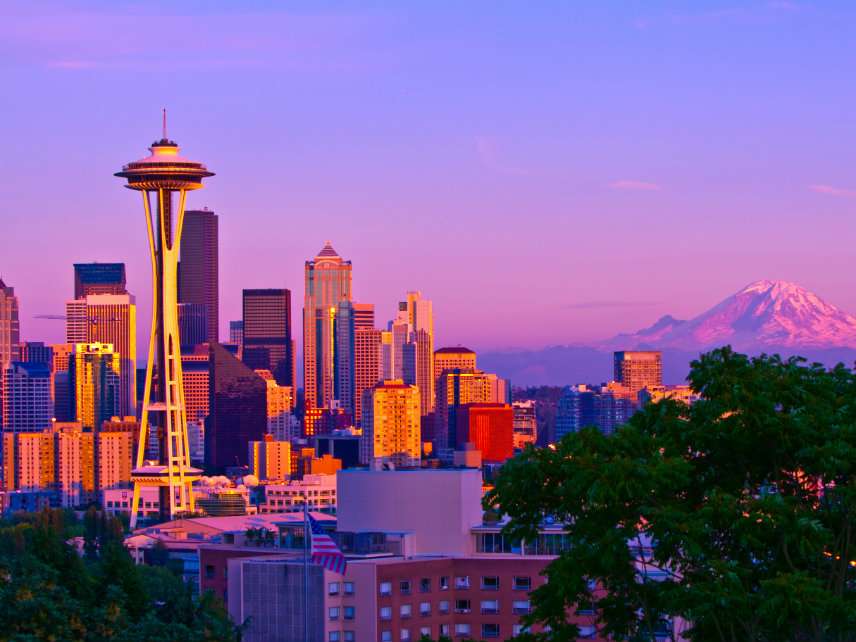 Seattle unanimously passed major updates to the city's zoning code that will please density-loving urbanists, irritate homeowning NIMBYs, and leave libertarians feeling conflicted.
On Tuesday, the Seattle City Council voted 9-0 to adopt three separate bills that together expand the city's Mandatory Housing Affordability (MHA) program. The legislation allows for denser commercial and residential construction in 27 city neighborhoods and urban villages where apartment buildings are already allowed, and the expansion of some of these urban villages to incorporate land that was formerly reserved for single-family homes.
In exchange for being allowed to build bigger and denser properties in select areas, developers will also be required to include rent-controlled units in most projects, or otherwise pay per-square-foot fees of $5 to $33, with the revenue going toward public housing construction.
Analysis performed by the city estimates that Tuesday's legislation will boost housing production by 17,000 units over a 20 year period, with about 5,600 of these new units being rent-controlled.
The vote, which comes after years of controversy and legal challenges from anti-development activists, was greeted as a victory for the council's various progressive goals.
"We want everyone in Seattle to have access to neighborhoods with spacious parks, reliable transit, outstanding schools, and affordable housing. And with today's vote we took a bold step in that direction," said Councilmember Rob Johnson, the sponsor of the legislation, in a press release.
"Requiring more affordable housing in our most vibrant neighborhoods is long overdue. Today's passage of MHA now means we can manage growth in a way that will promote a more racially and economically diverse Seattle," said Councilmember Lorena Gonzalez.
Anti-development activists for their part denounced the vote as a handout to developers that will only make the city's affordability problems worse.
"MHA is full of false promises. It will increase, not reduce, the cost of housing," said one activist to The Seattle Times. "It will replace diverse communities with gentrified communities."
Despite these fears, there's already some evidence that the city's selective upzoning of neighborhoods is yielding results.
This same MHA model had already been deployed in six neighborhoods in and around Seattle's downtown back in 2017. The result has been an explosion in development, and small, but encouraging, declines in rental prices.
Rents have declined by 1.6 percent in the city between September 2017 to September 2018, according to website Apartment List. (A March report from the same website shows rents ticking up by less than a percent this year.) The drop in rental prices has been most significant in neighborhoods affected by this 2017 upzoning, with rents falling as much as 6 percent a quarter in some areas, and landlords offering generous incentives to fill up increasingly empty apartment buildings.
That said, what passed out of the city council Tuesday was far from perfect.
For starters, the upzoning included in the package is rather tame in most areas, as noted by Erica Barnett, a Seattle-based reporter who runs the local news blog The C is for Crank. Writes Barnett:
"The plan, on the whole, is modest, and its impacts won't be visible right away. In most places, it bumps land up just one or two zoning designations—allowing two-story stacked flats, for example, in areas where only townhouses are allowed today, or raising the maximum height for apartment buildings from 30 feet to 40. It also restricts most of the biggest changes to major arterials, which already tend to be pretty dense."
Only 6 percent of the city's land zoned for detached single-family housing—which reportedly takes up about 75 percent of developable residential land in the city—will be affected by Tuesday's legislation. This falls short of bolder reforms like those adopted by Minneapolis, which allow multi-family housing to be built citywide.
Mandating that developers include rent-controlled units or otherwise pay fees will likewise act like a tax on new developments, likely killing off at least some housing projects. The city's estimates for how much affordable housing will be funded by development fees also strikes me as widely optimistic.
According to one city government report, the $380 million generated from these fees will fund the construction of 4,300 rent-controlled units for about $80,000 a pop. That's a little more than a third of the per-unit cost of building affordable housing in Washington state, according to a 2018 Government Accountability Office study.
One can quibble with provisions of what the Seattle City Council passed, particularly its fees and affordable housing aspects. It's general approach of allowing Seattle's property owners to add more, denser development on their land is nevertheless welcome in such a rapidly growing city.