NIMBY Local Government Sues Owner of Flintstones Replica House Over Dinosaurs and Giant 'Yabba Dabba Doo' Sign
The town of Hillsborough, CA has deemed a sign bearing the cartoon character's famous catchphrase an "eyesore" and "public nuisance."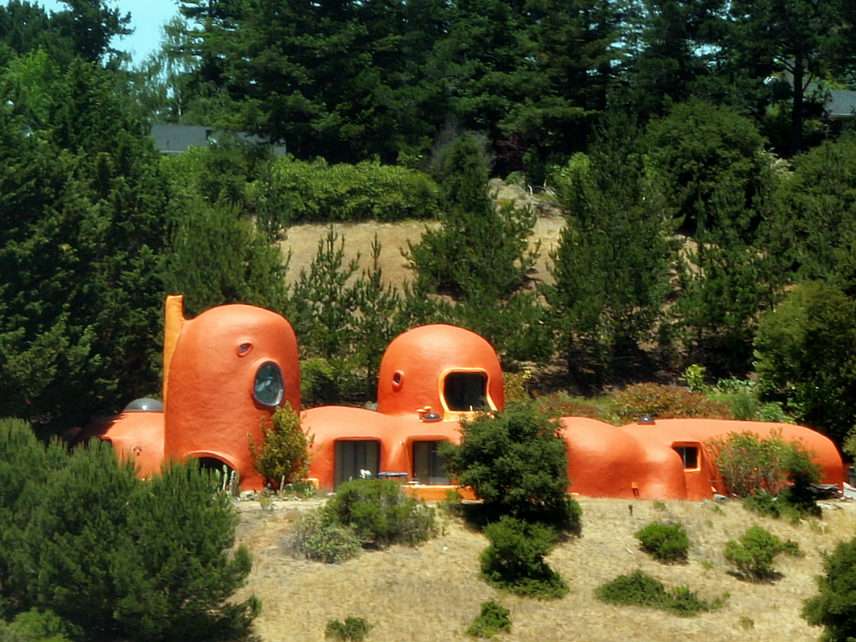 Last week, the small, wealthy Bay Area town of Hillsborough filed a lawsuit against the owner of local Flintstone-replica house, arguing that several metal dinosaurs and a giant "Yabba Dabba Doo" sign on the property were added without permission and constitute a public nuisance.
Originally built in the freewheeling 1970s, Hillsborough's "Flintstone House" has long been a source of controversy from neighbors who did not care for its unique aesthetic, and who reportedly created the town's architectural review board to stop future cartoon-themed homes from popping up.
In 2017, the house was purchased by Florence Fang, a prominent Bay Area entrepreneur and former publisher of the San Francisco Examiner, who shortly thereafter began a series of alterations to the property with wanton disregard for permitting requirements or Hillsborough's voluminous zoning code.
This included the addition of several dinosaur statues and a sign bearing Fred Flintstone's famous catchphrase, as well as more traditional improvements like a parking strip, deck, and gate.
Fang reportedly did all of this without seeking the required permits. In January, July, and August of 2018, she received three separate stop work orders, all of which she ignored. In October of that year, the town government fined Fang $200 and ordered her to remove the dinosaurs from her property.
Fang paid the fine, but did not remove any statues. Now the town is suing.
In a complaint filed last week, the town government declares Fang's metal dinosaurs and Flintstones sign to be "a highly visible eyesore and are out of keeping with community standards" and a public nuisance on top of that.
Hillsborough is asking for a court order requiring Fang to remove her various "landscaping improvements" from the property. It is also demanding Fang cover the city's legal fees.
Attempts to reach Fang for comment were unsuccessful. Assuming the claims in Hillsborough's lawsuit are accurate, she did indeed ignore the town's land use regulations. That's really more cause for praise than anything else however.
One of the beautiful things about private property is the freedom it allows for people to express themselves. Zoning codes and residential design guidelines quash that freedom by dictating what homes have to look like.
Fang's refusal to take down statues and signs on her property is a stirring example of civil disobiedence, one that might well see her name go down in history.