Paul Manafort Sentenced to Nearly Four Additional Years in Federal Prison Just as New York Files New Charges
Double jeopardy or a way of circumventing a potential Trump pardon? Or both?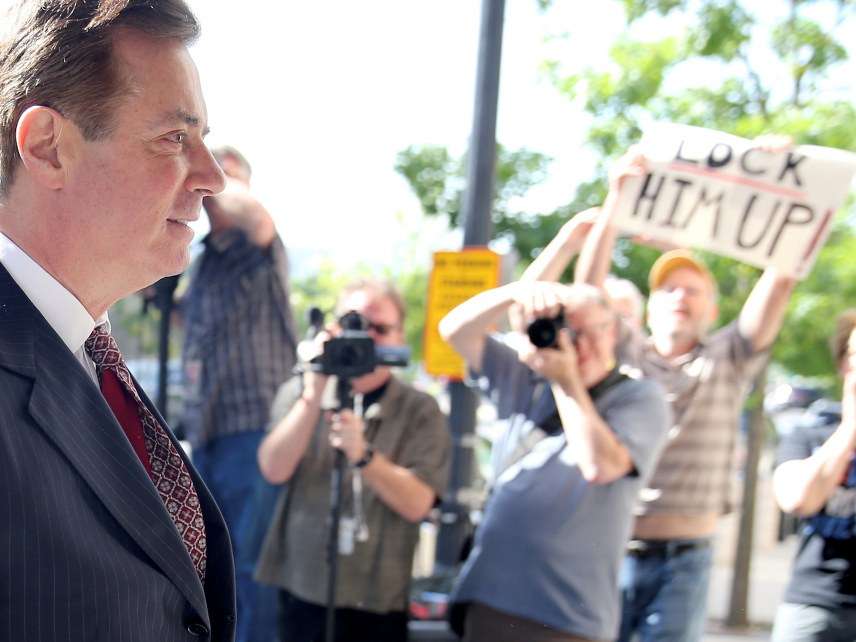 Paul Manafort will serve a total of seven and a half years in federal prison for various tax frauds and lies he told to government officials, and it now looks like prosecutors in New York are looking to increase the tally with state charges.
U.S. District Judge Amy Berman Jackson on Wednesday added 43 months to Manafort's federal sentence. Last week's sentence covered multiple cases of bank and tax fraud. Today's sentence covered Manfort's lies to the Justice Department about his lobbying efforts in Ukraine, his failure to register as a foreign agent, money laundering, and witness tampering.
Almost immediately after Jackson handed down the rest of Manafort's sentence, Manhattan District Attorney Cy Vance announced 16 new charges against Manfort. Manafort stands accused of mortgage fraud, falsifying business records, and conspiracy, with Vance's office alleging that he profited millions off providing false information while applying for loans. These alleged crimes all took place between December 2015 and March 2016.
Because these are New York charges and not federal charges, that means President Donald Trump cannot pardon Manafort if he's convicted; which, intentional or not, gives this new indictment a feel of political motivation. Manafort is 69 years old and will spend most of his 70s in prison. There's very little justice to be served by extending that prison time even further. The New York Times reported that he faces up to an additional 25 years if convicted of state charges.
The Times notes that prosecutors had previously decided to move forward with this case regardless of whether Trump pardoned Manafort, and the paper predicts that Manafort's lawyers will argue it would count as double jeopardy to try him again in state court for the same crimes he was tried and convicted of in federal court.
Jacob Sullum noted last year that New York's Democratic attorney general is outraged at the idea that the president can use his power to pardon people she doesn't like (if the president in question is Donald Trump), and that she considers it a terrible legal "loophole" that Manafort couldn't be charged again for these same crimes by state prosecutors.
Read the details of the new indictments here.