Here Is What Paul Manafort Was Convicted of Doing
The former Trump campaign chairman faces four years in prison, and possibly 10 more, for lying to lenders and the U.S. government.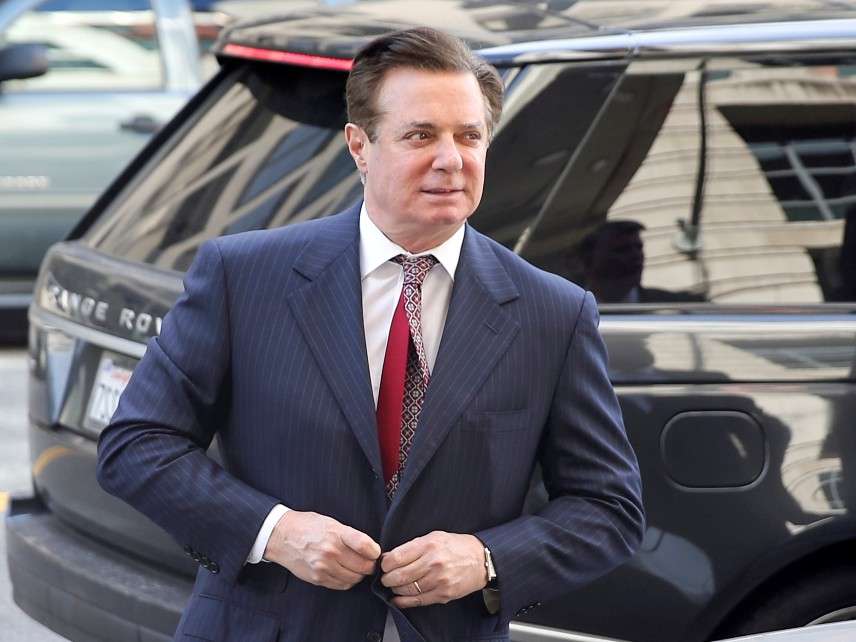 Much of the outrage at former Trump campaign chairman Paul Manafort's four-year sentence on tax and bank fraud charges contrasts his relatively lenient treatment with the draconian punishments frequently imposed on less privileged defendants. That disparity is real, although the main lesson that should be drawn from it, as C.J. Ciaramella suggested the other day, is that our criminal justice system as a whole is excessively, mindlessly punitive, often in cases involving conduct, such as exchanging drugs for money, that not only is less serious than what Manafort did but should not be treated as a crime at all. The question of whether Manafort's sentence was appropriate in light of his offenses is distinct from that broader problem, and the answer depends on how you view the moral gravity of his crimes.
While many critics of the sentence are claiming Manafort "stole $30 million," that figure refers to income he hid from the Internal Revenue Service. The loss to the U.S. Treasury was the taxes he owed but did not pay, which according to federal prosecutors amounted to $6 million. In the process of avoiding that tax bill, Manafort did a bunch of things, such as filing false tax returns and failing to report foreign bank accounts, each of which corresponds to a separate charge. Six of the eight counts on which a jury convicted Manafort relate to those tax-dodging actions: filing false tax returns for the years 2010 through 2014 (five counts) and failing to report foreign bank accounts in 2012 (one count).
Manafort also was convicted of bank fraud related to loans he sought under false pretenses from two lenders. Prosecutors said those loans entailed a "fraud loss" of $6 million. But as Manafort's lawyers noted in their sentencing memorandum, $5.5 million of that figure is attributed to a loan that was never completed. In other words, the $6 million is mostly notional, based on an "intended loss" rather than money that actually changed hands. Assuming that the balance was loaned and never repaid, you could say Manafort stole $500,000, although according to his lawyers "all of the loans at issue in this case were performing under the terms of the relevant loan agreements until the Special Counsel's Office initiated the prosecutions of Mr. Manafort and brought forfeiture allegations, which resulted in over $2 million in cash being frozen."
Knowingly filing a false tax return is a felony punishable by up to three years in prison, and Manafort was convicted of doing that five times. Willfully failing to report a foreign bank account is a felony punishable by up to five years in prison, and Manafort was convicted of one count. Bank fraud is a felony punishable by up to 30 years in prison, and Manafort was convicted of two counts. You can start to see how the punishment recommended by federal sentencing guidelines, which take into account factors such the defendant's role in the offense, his prior criminal record, and the amount of money involved, was 235 to 293 months, or about 19.5 to 24 years.
U.S. District Court Judge T.S. Ellis III, who described Manafort's tax evasion as "a theft of money from everyone who pays taxes," nevertheless deemed the recommended sentencing range "excessive" in light of the penalties received by defendants in similar cases. He suggested that anyone who thought four years was inadequate should "go and spend a day, a week in jail or in the federal penitentiary. He has to spend 47 months." While it's true that four years in federal prison is hardly a slap on the wrist, it would be nice if the legislators who enact mandatory minimum sentences that range from five years to life (none of which applied in this case) showed a similar awareness.
"Given the age and the health of this defendant, this is the kind of sentence that you can generally expect in a white-collar prosecution," a former federal prosecutor told The Washington Post. "The sentencing guidelines and the request by the government for 19 to 24 years was something the judge was never going to seriously entertain, and I think what we saw here was a recognition that even this sentence could well be a life sentence for Mr. Manafort."
Manafort, who is 69, will soon be sentenced in a separate case in which he pleaded guilty to witness tampering and a conspiracy against the U.S. government involving tax fraud, money laundering, failure to report foreign bank accounts, failure to register as a foreign agent, and lying to the Justice Department. The recommended range in that case, which involves some of the same underlying conduct as the case in which he has already been sentenced, is 188 to 235 months, or nearly 16 to almost 20 years. But the statutory maximum for those counts is five years each, meaning his sentence could be as long as 10 additional years.