White House's New Budget Gimmick: Include Immigration Enforcement Spending in the Uncapped Budget for Foreign Wars
Incredibly, the White House is trying to pitch this chicanery as an exercise in fiscal responsibility. Congress shouldn't buy it.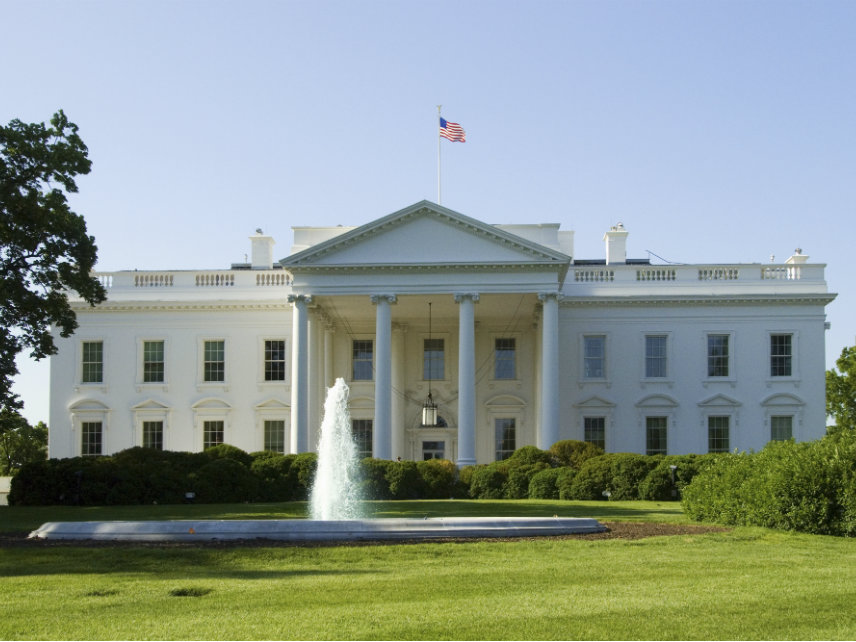 Endless wars create endless opportunities for fiscal recklessness, and the Trump administration is poised to take advantage.
Aiming to avoid a fight with congressional Democrats over spending more money on immigration enforcement, the Trump administration is now considering a plan that would classify the increase as part of the uncapped budget for America's foreign wars. Incredibly, the White House is trying to sell that gimmick as an exercise in fiscal responsibility.
Russ Vought, acting director of the White House Office of Management and Budget, outlined the chicanery in a post published last week at Real Clear Politics. After sounding the alarm about America's growing national debt—which recently hit $22 trillion and is projected to keep growing for the foreseeable future—and correctly identifying Washington's "spending problem," Vought makes it clear that the Trump administration has no intention of allowing the coming debt crisis to stop the Pentagon's gravy train or the White House's crackdown on illegal immigration.
"This budget will reflect the administration's continued commitment to defending our nation and addressing threats to our national security, such as terrorists abroad and criminal illegal aliens running through our southern border," he writes. "Making America safe and secure is the administration's top priority and the president's budget will reflect that."
Instead, the White House will call for capping growth of domestic programs, and it will reiterate Trump's earlier demand that federal departments identify ways to cut 5 percent from their budgets.
Those caps and cuts are good ideas, but the Democrat-controlled House is unlikely to go along with a budget proposal that boosts spending for the military and for immigration enforcement while cutting other government services. In order to get Democrats on board with a massive hike in Pentagon spending last year, for example, congressional Republicans and Trump agreed to an equally large boost in spending for domestic programs—because bipartisanship means spending more money on everything.
The White House says it wants to avoid that outcome this year. So the Trump administration is prepared to introduce a big gimmick: shunting new spending into off-the-books accounts that aren't subject to the usual budget process, like the so-called "Overseas Contingency Operations" budget that funds the wars in Afghanistan, Syria, and elsewhere.
"Additional needed defense resources will be designated as Overseas Contingency Operations (OCO) funds, which are not subject to the spending caps," Vought writes.
It's bad enough to funnel more military spending through the OCO budget. (Congress should fight any attempt to put run-of-the-mill Pentagon budget items into the off-books account for America's post-9/11 wars.) It's even worse to run immigration enforcement spending through a special budget that's specifically meant for overseas military operations. The Mexican border is not a war zone, and it obviously is not overseas.
Vought admits that "fiscal conservatives may feel uncomfortable using OCO in this way," but he goes on to claim that "expanding the use of OCO funds remains the administration's only fiscally responsible option in meeting national security needs while avoiding yet another increase to the spending caps."
If fiscal conservatives are willing to buy the idea that fiscal responsibility means using obviously fraudulent gimmicks to spend more money in less transparent and less accountable ways, well, then they're not really fiscal conservatives.
"You cannot claim fiscal concern with one hand while using the other to sweep a hundred billion dollars under the rug," says Maya MacGuineas, president of the Committee for a Responsible Federal Budget, a nonpartisan organization that advocates a balanced budget. "After years of debt-financed tax cuts and spending, it is time to stop the irresponsibility. Policymakers should not rely on hidden spending to pad the defense budget, nor repeat the unprecedented cap increases enacted in last year's Bipartisan Budget Act."
Raising the spending caps on both military and domestic programs last year could add an estimated $2 trillion to the national debt over the next decade. If Trump were serious about fiscal responsibility—and there is virtually no indication that he is—the White House would propose a budget that brings spending in line with revenue, not one that finds new ways to hide the spending hikes that the president desires.