Tulsi Gabbard Pitches Pot Legalization Bill as Criminal Justice Reform Issue
"Millions of people have been arrested for the possession or use of marijuana. Many can't afford bail-further punishing those who are poor," says Gabbard.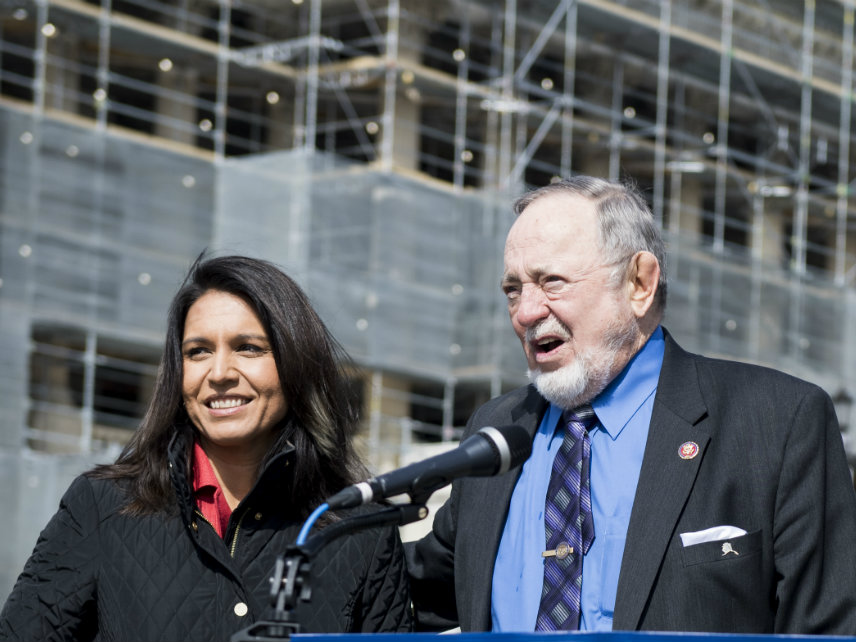 Legalizing marijuana is really a criminal justice issue that will stop ruining lives over non-violent offenses, Rep. Tulsi Gabbard (D-Hawaii) argued Thursday as she unveiled a pair of bills to legalize weed and let researchers study the drug.
"Millions of people have been arrested for the possession or use of marijuana. Many can't afford bail—further punishing those who are poor—and become mired in our hopelessly back-logged court system that punishes non-violent offenders with felonies and years behind bars," Gabbard, a 2020 presidential candidate, said during a press conference outside the capitol. "Others have faced lost opportunities and life-long stigma that follows them with a criminal record."
Gabbard and Rep. Don Young (R-Alaska) are cosponsoring the Ending Federal Marijuana Prohibition Act, which would take marijuana off the federal government's list of controlled substances and, importantly, would step aside to allow states to regulate marijuana as they see fit. The two lawmakers also introduced the Marijuana Data Collection Act, which authorizes the study of legal recreational and medical marijuana programs in various states, with the intention of analyzing how legalization impacts state revenues, public health, criminal justice, and other key issues.
"This legislation is effective in its simplicity," says Erik Altieri, executive director of the National Organization for the Reform of Marijuana Laws, a national nonprofit that advocates for marijuana legalization. "The Ending Federal Prohibition Act is about acknowledging political, scientific, and economic reality. Marijuana legalization is here to stay and it is time that federal policy reflect that."
More than 73 million Americans—about 20 percent of the country's population—live in the 10 states where recreational marijuana is legal. Many more live in the 33 states with medical marijuana programs.
Unlike some of the other members of Congress seeking the Democratic nomination in 2020, Gabbard's support for ending marijuana prohibition isn't an awkward political evolution conveniently timed to appeal to Democratic voters—and, indeed, all Americans—who are increasingly in favor of legalization. She introduced a similar bill to de-schedule marijuana at the federal level in 2017, and it became the first marijuana legalization bill in U.S. history to have bipartisan support. Despite that, it did not receive a vote in the House.
Time will tell whether this year's bill faces a different fate, but already its chances seem better. The Democratic takeover of the House in last year's elections is one good sign, but a more important one might have been the defeat of former House Rules Committee Chairman Pete Sessions (R-Texas), who for years blocked marijuana bills. He lost to Rep. Colin Allred (D-Texas), who made marijuana a major issue in his successful campaign against the longtime incumbent.
In the Senate, fellow presidential hopeful Cory Booker (D-N.J.) has introduced a bill removing marijuana from the Controlled Substances Act and expunging the records of anyone with federal convictions for marijuana use or possession. Sens. Kamala Harris (D–Calif.), Bernie Sanders (I–Vt.), Elizabeth Warren (D–Mass.), and Kirsten Gillibrand (D–N.Y.) have all signed on as cosponsors of the bill—which is notable in part because all four are also running for president.
As Reason's Scott Shackford pointed out last week, the 2016 Democratic Party platform called merely for removing marijuana as a Schedule I drug—a classification that includes heroin and LSD—and that provision was only included after a convention battle led by Sanders' supporters.
Now, it seems almost inevitable that the Democratic nominee in 2020 will become the first major party presidential candidate to openly call for the legalization of marijuana—unless, of course, Gabbard's or Booker's bill is already passed into law before then.