Now Apocalypse Blends Its Trashy Sex With Sincere Affection
Mind the dildos in Gregg Araki's latest.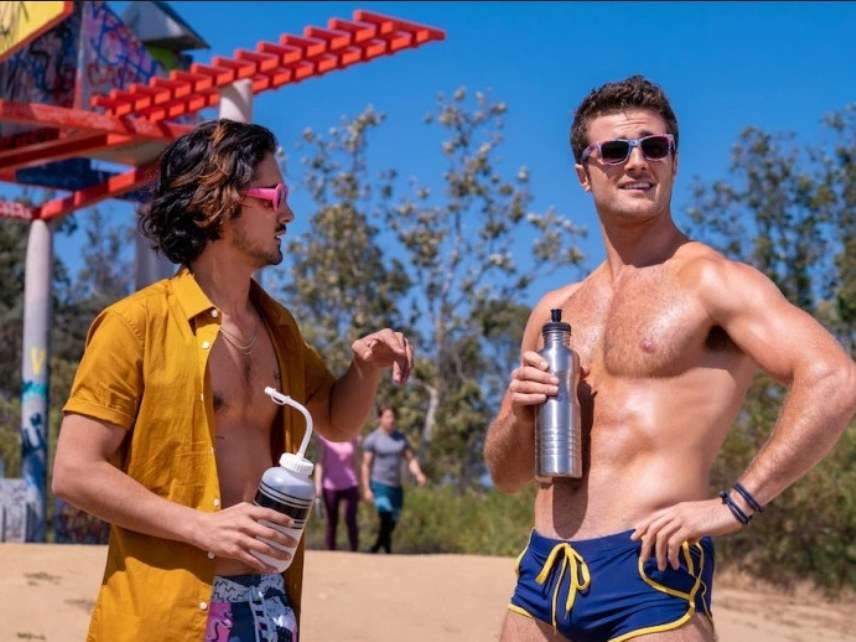 Now Apocalypse. Starz. Sunday, March 10, 9 p.m.
My parents used to say time passed at light speed between Sands of Iwo Jima and M*A*S*H. I don't think I fully understood them until seeing Starz' new comedy Now Apocalypse and recalling its putative ancestor Sex and the City. The moderate promiscuity of Carrie and Samantha seems like Cub Scout show-and-tell compared to what goes on among the randy millennial slackers of Now Apocalypse.
Anilingual sex! Robot sex! Reptilian space-alien sex! A polyamorous antifa warrior bows out of the middle of a three-way with the apologetic explanation that, "I'm meeting up with my boyfriends and we're setting Bank of America on fire." And an internet-assisted back-alley encounter is interrupted when one of the participants declares that "hook-ups make me feel gross and pagan," and proposes an alternative: "Handjobs only?"
There are many elements lurking beneath Now Apocalypse's nutball carnality, including a warm embrace of the enduring comfort of friendship and a tribute to the power of sexual self-expression. But first and foremost, this is a show in which dildo injuries are a constant menace (and, possibly, an allusion to the obsessions of earlier generations) and virtually any visit to a friend's home is likely to interrupt sweaty, noisy rutting. (Lest you accuse me of hyperbole: twice in the first three minutes of the pilot.)
For some of Apocalypse Now's twenty-something characters, scuffling aimlessly through the streets of Los Angeles, sex is nearly the only form of self-expression. Uly (indie film vet Avan Jogia), who has failed at acting and possibly homosexuality (he sometimes diddles himself to thoughts of his roommate's busty girlfriend), has already ruled movies, books, painting and photography as dead art forms. The last chance for human emotional fulfillment, he believes, is video-blogging. Mostly, he muses, "I do shit sometimes and I really don't know why," then answers his own question: "Just for the fucking fuck of it."
His roommate, Ford (Beau Mirchoff, MTV's Awkward), is blessed with muscular good looks and a fat trust fund that shield him from practically every human travail, including the awareness that the script he's been working on for six months on cyborg vampires is so awful that even his friends haven't been able to read beyond the second page.
He's even undisturbed that his astrobiological theorist girlfriend Severine (French actress Roxane Mesquida) dismisses his monogamous desires as a Paleolithic vestige of the primitive farmers who took over from hunter-gatherers, invented property and capitalism, and ruined everything.
Then there's Uly's long-time chum Carly (all-grown-up Disney Channel regular Kelli Berglund), a wannabe actress whose only screen credit so far is playing a dominatrix role on a cam-girl site (screen name: ONYRKNEES) where she punishes submissive clients by making them run lines from her drama-class productions.
These four friends live in a bawdy and generally content mutual orbit, troubled by little more than the occasional Tinder crisis. ("I barely sat down and the guy asked if I would rim him. … Maybe you can't find romance through a screen.") But now an odd sense of disquiet is creeping through the group, triggered by Uly's recurring nightmares of his current boyfriend being heartily boned by a space lizard.
Uly's claim that this is not a fantasy but some kind of sinister omen is initially met with skepticism by his friends. But he finds corroboration on the ultimate millennial oracle, the internet, and shows it to Carly, who reads aloud:
"Obama is a reptile. And Putin. And Hitler. Queen Elizabeth, Bill Gates, and Beyonce."
Uly, plaintively: "I feel like you're not taking me seriously."
Gregg Araki, creator and one of the executive producers of Now Apocalypse, has dabbled in television, including a few episodes of teen dramas like Riverdale and Heathers. Mostly, though, he's known for cheapjack indie films centered on sexual ambiguity and global cataclysm, not necessarily in that order.
This time, collaborating with sex-advice blogger Karley Sciortino, he's developed a bonkers sense of humor that serves him well. At 59, he's more than twice the age of his protagonists, and it's tempting to see his daffy portrayal of their shiftless, often tawdry, lives as get-off-my-lawn derision. But his treatment is too affectionate to be disdain. It's more like a reminder that sometimes we all do stuff just for the fucking fuck of it. Also, watch out for the dildos.