GOP Sen. Kevin Cramer Says Trump's Emergency Declaration Is 'Unnecessary'
Cramer tells Reason he's not sure which way he'll vote on a resolution to block it.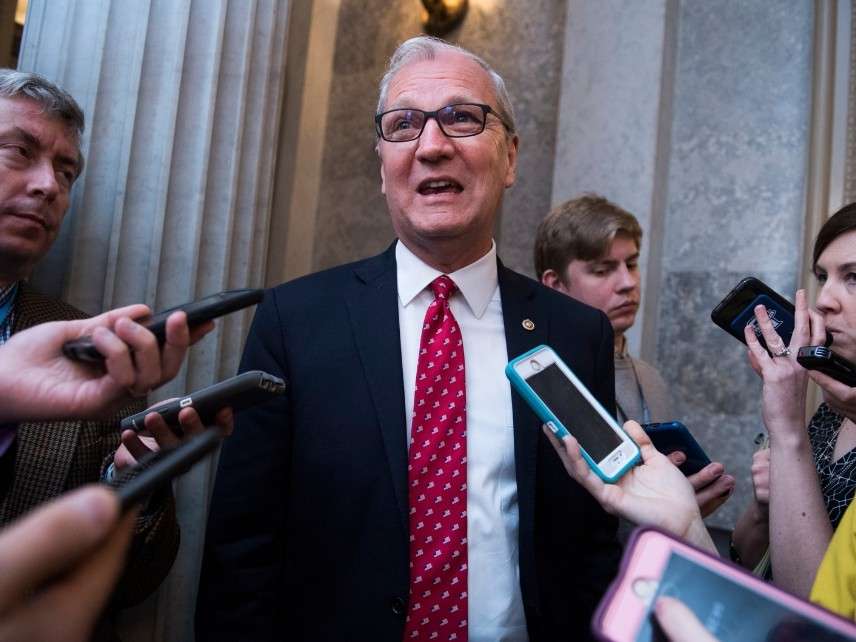 Sen. Kevin Cramer (R–N.D.) said Friday he has "concerns" about President Donald Trump's use of a national emergency declaration to build a wall on the U.S.-Mexico border and believes the action to be "unnecessary," but isn't sure how he'll vote on a resolution to block it.
"I plan to vote on it. How I'm going to vote I haven't decided for sure yet," Cramer told Reason at the Conservative Political Action Conference (CPAC).
"I have concerns about it as well," he added, referring to Trump's emergency declaration. "I frankly think it's unnecessary, but we'll see."
Last week, the House of Representatives voted 245-182 in favor of a resolution to block the national emergency. The resolution now heads to the Senate, where its passage is uncertain. Assuming all Democrats vote in favor of the resolution, four Republicans would need to defect in order to send the legislation to Trump's desk. Republican Sens. Susan Collins (Maine), Lisa Murkowski (Alaska), and Thom Tillis (N.C) have all indicated they plan to buck their party on this issue, according to CBS News, and Sen. Lamar Alexander (R–Tenn.) has also expressed concern. Even if the resolution passes the Senate, Trump has said he'll veto it, and it's exceedingly unlikely that two-thirds of both houses of Congress will vote to override that veto.
Cramer added that he believes Trump is acting within his legal authority.
"I think [Trump] may" have the power to declare an emergency to build the wall, he said. "I didn't used to think so, the more I've studied the more I think he may have that. I'm not sure he should have it, but I think he may have that authority."
"But we do need a wall," Cramer concluded.
Cramer previously said in a statement to the Associated Press last month that "the southern border is a national emergency now." In its continuously updated story on senators who have expressed public sentiments about Trump's national emergency declaration, The Washington Post has Cramer firmly in the "support" column.