Brickbats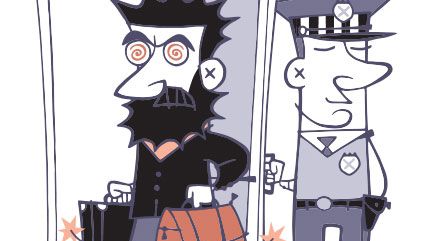 A couple in Chicago's Old Town neighborhood wanted to add a garage with a ramp and elevator to their home for their daughter, who uses a wheelchair. But some neighbors opposed it, saying it's not in keeping with the historic nature of the neighborhood. "I understand that the people who purchased the house have a child that requires special needs," Steve Weiss, president of the Old Town Triangle Association, wrote in a letter to his alderman. "I don't mean to be heartless or uncaring but this is not the neighborhood for that."
Leaders of London's police union have warned they may tell officers to stop arresting subjects who resist—unless the public starts pitching in. The remarks came after several officers were injured in violent confrontations while nearby civilians filmed the incidents but did not intervene. "We don't come to work to get assaulted, and if we're not going to be backed up in what we're doing then what is the point?" said Ken Marsh, chairman of the Metropolitan Police Federation.
About 80 teaching assistants at the University of North Carolina at Chapel Hill say they will not turn in final grades until the school abandons plans to return the statue of a Confederate soldier to campus. Silent Sam stood on the school's grounds for more than a century until protesters toppled it in August.
The state of Kansas is pulling hundreds of license plates containing the letters JAP after a complaint that this is an ethnic slur. Keith Kawamoto, who lives in Culver City, California, made the objection after seeing a Kansas car with one of those plates near his home.
Derek Pyne, an associate professor of economics at Thompson Rivers University in British Columbia, Canada, says he was effectively banned from campus because of a paper he wrote. The topic was academic journals with low standards that charge authors fees to publish in them. While he did not name names, Pyne reported that most of his colleagues in the school of business had published in such journals.
The King County, Washington, Board of Health has ordered gun stores and shooting ranges to post signs telling people that owning a firearm increases one's chances of death by suicide or domestic violence.
Italian lawmakers are considering legislation that would require all films made in that nation to be shown in theaters before they can be released on a streaming service such as Netflix. They say Italian films should be widely available, not just to those who pay for a particular subscription. They fully acknowledge the bill is aimed at protecting cinemas from online competition.
New York's Eastport-South Manor Central School District has sent a letter to parents telling them the days of unlimited condiments are over. Students will be limited to one or two packets of ketchup, depending on the meal they get. Mayonnaise and mustard will also be rationed. School officials say they're trying to limit the amount of salt and sugar students eat; they fear failing to do so will jeopardize state funding.
In New York City, LaGuardia High School Principal Lisa Mars reportedly banned flags with the swastika and other Nazi symbols from a production of The Sound of Music. After a local newspaper began looking into the ban, the city Department of Education said the symbols would be used in two scenes in the play.
This article originally appeared in print under the headline "Brickbats".