Kamala Harris Won't Denounce Federal Law That Harms Sex Workers, but May Support Decriminalizing Prostitution
"I think that we have to understand though that it is not as simple as that."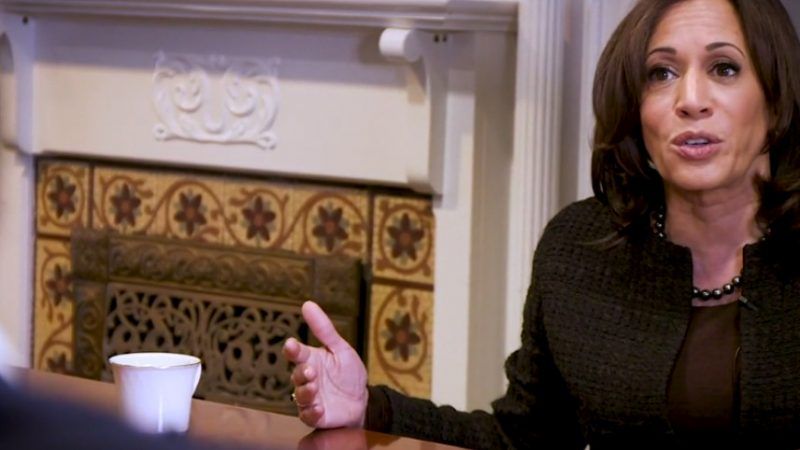 (screenshot of Terrell J. Starr interviewing Harris)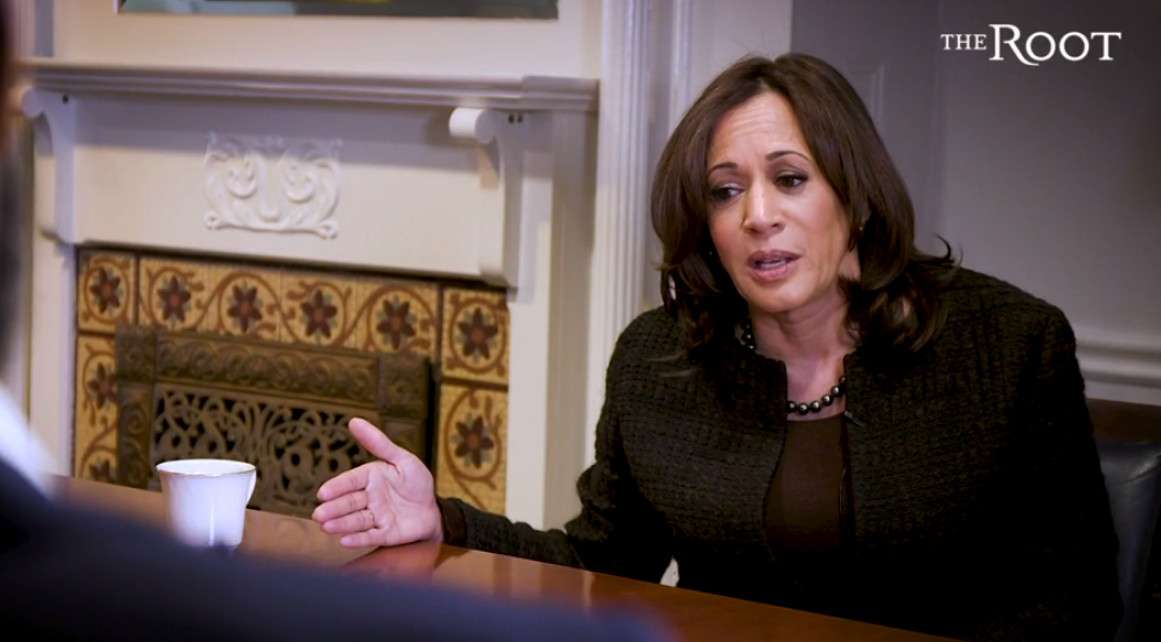 Since Sen. Kamala Harris (D–Ca.) announced her 2020 presidential campaign, she's been criticized by sex workers, activists, and media over her long history of advocating policies that harm sex workers. That includes the shutdown of websites where sex workers advertise, like Backpage.com, and the disastrous 2018 law, FOSTA, that made hosting web content that "facilitates prostitution" a federal crime.
Now, Harris appears to be trying to counter that critique by suggesting that she would be open to the decriminalization of prostitution.
In a video interview with The Root published today, Terrell J. Starr asked Harris about her support for FOSTA despite sex workers saying that it puts their lives in danger. Instead of answering, Harris pivoted to her history as a prosecutor. Harris claimed that all the way back in 2004, as district attorney for San Francisco, she was insisting "that we have to stop arresting these prostitutes."
However, as Harris pointed out, she also supported an increase in crackdowns on "johns," a.k.a. the clients of sex workers. This is what's known as the "Nordic Model" or the "End Demand" strategy. It's focused on arresting people who pay for sex but not those offering paid sex. Both sex workers and human rights groups like Amnesty International oppose this strategy.
Under the Nordic Model, sex workers are still subjected to police surveillance, stings, and raids meant to catch their customers. Meanwhile, crackdowns make customers more squeamish about sex-worker screening practices and other measures that can help keep them safe. That perpetuates the need for third-party involvement that at best cuts into potential earnings and independence, and can result in exactly the kinds of exploitative and controlling situations that End Demand advocates say they're fighting.
FOSTA and federal crackdowns on advertising platforms also create these problematic conditions. Online ad platforms, escort-review forums, hookup apps, and other staples of the digital era allowed people to engage in sex work without middlemen, to screen customers, and otherwise to take control of their working conditions in unprecedented numbers. Without these digital tools, people aren't abandoning sex work. Victims aren't suddenly safe and free. And police have lost a valuable method for helping them find and prosecute the cases of actual abuse and exploitation.
If Harris and law enforcement authorities want to target bad actors who exploit these tools to commit harm, they should target the bad actors themselves, not go after online venues that vastly more people use to positive effect. Harris supported FOSTA and targeted Backpage, twice, but was stopped by a judge both times. In the process, she supported actions that disproportionately punish the vast majority of users who fall into the "consenting adult" category Harris claims she doesn't want to target.
Eventually, in The Root interview, Starr asks Harris outright if she thinks "sex work should be decriminialized."
"I think so," Harris replied. "I do. I think that we have to understand though that it is not as simple as that."
Harris reiterated that people who do harm in the commercial sex arena should still be punished. That's certainly true, but that's not what's on the table. Advocates for ending the illegal status of prostitution aren't arguing that people who use violence, fraud, threats, or teenagers in sexual activity should be decriminalized.
But this is a space full of weasely language, and it's common to find people professing that they only want to go after those who engage in exploitation and harm, yet include in those categories any person who simply pays for sex or for sex-related activities.
Before the interview moved on, Harris told Starr "we should really consider that we can't criminalize consensual behavior." Harris has a worrying track record on this issue, but I'm glad to hear she's at least considering it.
Prostitution isn't a federal crime, so this actually comes down to reforming local and state laws. There's currently a push for decriminalization in New York, and hopefully more to follow elsewhere. Getting support from high-profile politicians like Harris could go a long way, so let's hope this nod of support from her wasn't just a fluke—and that more 2020 candidates will follow her lead.