House Votes to Terminate Trump's National Emergency
Libertarian Rep. Justin Amash joined with Democrats to oppose the president's power grab.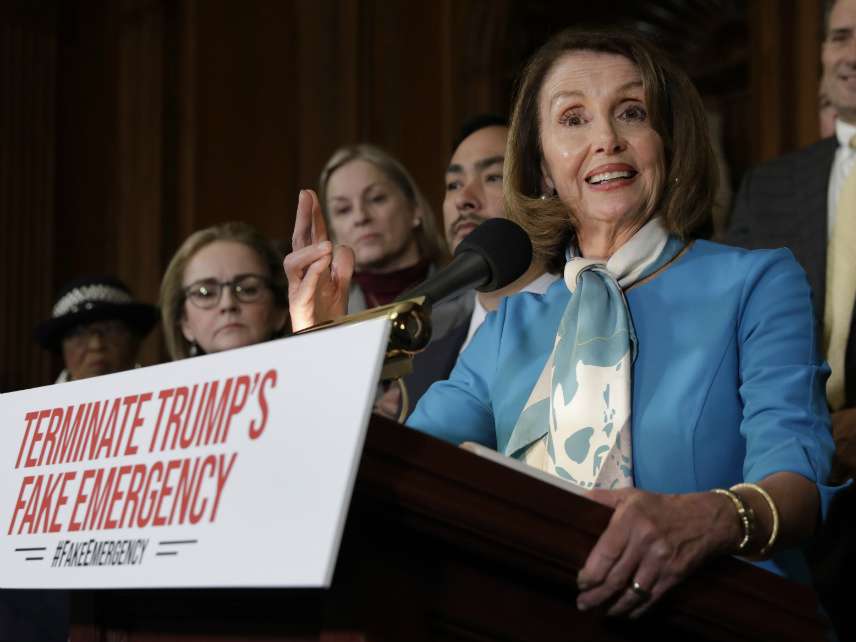 The House of Representatives voted today to terminate President Donald Trump's declaration of a national emergency, in a rare but welcome rebuke of executive overreach.
H.J. Res 46, which reads simply "the national emergency declared by the finding of the President on February 15, 2019…is hereby terminated" passed on an 245-to-182 vote. The resolution commanded the support of all House Democrats, as well as 13 Republicans, including Rep. Justin Amash (R–Mich.), the resolution's one GOP co-sponsor, and Rep. Thomas Massie (R–Ky.).
"This isn't about the border. This is about the Constitution," said House Speaker Nancy Pelosi (D–Calif.) to CNN before the vote. Amash echoed these sentiments, while throwing some shade at his fellow Republicans who opposed the resolution, tweeting, "if your faithfulness to the Constitution depends on which party controls the White House, then you are not faithful to it."
The resolution comes two weeks after Trump's national emergency declaration, which—thanks to the broadly worded National Emergencies Act—allows the president to redirect already-appropriated defense funds to military construction projects that haven't been approved by Congress. According to the White House, Trump plans to use this emergency authority to redirect $3.6 billion of defense funding for a border wall, something today's resolution would put an end to.
Trump's declaration of a national emergency was roundly condemned by legal commenters.
National Review's David French argued that a border wall—part of a civilian border security effort—can't be considered a military construction project. The Volokh Conspiracy's Ilya Somin says that the situation at the border can't plausibly be considered an emergency, invalidating Trump's declaration. Others, like the Cato Institute's Ilya Shapiro have said that the president's emergency declaration might well be legal under the vague National Emergencies Act, but that the act itself is unconstitutional.
Some 16 states have sued the Trump administration over his emergency declaration.
The resolution now goes to the Republican-controlled Senate, where it needs to secure at least four GOP votes in order to pass. So far only three GOP senators, Susan Collins (R–Maine), Lisa Murkowski (R–Alaska) and Thom Tillis (R–N.C.) have said they'd vote to terminate Trump's national emergency.
"There is no intellectual honesty in now turning around and arguing that there's an imaginary asterisk attached to executive overreach — that it's acceptable for my party but not thy party," said Tillis in a Monday night Washington Post op-ed.
That Tillis, Amash, and others are willing to buck their party to oppose Trump's national emergency declaration is a positive development. Less encouraging are the reactions of their fellow GOP lawmakers.
On Monday, Politico surveyed over a dozen Senate Republicans who still haven't decided if they'll vote to actually oppose Trump's emergency, despite criticizing it as unwise or even unconstitutional. At least ten GOP senators, including Lindsey Graham (R–S.C.) and Mitch McConnell (R–Ky.) have given unambiguous support for the president's declaration.
Equally worrying is the reaction from some Democrats, who seem less bothered by the constitutional or legal ramifications of Trump's emergency declaration, and more worried that it's not being invoked for progressive policy aims.
Last week, Sen. Elizabeth Warren (D–Mass.) suggested in an interview that while the lack of a border wall is not a national emergency, climate change, gun violence, and student loan debt are. "That's what we ought to be working on," said Warren.
Rep. Ilhan Omar (D–Minn.) was even more explicit, tweeting, "our next President should declare a #NationalEmergency on day 1 to address the existential threat to all life on the planet posed by Climate Change."
It will likely be a few more weeks until the Senate votes on the resolution passed by the House today. Trump has already promised to veto the measure. According to CNN, it's unlikely that Congress would be able to summon the two-thirds majority necessary to override the president's veto.
So, while it's welcome that Congress is at least attempting to grab back some of its powers from the executive with today's vote, it's quite likely that it will have minimal practical effect.