Can You Name the Only Republican to Co-Sponsor a Bill Blocking Trump's National Emergency?
More than 200 Democrats-plus one Republican-co-sponsor a joint resolution against Trump's national emergency declaration.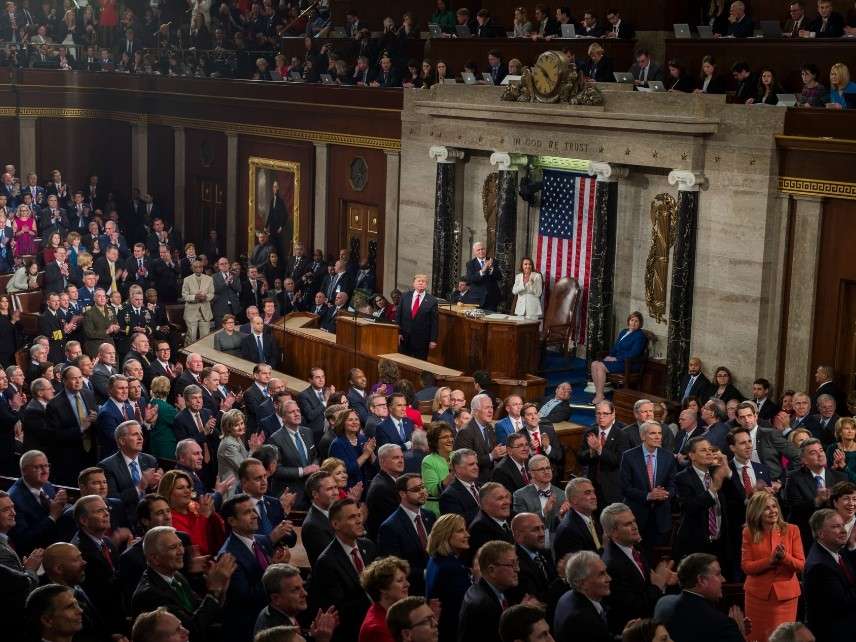 More than 200 members of the House of Representatives are co-sponsoring a joint resolution to block the national emergency that President Donald Trump declared last week to fund a wall on the U.S.–Mexico border. The vast majority of the resolution's sponsors are Democrats, with one exception—Rep. Justin Amash (R–Mich.).
"Right now I believe that we're at about 226 or 227 co-sponsors, including one Republican, Justin Amash, and I look forward to getting more support as the days go on," Rep. Joaquin Castro (D–Texas), who introduced the measure, told reporters this morning.
The one-page resolution is straightforward. It cites the part of the National Emergencies Act that allows a joint congressional resolution to terminate a national emergency.
A majority of the Democrat-controlled House has already co-sponsored the legislation, so it will likely be approved there. Things are much less certain in the Senate, where Democrats hold just 47 seats, though Sen. Susan Collins (R–Maine) has said she will also vote "yes." Even if three more Republicans defect—and that could happen, since several GOP senators have criticized the president's move—Trump would almost certainly going veto it. The bill's supporters would need two-thirds majorities in both houses of Congress to override a presidential veto. This seems unlikely, as Republican leaders in Congress have largely endorsed Trump's plan to reallocate roughly $3.5 billion from the military construction budget in order to build the wall.
Still, Democrats have reached out to Republicans to try to convince them to support the resolution. "This is a historic power grab and it will require historic unity by members of Congress—Republican and Democrat, liberal and conservative—to counteract the president's parasitic movement," said Castro.
House Speaker Nancy Pelosi (D–Calif.) has also called on Republicans to help act as a check on the president's power. "I know they care about the Constitution of the United States," she told reporters today. "I know they care about the separation of powers."
It's no surprise that Amash would break with his colleagues on this issue. After Trump declared the emergency, the Michigan representative tweeted that the president was "attempting to circumvent our constitutional system."
"Congress should (and I will) work to repeal laws that ostensibly grant legislative powers to the president," he wrote. "But even if Congress does no such thing, such laws are void under our Constitution, and any emergency declaration by the president for a non-emergency is likewise void."
Amash, notably, is not opposed per se to the idea of a wall on the southern border. But he does have concerns over the property-rights ramifications of building such a wall. That's why he introduced a bill last month that would requiring the feds to offer landowners "just compensation" before seizing their property to make room for the barrier.