New Study Casts Doubt on the Claim That Vaping Causes Smoking
Past-month vaping did not predict experimentation with cigarettes in a large sample of teenagers.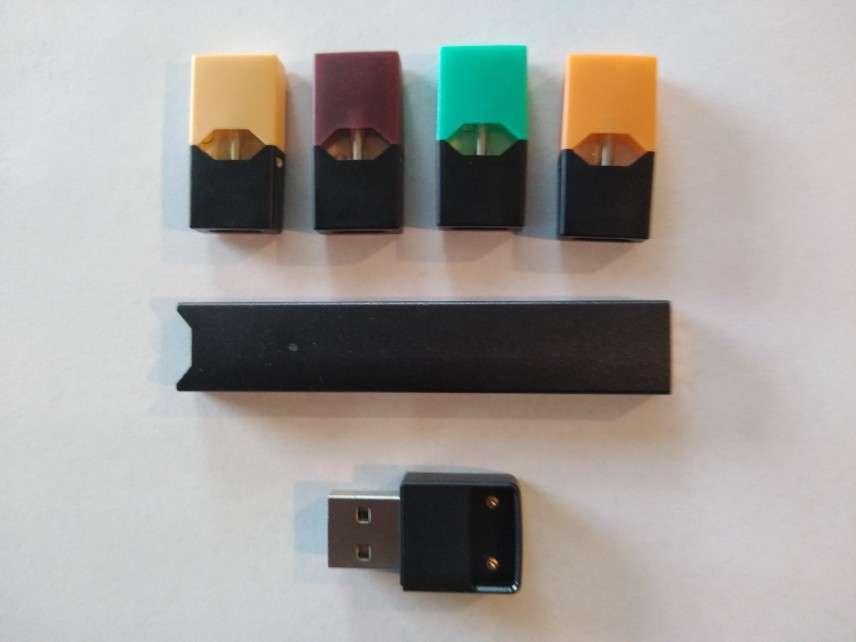 A recent study confirms that teenagers who try e-cigarettes are more likely than those who don't to subsequently try conventional cigarettes, which is consistent with the hypothesis that vaping is a gateway to smoking. But this association is also consistent with the hypothesis that pre-existing differences make some teenagers more likely to experiment with both products, and a closer look at the data casts doubt on the idea that vaping causes smoking.
The study, reported last month in the Journal of the National Cancer Institute, is based on the Population Assessment of Tobacco and Health, which includes a sample of about 12,000 12-to-17-year-olds. Among the students who in 2013-14 had never smoked a cigarette, the ones who had experimented with an "electronic nicotine delivery system" (ENDS) were three times as likely as those who hadn't to have smoked a cigarette by the time of the next survey in 2014-15. The researchers conclude that "ever ENDS use predicts future cigarette smoking."
Notably, however, recent (past-month) ENDS use in the first survey was not associated with subsequent smoking (see Supplementary Table 5, which you can download here). That suggests the overall correlation does not reflect regular vapers who move on to smoking after getting hooked on nicotine. To the contrary, it looks like the more frequent ENDS users tend to stick with e-cigarettes. As Boston University public health professor Michael Siegel notes on his tobacco policy blog, "This finding is consistent with the hypothesis that youth who try e-cigarettes and do not particularly enjoy them such that they become regular users are the ones who are more likely to try smoking, but that youth who actually become vapers are not any more likely to subsequently try a real cigarette."
Siegel calculates that just 21 never-smoking teenagers who reported any past-month vaping in the first survey had tried cigarettes by the second survey. It is not clear that any of them were ever regular vapers or that any of them ever became regular smokers. "It is possible that vaping was not a gateway to smoking for any of these 21 youth," Siegel writes, "but even if it was, they represent just 0.2% of the youth population." He concludes that "despite the widespread claims that vaping is a gateway to smoking initiation among youth, the most definitive study to date of this issue fails to provide any evidence to support that contention." To the contrary, he says, "it provides evidence suggesting that vaping acts as a kind of diversion that can keep some youth away from cigarette smoking."
The overall vaping rate rose between the two surveys while the smoking rate declined, which is consistent with national trends measured by other surveys and with the hypothesis that some teenagers who would otherwise be smoking are vaping instead. So is the finding that cigarette use in the first survey predicted ENDS use in the second survey among teenagers who initially reported no vaping. Furthermore, using ENDS on one to five days in the month prior to the first survey was associated with a statistically significant decrease in the number of past-month smoking days reported in the second survey.
To justify e-cigarette restrictions that he admits may deter smokers from quitting, Food and Drug Commissioner Scott Gottlieb argues that the availability of these products is leading to more adolescent smoking than would otherwise occur. But neither the general trends nor studies like this one provide much evidence to back up that fear. If anything, it seems that e-cigarettes are helping to reduce smoking among teenagers as well as adults.