More Americans Have High-Speed Internet Access Than Ever
Preliminary FCC report claims the number of Americans with high-speed connections grew by 20 percent in 2017.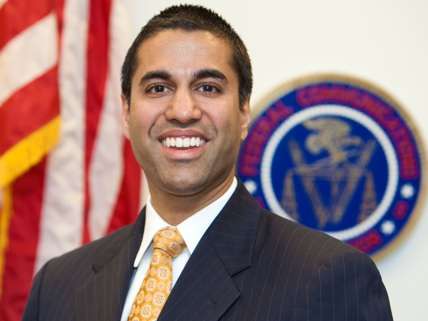 For all the drama over the repeal of Net Neutrality and continuing fears about a "digital divide" between online haves and have-nots, the number of Americans with high-speed access to the Internet continues to grow, says a preliminary report from the Federal Communications Commission (FCC).
The report covers development in 2017, the latest year for which data are available. From an FCC press release:
The number of Americans lacking access to a fixed broadband connection meeting the FCC's
benchmark speed of 25 Mbps/3 Mbps has dropped by over 25%, from 26.1 million Americans
at the end of 2016 to 19.4 million at the end of 2017. Moreover, the majority of those gaining
access to such high-speed connections, approximately 5.6 million, live in rural America, where
broadband deployment has traditionally lagged.

The private sector has responded to FCC reforms by deploying fiber to 5.9 million new homes
in 2018, the largest number ever recorded. And overall, capital expenditures by broadband
providers increased in 2017, reversing declines that occurred in both 2015 and 2016.
Other key findings of the report include the following, based on data through the end of 2017:
The number of Americans with access to 100 Mbps/10Mpbs fixed broadband
increased by nearly 20%, from 244.3 million to 290.9 million.
The number of Americans with access to 250 Mbps/50 Mbps fixed broadband grew by
over 45%, to 205.2 million, and the number of rural Americans with access to such
service more than doubled.
"For the past two years, closing the digital divide has been the FCC's top priority…We've been tackling this problem by removing barriers to infrastructure investment, promoting competition, and providing efficient, effective support for rural broadband expansion through our Connect America Fund," said FCC Chairman Ajit Pai in the press release, which is available as a download here.
This is a preliminary report, which is being circulated among FCC commissioners, who will vote to approve or reject its finding. There are five FCC commissioners, with three seats going to Republicans and two to Democrats (whichever party runs the White House gets the majority). The vote is expected to go along party lines and one commissioner has already publicly dissented, saying that the rural buildout is too slow and justifies more-intrusive regulation. According to a source at the FCC, the full report could be released in a "few days or week."
The @FCC just shared with me a draft report on the state of broadband. It concludes that across the country broadband deployment is reasonable and timely.

I beg to differ.

Millions of households—in rural and urban communities—have no access to high-speed service. That's a fact.

— Jessica Rosenworcel (@JRosenworcel) February 19, 2019
It's not clear what level of progress Rosenworcel would count as "reasonable and timely." But it's equally clear that, contrary to critics, more and more people get faster connections every year.
In April 2017, I interviewed Pai about his rejection of Net Neutrality rules (which he called "a solution that won't work to a problem that doesn't exist" and which were officially repealed in 2018) and his vision for telecommunications.