Amazon Kills NYC Headquarters Plans After Opposition From Local Pols
The details of the sorry saga suggest that corporate subsidies played a minor role in the company's decision.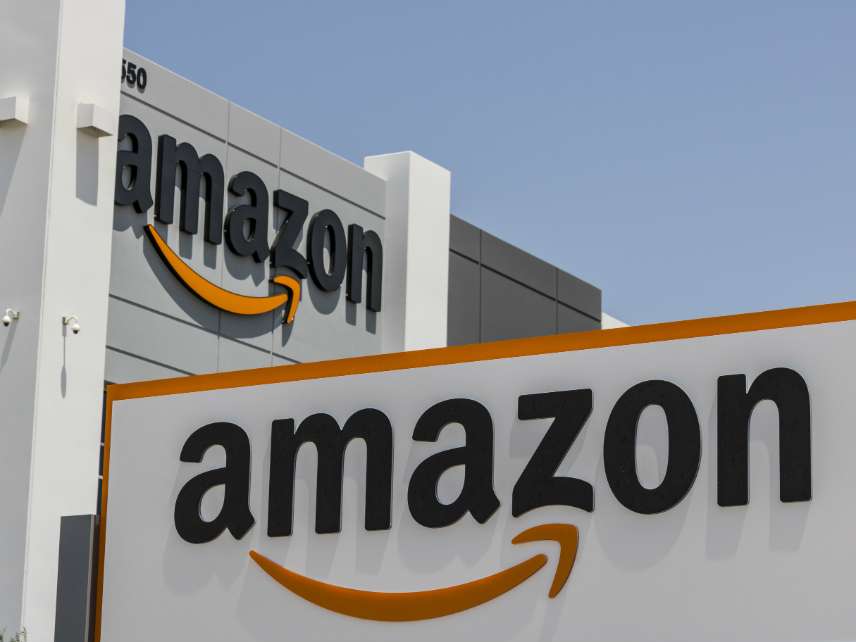 After a week of speculation, Amazon announced yesterday that it would be pulling the plug on its plans to open a new 25,000-person headquarters in New York City in exchange for $3 billion in local and state incentives.
"After much thought and deliberation, we've decided not to move forward with our plans to build a headquarters for Amazon in Long Island City, Queens," read the company's statement.
Amazon's initial decision to open a new headquarters in New York City had been greeted with enthusiasm by both Gov. Andrew Cuomo and Mayor Bill De Blasio, both of whom promised the company some $3 billion in subsidies and tax abatements to seal the deal.
Most New Yorkers seemed pleased with the deal as well, despite the corporate welfare baked into the deal. A Seina College poll from earlier in the week found that 58 percent of New York City residents approved of the plan.
But opposition from a few key local and state officials helped to sink the otherwise popular deal. That includes both New York City Council Speaker Corey Johnson and state Sen. Michael Gianaris (D–Queens).
Johnson's support would have been crucial for shepherding the promised local incentives, which included nearly $1.3 billion in income and property tax breaks, through the city council. Gianaris, a fierce critic of the deal struck by Cuomo and De Blasio, was appointed in early February to the state's Public Authorities Control Board, a position he could have used to block the $1.7 billion in state incentives, which included $1.2 billion in tax breaks plus between $300 and $500 million in cash grants pegged to job creation targets.
Neither Amazon nor Cuomo were shy about blaming recalcitrant politicians for killing the deal.
"A number of state and local politicians have made it clear that they oppose our presence and will not work with us to build the type of relationships that are required to go forward with the project," said Amazon in its statement.
"A small group [of] politicians put their own narrow political interests above their community—which poll after poll showed overwhelmingly supported bringing Amazon to Long Island City—the state's economic future and the best interests of the people of this state," echoed Cuomo.
Most of the deal's critics were triumphant at the news that Amazon was cancelling its plans.
"Today's behavior by Amazon shows why they would have been a bad partner for New York in any event," Gianaris itold CNBC. "It is time for a national dialogue about the perils of these types of corporate subsidies."
How New Yorkers themselves should feel about the Amazon deal falling through is a harder thing to say. It's no doubt a good thing that taxpayers in the state will be spared from having to give direct cash subsidies to one of the largest, most successful companies in the world.
It is also true, however, that most the incentives on offer were simple tax abatements, meaning the state and local governments are no richer for the Amazon deal not going through. The city will also lose out on the jobs and investment that would have come from the e-commerce giant locating in the city.
What the company itself will do next remains to be seen. So far, Amazon has said that it has no plans to solicit bids from more cities for a new headquarters. Nor will it be shifting NYC-bound workers to its other planned campuses in Arlington, Virginia, and in Nashville, Tennessee, even though both locations offer per-job subsidies beyond what Amazon has already committed.
Last week, Virginia Gov. Ralph Northam signed an incentive deal that promises per-job subsidies for up to 37,250 Amazon employees, even though Amazon has said it had planned only to add 25,000 jobs to the area. Should Amazon expand its workforce to that 37,250 threshold, it could reap an extra $200 million in cash subsidies.
Something similar could be said of Nashville. The local government there has yet to sign off on any finalized deal. But the original incentive package offered by then–Mayor Megan Barry in November 2017 promised the company a $500 annual grant per job created for 15 years. That offer makes it explicit that this deal was good for an unlimited amount of jobs.
That Amazon is leaving this cash on the table suggests that corporate subsidies—while obviously appreciated by the company—are not the main force driving its decision.
The Mercatus Center's Michael Farren made this exact point to The New York Times in November when Amazon announced it would be opening a headquarters in Arlington, Virginia, and not nearby Montgomery County, Maryland—which had offered substantially more in subsidies.
"An additional $7.5 billion in subsidies wasn't enough to get Amazon to move across the river. That just says that subsidies were never what mattered in the first place," Farren told the Times.
The same thing can be said for Amazon's initial plans to open up in New York City, which came with $3 billion in incentives, rather than Newark, New Jersey, which was offering $7 billion in local and state sweeteners.
Given that one of the primary reasons Amazon looked to open campuses beyond Seattle was to avoid local politicians blaming them for all the city's problems, it shouldn't be too surprising that the company pulled out of New York after they realizing they'd be getting much the same treatment there.
That corporate subsides seem to have been a minor factor in this whole saga should be a lesson to politicians everywhere who are eager to give away the farm in order to attract the next corporate titan.