Spending Bill Ignores Promised Funding for Major Criminal Justice Reform Passed Last Year
The FIRST STEP Act was supposed to get $75 million to fund reentry programs and job training. That's missing from the budget bill being voted on Thursday.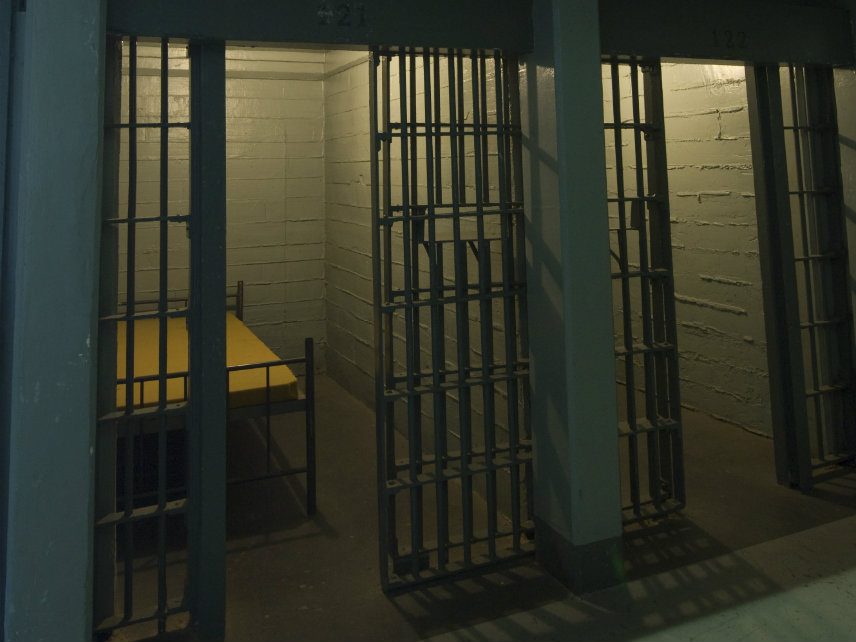 Activists who worked with both parties to pass a signature criminal justice reform bill late last year sounded the alarm on Thursday as a major spending bill worked its way quickly through Congress—without, apparently, including promised funding for the newly passed law.
As Reason's C.J. Ciaramella reported in December when it passed, the FIRST STEP Act aimed to reduce federal prison populations by shrinking some mandatory minimum sentences, giving judges greater discretion over the lengths of prison sentences. Importantly, the bill also called for expanding job training opportunities and programs that seek to ease prisoners' reentry into society, and for funding a risk assessment system that would be used to give some inmates access to early release.
The FIRST STEP Act authorized $75 million in spending annually from fiscal year 2019 (the current fiscal year) through fiscal year 2023, with most of that funding directed to the federal Bureau of Prisons, which is part of the Department of Justice. It was widely assumed that funding would be included in the omnibus bill now before Congress—the most high-profile element of which is funding for President Donald Trump's border wall—but there is no explicit funding for the FIRST STEP Act included in the bill.
The omission is particularly glaring since President Donald Trump had highlighted the passage of the bill just 10 days ago at the State of the Union address. Among the White House's guests for the occasion was Alice Johnson, whose story, Trump said, "underscores the disparities and unfairness that can exist in criminal sentencing—and the need to remedy this injustice."
"Notably, for President Trump's agenda, the bill entirely fails to provide appropriations for one of his greatest legislative victories thus far in his term—the First Step Act," said Adam Brandon, president of FreedomWorks, a free market group that supported the passage of the FIRST STEP Act. "It is unacceptable that Congress should not find it important to fund this massive legislative victory, while it simultaneously has no problem funding above and beyond for wasteful programs."
In a statement posted online Thursday afternoon, Brandon called for lawmakers to vote against the omnibus bill, citing concerns about profligate spending, a rushed timeline for a final vote, and the lack of funds for the FIRST STEP Act. The 1,000-plus page bill was unveiled in the early hours of Thursday morning, and had already cleared the Senate (with an 83-16 vote) on Thursday evening.
(For more on the spending components of the bill, see Christian Britschgi's report here. For more on Trump's decision to take $1.3 billion for a border and then declare a national emergency to spend even more money on a wall, see Joe Setyon's report here.)
It's possible the FIRST STEP Act could still receive its promised funding by reallocating other Bureau of Prisons funding, but criminal justice reform advocates told Reason they were skeptical that could happen. Newly confirmed Attorney General William Barr would likely have some control over those decisions, and he has a track record of being skeptical of sentencing reforms—while advocating for putting more people behind bars. It seems unlikely that he'd find $75 million in his own budget if Congress doesn't put it there.
"I think that's potentially a big issue," Brett Tolman, a former federal prosecutor who now works on criminal justice issues, told Reason. "If [DOJ] has the ability to control that money, it's going to take political pressure to get them to spend it" on the FIRST STEP Act, he said.