New Bipartisan Spending Deal Includes Billions More for Border Barriers, TSA, and Everything In Between
With the federal government $22 trillion in debt, Congress has decided to spend more money.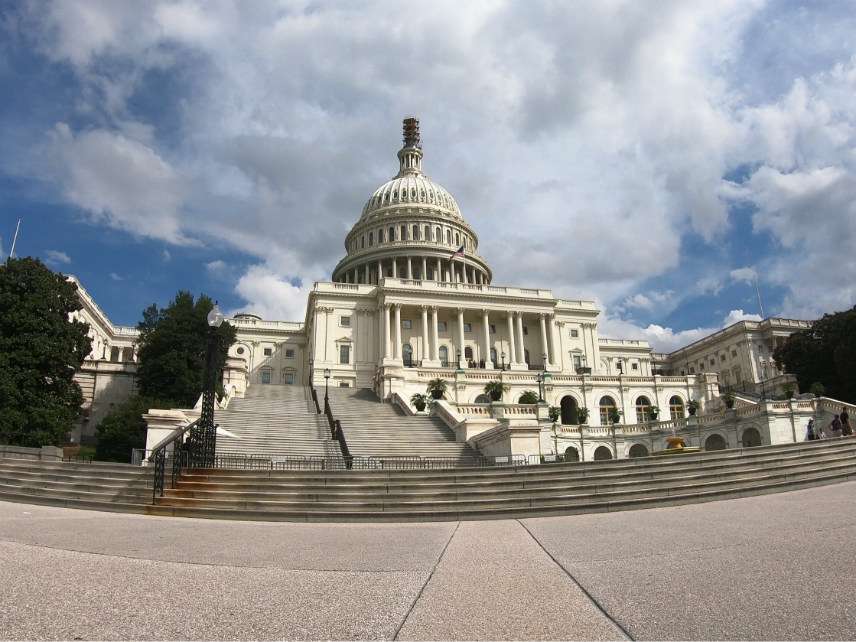 Late last night, the House and Senate budget committees agreed to a new spending package that will avert an impending government shutdown. The bipartisan agreement gives President Donald Trump less than he wanted for border security, but more than he asked for on most other line items in the budget.
This new appropriations package—technically a combination of seven different spending bills—allocates $328.6 billion in discretionary spending for everything from homeland security and the State Department to the transportation and housing; a $54 billion increase from the White House's 2019 budget request.
One of the few expenditures to receive less money than requested was the border wall. Trump had insisted on $5.7 billion in new funding for 200 miles of wall. The deal struck by Congress instead allocates $1.3 billion on 55 miles of "physical barrier" in the Rio Grande Valley.
Whether it actually funds a "border wall"—the proximate cause of the previous month-long shutdown—is still up for debate.
"This legislation makes a significant down payment on the border wall and provides a bipartisan path forward to complete the remaining [Fiscal Year 2019] spending bills," said Sen. Richard Shelby (R–Ala.) in a statement which urged his colleagues to approve the package.
However, Rep. Nita M. Lowey (D–N.Y.), chairwoman of the House Appropriations Committee, insists this is a victory for wall opponents, saying in a press release that "this agreement denies funding for President Trump's border wall and includes several key measures to make our immigration system more humane."
Trump himself tweeted approvingly of the deal on Tuesday, before details were finalized, writing "not an easy task, but the Wall is being built and will be a great achievement and contributor toward life and safety within our Country!" A tweet issued today by the president says that he and his advisors are reviewing the deal.
That the same budget item can mean all things to all people shows how silly the past few months of budgetary politics have been, particularly when one considers all the new, less controversial border security funding included in this new deal.
The Department of Homeland Security (DHS) will be getting an additional $2 billion above what Trump asked for in his budget request.
Customs and Border Protection (CBP)—which oversees Border Patrol—is getting $15 billion, including nearly $1 billion more in discretionary funds than it received in fiscal year 2018, and some $734 million more than Trump requested in his budget proposal. Immigration and Customs Enforcement (ICE) will get $7.5 billion, roughly $500 million more than last year, but $700 million less than what was requested by the White House. Another $100 million would go toward new border security spending, according to a summary of the spending plan.
Overall, the new spending agreement hashed out by Congress includes $22.5 billion for border security.
Some of the new funding is earmarked for improving conditions in immigration detention facilities, and for finding alternatives to detention for suspected illegal immigrants. Nevertheless, for all the heated rhetoric about border security and immigration, this spending agreement largely represents a doubling down on our current immigration status quo, something Reason's Nick Gillespie noted earlier this week.
"On immigration, as on many other issues, it turns out that the differences between Republicans and Democrats is more about semantics and small details rather than contrasting principles," wrote Gillespie.
Several other agencies are also getting billion-dollar spending increases.
The Transportation Security Administration, part of DHS, gets close to $900 million in new discretionary funding, which will be used to pay for salary increases, more agents, and an additional 50 canine teams.
The Departments of Transportation (DOT) and Housing and Urban Development (HUD) get funding increases of $500 million and $1 billion respectively, despite Trump's demands to scale back these departments significantly.
The same goes for spending on the Departments Agriculture, Justice, Commerce, and State, which all get slight boosts over 2018 levels.
The Wall Street Journal notes that some conservative members of Congress think the agreement spends too much, and that a few progressives are troubled by how much it spends on border security.
The spending package is nevertheless expected to be passed today with overwhelming support from both Republicans and Democrats. If passed, it will fund the government through September 30.