Green New Deal—Same Old Progressive Policies
Using climate change to justify government-guaranteed jobs, health care, and housing.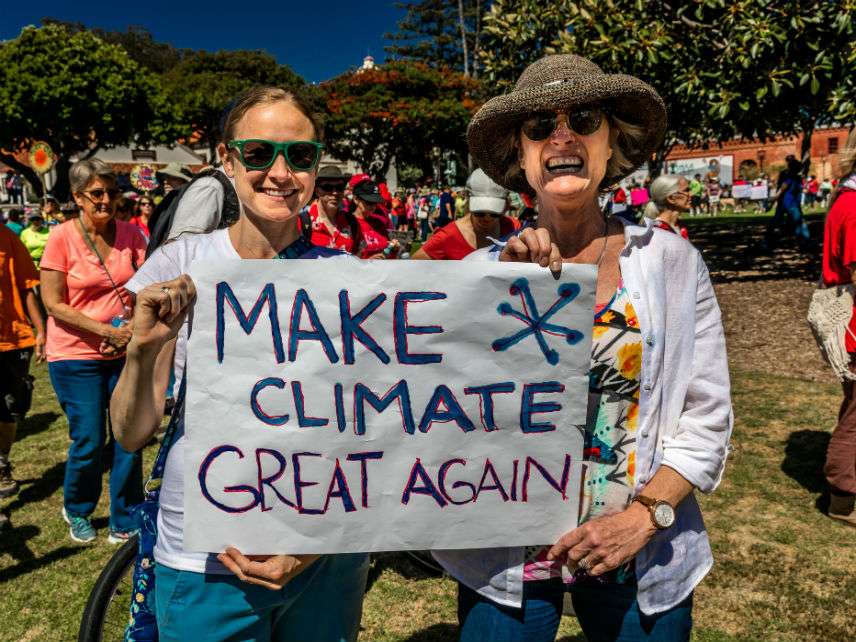 The Green New Deal resolution unveiled by Rep. Alexandria Ocasio-Cortez (D–N.Y.), a self-described socialist, ostensibly addresses the looming problem of man-made climate change. Remarkably, the solutions to the global warming crisis somehow coincide with a wish list of previously proposed progressive policies.
Apparently, for example, tackling climate change will require "guaranteeing a job with a family-sustaining wage, adequate family and medical leave, paid vacations, and retirement security to all people of the United States." Fortunately, progressives in Congress have already been offering legislation that would fortuitously meet the employment challenges posed by global warming.
The Job Opportunities for All Act, introduced last July by Rep. Ro Khanna (D–Calif.), would provide federally subsidized employment for any individuals who happens to be unemployed or underemployed. In May 2017, Democrats in both the House and the Senate introduced the Raise the Wage Act, which increases the federal minimum wage over time to $15 an hour; that bill was reintroduced in January. In February 2017, Sen. Kirsten Gillibrand (D–N.Y.) introduced the Family and Medical Insurance Leave (FAMILY) Act, which aimed to provide workers with a "reasonable level of wage replacement" when they take time off work to care for a family member who is ill.
Another goal of the Green New Deal is "strengthening and protecting the right of all workers to organize, unionize, and collectively bargain free of coercion, intimidation, and harassment." Last year Sen. Bernie Sanders (I–Vt.) reintroduced the Workplace Democracy Act, which would sanction "card check," a process that allows employees at a company to bypass secret-ballot elections and declare their intent to unionize by simply signing cards. (By undermining worker solidarity, secret ballots apparently contribute to climate change.) Sen. Elizabeth Warren (D–Mass.) introduced in September 2017 the Protecting Workers and Improving Labor Standards Act, which would have repealed all right-to-work laws. And in the wake of the Supreme Court's Janus decision last year, which held that a public sector union cannot force workers to pay dues if those same workers decline to join the union, congressional Democrats rolled out the Public Service Freedom to Negotiate Act to overturn the decision.
By another happy coincidence, beating climate change requires that the federal government be put in charge of "providing all people of the United States with high-quality health care."
The Expanded and Improved Medicare for All Act, introduced in January 2017 by Rep. John Conyers (D–Mich.), would "provide all individuals residing in the United States and U.S. territories with…all medically necessary care, such as primary care and prevention, dietary and nutritional therapies, prescription drugs, emergency care, long-term care, mental health services, dental services, and vision care." Rep. Pramila Jayapal (D–Wash.) is expected to introduce an even more comprehensive version of Medicare for All later this year. Maybe it could tackle climate change.
Since no American should be left out in the heat, the Green New Deal calls for the federal government to provide all people of the United States with affordable, safe, and adequate housing. Again a number of progressive legislators have, for other no doubt good reasons, been making a variety of Housing for All proposals. Most recently, Sen. Kamala Harris (D–Calif.) introduced in July 2018 the Rent Relief Act, which would provide refundable tax credits for tenants who spend more than 30 percent of their income on rent.
In order to make sure that Americans know enough to combat climate change, the Green New Deal asks the federal government to "provide resources, training, and high-quality education, including higher education, to all people of the United States." Providentially, Sen. Bernie Sanders (I–Vt.) introduced in 2017 the College for All Act, which would eliminate tuition and fees at four-year public colleges and universities for families making up to $125,000.
The GND would also "ensure a commercial environment where every businessperson is free from unfair competition and domination by domestic or international monopolies." By chance, progressive legislators on Capitol Hill have been advancing the fight against global warming by proposing antitrust legislation. For instance, in September 2017 Sen. Amy Klobuchar (D–Minn.) introduced the Consolidation Prevention and Competition Promotion Act, which prohibits mergers that materially lessen competition. Last August, Sen. Elizabeth Warren introduced the Accountable Capitalism Act, which would require large corporations to set aside the mere pursuit of profit and instead focus on creating a "general public benefit," defined as "a material positive impact on society resulting from the business and operations of a United States corporation, when taken as a whole." Material positive impacts like…combating climate change!
In her 2014 book This Changes Everything: Capitalism vs. the Climate, Naomi Klein declared that progressive values and policies are "currently being vindicated, rather than refuted, by the laws of nature." Who knew just how right she was?