New Jersey Slaps Criminal Penalties on Gun Manufacturing Instructions
The state can't scrub gun manufacturing info from the internet, so they're trying to make distributing it a crime--First Amendment be damned.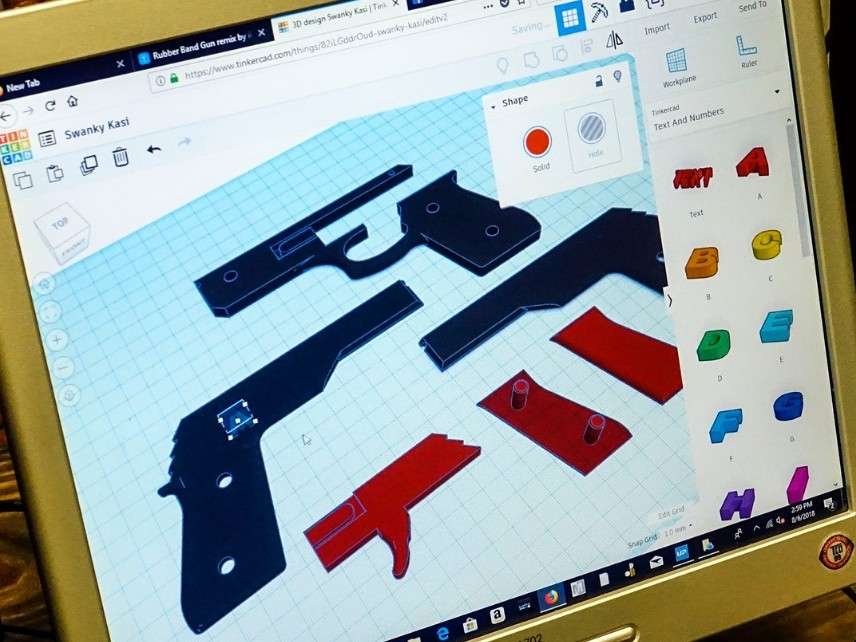 A federal lawsuit that Defense Distributed and Second Amendment groups filed late Tuesday is challenging New Jersey's attempt to rid the internet of information about how to make 3D-printable firearms.
The First Amendment lawsuit is a response to New Jersey Attorney General Gurbir Grewal's ongoing campaign to restrict firearm-related manufacturing instructions, which escalated to a threat of criminal prosecution on February 2.
Court filings say that Grewal sent this ominous warning to Cloudflare, which provides caching and other services for CodeIsFreeSpeech.com:
This is a notice to Cloudflare that you are serving files consisting of 3D printable firearms in violation of NJ Stat. Ann. § 2C:39-9 3(l)(2). These files are accessible via Cloudflare's New Jersey datacenter. You shall delete all files described within 24 hours or we will be forced to press charges in order to preserve the safety of the citizens of New Jersey.
New Jersey enacted that criminal statue last November precisely to target Defense Distributed and CodeIsFreeSpeech.com, a mirror site created by Firearms Policy Coalition, Calguns Foundation, the California Association of Federal Firearms Licensees, and other advocacy groups. CodeIsFreeSpeech.com has been republishing firearm-related files ever since Defense Distributed was forced to take them offline temporarily as a result of an earlier injunction. Now CodeIsFreeSpeech.com's files are also offline until the current lawsuit is resolved.
The new state law—which Grewal hailed as a win for "public safety"—carves out a First Amendment exception relating to information about firearm manufacturing. It's now a crime for "a person to distribute by any means, including the Internet… digital instructions in the form of computer-aided design files or other code or instructions… that may be used to program a three-dimensional printer to manufacture or produce a firearm, firearm receiver, magazine, or firearm component."
This is a remarkably broad prohibition: it goes beyond banning the manufacturing of firearms and instead criminalizes information about how to manufacture firearms. And it's backed by criminal sanctions including fines and imprisonment for up to 10 years.
Federal courts have, reasonably, taken a dim view of this kind of prohibition, which is at odds with First Amendment jurisprudence. The few categories of speech lacking First Amendment protections include obscenity, fighting words, threats, and defamation. Missing from that short list is gunsmithing information. (And given the existence of the Second Amendment's protections for the right to keep and bear arms, instructions on how to exercise those rights seem a less-than-obvious candidate for prohibition.)
As a practical matter, because the New Jersey law prohibits the distribution of firearm-manufacturing information to any "person in New Jersey," it's effectively a national ban. It imposes New Jersey's idiosyncratic views on firearm manufacturing instructions (and the First and Second Amendments) on the entire nation. Gunsmiths in Idaho and Montana are unlikely to be delighted at having Grewal dictate what they're allowed to do online. In addition, plans can be used for purposes other than manufacturing, including simulation or modeling, making the law even broader than it might seem at first glance.
And presumably the New Jersey law's broad prohibition on "digital instructions"—a term that sweeps in more than CAD files—might worry companies like Amazon, which sell hundreds of books on gunsmithing including in digital formats. Reason's step-by-step instructions on how to manufacture your own off-the-books handgun are available digitally as well.
Last summer, Grewal characterized his efforts as a way to keep firearms out of the hands of people who shouldn't have them: "Terrorists. Felons. Fugitives. They can't buy guns. But they can buy 3D printers. And that's what makes Defense Distributed so dangerous. The company cannot be allowed to publish its printable gun files online."
Even if the files are temporarily gone from Defense Distributed's Defcad.com and CodeIsFreeSpeech, they remain available on innumerable other sites. Plans for the famous Liberator, a printable single-shot handgun, are available on Github. And there's a handy code repository that lets you easily mirror the FOSSCAD (the acronym stands for Free Open Source Software & Computer Aided Design) archive, which includes the files for scores of firearms. Not even New Jersey's determined civil servants are likely to be able to scrub these from the Internet.
The lawsuit filed this week effectively renews an existing court battle between Grewal and Defense Distributed. In that case, Defense Distributed claimed that New Jersey's law was unconstitutional. But a federal judge in Texas ruled on January 30 that he did not have jurisdiction over the New Jersey attorney general and dismissed the case on procedural grounds.
"The Constitution's protections exist because of authoritarians like New Jersey Attorney General Grewal," Brandon Combs, founder of Firearms Policy Coalition, told Reason. "He just does not have the authority to redline the Bill of Rights through unconstitutional enforcement of Orwellian speech crime statutes. The right to speak doesn't end at New Jersey's borders. Neither does the right to bear arms."