South Bend Mayor and Possible Presidential Candidate Pete Buttigieg Decries "Endless War"
South Bend Mayor Pete Buttigieg, a veteran, believes that military intervention should be a last resort.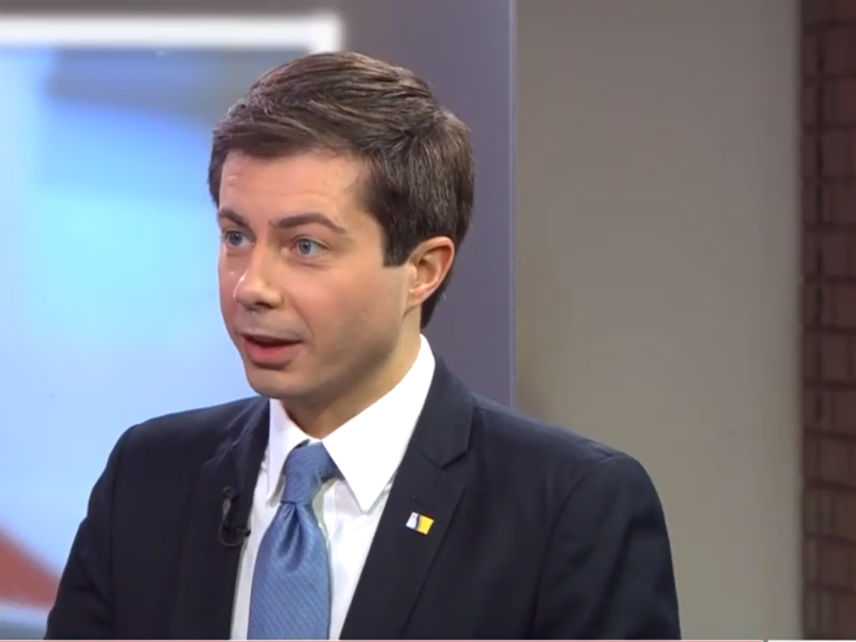 Pete Buttigieg, the Democratic mayor of South Bend, Indiana, is no fan of perpetual war.
Buttigieg, who served as a lieutenant in the U.S. Navy Reserve and was deployed to Afghanistan, announced the formation of an exploratory committee for the upcoming presidential election just last week. Since that time, he has made a number of media appearances to explain his policy beliefs, including a Thursday appearance at CBS News. It was here that he shared his belief that "endless war cannot continue."
"We're on an authorization that was passed in 2001. There are people enlisting right now who weren't alive for that," he said, responding to a question about President Donald Trump's desire to pull American troops from Syria and Afghanistan.
Buttigieg listed some conditions for leaving Afghanistan, which included conversations with America's enemies to devise a peace plan and obtain assurances to keep the country from turning into a failed state. Buttigieg finished his thoughts by saying, "Afghanistan's not going to look like Switzerland and that's okay." For Buttigieg, the purpose of American intervention was not to establish a Western democracy, but to make sure events within the country did not harm American lives.
Speaking of both American intervention in the Middle East as well as rumors of an intervention in Venezuela, Buttigieg decried the misuse of military resources. "We don't send troops somewhere because we don't like the regime," he said. "We send troops somewhere because it is the last resort to protect American lives." Buttigieg opined that foreign policy mistakes made at the beginning of the century were the result of taking "eyes off that standard."