Los Angeles Sheriff's Department
When Reason Requested the New L.A. Sheriff's Disciplinary Records, the Deputies Union Got an Injunction to Block Us
A newly passed police transparency bill is under attack across the state. The latest tactic: insisting it's not retroactive.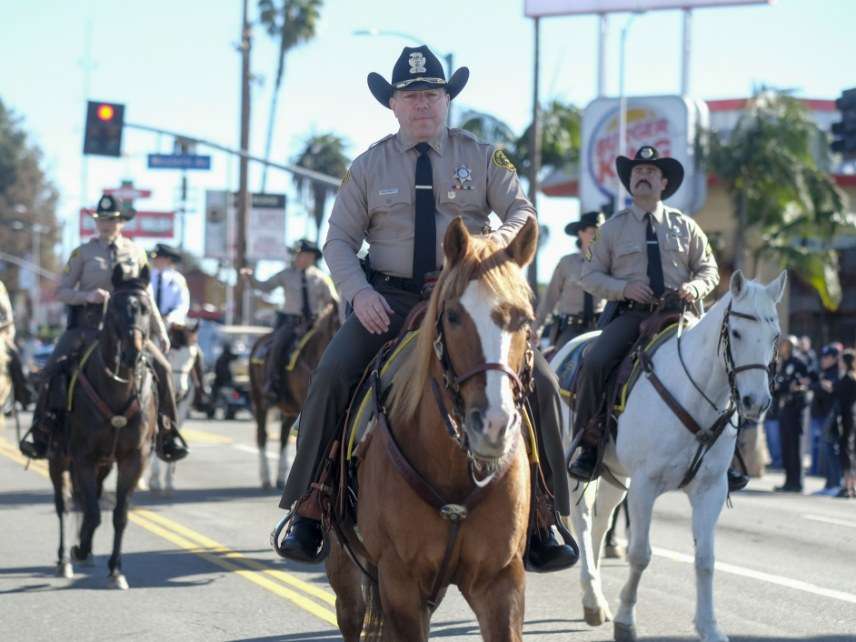 A judge has temporarily rebuffed Reason in our attempt to request any disciplinary records related to new Los Angeles County Sheriff Alex Villanueva, as law enforcement unions across the state fight the implementation of a new police transparency law.
Villaneuva, who was elected last November, promised on the campaign trail to push federal immigration officials out of Los Angeles County jails and to also fight corruption and cronyism in the leadership of the sheriff's department. He claimed that he been targeted in the past for discipline and kept from advancing into leadership positions because he challenged the department for discriminating against Latino deputies.
For decades, Villaneuva's discipline records were sealed by an expansive California law that exempts details of law enforcement officers' conduct from the state's government transparency regulations. But last year lawmakers passed SB 1421, which, starting this month, was supposed to give the public access to certain law enforcement officers' records—investigations of whenever an officer fired a weapon, killed or seriously injured a person, engaged in sexual assault, or engaged in dishonest conduct on the job.
Because Villanueva declared that he had been disciplined in the past for retaliatory reasons, he seemed a prime opportunity to take SB1421 for a spin. On January 3, Reason submitted a California Public Records Act request for any files about Villanueva's performance with the Los Angeles Sheriff's Department that would be subject to release under this new law. We didn't necessarily think Villanueva had done anything wrong. He may well have been targeted for political reasons, as he claimed. But because we don't have access to those records, all we're left with is Villanueva's account of his work history.
California's public records laws gives agencies 10 days to respond to a request. On January 11, Villanueva's office sent Reason a letter asking for a 14-day extension under a provision of the law triggered by the need to get records from "field facilities or other establishments."
On January 25, shortly before this extension would expire, Reason received this message from Los Angeles Sheriff's Department's Discovery Unit:
This is in response to your request for records under the California Public Records Act dated and received by the Los Angeles Sheriff's Department Discovery Unit on January 3, 2019.

On January 24, 2019, the Los Angeles County Superior Court issued a Temporary Restraining Order enjoining and restraining the Sheriff's Department "from retroactively enforcing or applying Senate Bill 1421's amendments to California Penal Code sections 832.7 and 832.8 in any manner which would result in the disclosure or production of peace officer personnel records and information regarding incidents or reflecting conduct occurring prior to January 1, 2019 that would not have otherwise been subject to disclosure prior to January 1, 2019."

Since your Public Records Act request appears to seek such personnel records and/or information, we are unable to respond to your request at this time.
That restraining order came as a result of a request from the Association for Los Angeles Deputy Sheriffs, one of several law enforcement unions who have been trying to keep these records sealed. They are attempting to argue that SB1421 is not retroactive and applies only to records produced after the start of this year.
There is nothing in the text of SB1421 that indicates it is not retroactive. While its changes came into force with the start of the new year, it was not written in such a way that it would exempt past records. The state senator who sponsored the bill, Nancy Skinner (D–Berkeley), has said she intended for it to be retroactive. According to the Los Angeles Times, the law enforcement unions also knew it would be retroactive, and that was one of the reasons they had been fighting its passage.
Reason is certainly not the only media outlet affected by this restraining order. The Times had been trying to get the past discipline records of Deputy Caren Carl Mandoyan. Mandoyan, who was a campaign aide during Villanueva's run, was fired from the department in 2016 following allegations of stalking and abusing an ex-girlfriend. He was just reinstated by Villanueva, prompting criticism and possibly a challenge by the county's Board of Supervisors. (A call to the Discovery Unit to try to find out how many media outlets' requests have been affected by this injunction has not yet been returned.)
And it's not just law enforcement in Los Angeles trying to stop SB1421 from taking full effect. Courts in San Bernardino, Riverside, and Ventura counties have all put temporary injunctions into place stopping the release of records prior to January 1 while this fight goes on.
Now the Los Angeles Times and other media outlets are going to court as well. The Times and Southern California Public Radio are suing the L.A. County Sheriff's Department for not disclosing records. The Times has also joined with the Sacramento Bee to sue the Sacramento County Sheriff's Department for refusing to release records produced prior to 2019.
This is far from over. The injunction is in place only while the courts try to decide whether the law is retroactive or not. Do not be surprised if it eventually ends up before the state Supreme Court (though it has declined to jump in immediately), particularly if different judges disagree about the law's requirements.