FBI and CNN Turn Roger Stone Arrest Into a Media Event: Reason Roundup
Plus: a big (and bad) change to asylum policy, Arkansas upholds anti-BDS law, and Rep. Ocasio-Cortez fights Post Fact Checker on minimum wage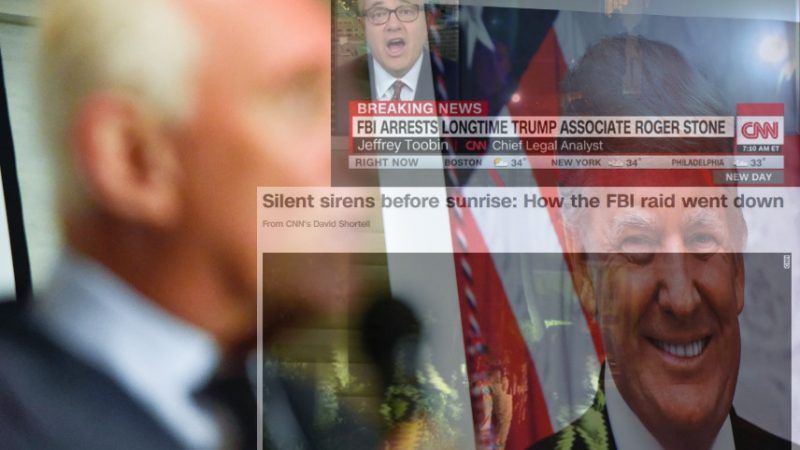 (CNN images atop photo from Michele Eve Sandberg/MEGA / Newscom)
The FBI executed an early morning raid on the home of Roger Stone, arresting the former Trump campaign adviser for allegedly communicating with the campaign about Democratic Party emails acquired by Wikileaks. The indictment charges Stone with one count of obstruction of an official proceeding, one count of witness tampering, and five counts of making false statements, and it alleges that Stone threatened a man's dog and made Godfather references in his instructions to "Person 2," Pacifica radio host and comedian Randy Credico.

Stone's arrest itself comes as no surprise ("Stone has said himself he expected to be indicted by Mueller," notes Axios), but CNN's video of the arrest seems to have ignited additional interest. CNN was there for the whole Fort Lauderdale, Florida, affair, which has media Twitter speculating about who tipped the network off.
"It's possible this tip-off came from FBI rather than Mueller's office, but either way, nobody should be comfortable having law enforcement engineer with media outlets the filming of someone's arrest at their home like a reality TV circus," The Intercept's Glenn Greenwald said this morning.
CNN has footage of the FBI agents swarming Roger Stone's home before sunrise this morning: pic.twitter.com/owGSNmgTil

— J.D. Durkin (@jiveDurkey) January 25, 2019
"CNN either acted on a tip…or had been camped out there (either is good journalism.)," tweeted Greta Van Susteren. "What is most interesting is why it was a raid and not a surrender. Fear of flight or destruction of evidence or prosecutors really not like Stone?"
The indictment notes that during Stone's tenure as a Trump campaign adviser, he "was claiming both publicly and privately to have communicated with Organization 1," a.k.a. WikiLeaks. In August 2016, WikiLeaks denied direct communication with Stone. Stone then said his communication had been though a "mutual friend" and "go-between," and he "continued to communicate with members of the Trump Campaign" about what WikiLeaks might have from Hillary Clinton and the Democratic National Committee.
The indictment further alleges that Stone "made multiple false statements" to the U.S. House Permanent Committee on Intelligence about communications with WikiLeaks, and that he "falsely denied possessing records that contained evidence of these interactions." It also says that he "attempted to persuade a witness"—that would be "Person 2," Credico—"to provide false testimony to and withold pertinent information from the investigations" about his efforts as an intermediary between WikiLeaks and Stone.
Here's Randy Credico with his dog, Bianca, who is mentioned in the Stone indictment pic.twitter.com/mmuJDIpyl6

— Betsy Woodruff (@woodruffbets) January 25, 2019
You can read the whole indictment here.
FREE MINDS
An anti-boycotting law in Arkansas has been upheld. The law bans state entities from doing business with or investing in companies that boycott Israel.

In a ruling with major implications for campus free speech, an Arkansas Federal judge ruled yesterday that the state's anti-BDS law is constitutional.https://t.co/aHslwNe6oU

— Jeffrey Sachs (@JeffreyASachs) January 24, 2019
FREE MARKETS
Rep. Alexandria Ocasio-Cortez (D-N.Y.) and The Washington Post's Fact Checker have been battling over wages, wealth transfer, and Walmart. In a column headlined "Ocasio-Cortez's misfired facts on living wage and minimum wage," Glenn Kessler explores a comment Ocasio-Cortez made during a recent interview with Ta-Nehisi Coates:
I think it's wrong that a vast majority of the country doesn't make a living wage, I think it's wrong that you can work 100 hours and not feed your kids. I think it's wrong that corporations like Walmart and Amazon can get paid by the government, essentially experience a wealth transfer from the public, for paying people less than a minimum wage.

After pointing out that "Both Walmart and Amazon do pay more than the minimum wage," Kessler writes that Ocasio-Cortez's
spokesman supplied a Washington Post article about a proposal by [Bernie] Sanders that would require large employers such as Amazon and Walmart to fully cover the cost of food stamps, public housing, Medicaid and other federal assistance received by their employees. The article cited a report that as many as 1 in 3 Amazon employees in Arizona—and about 1 in 10 in Pennsylvania and Ohio—receive food stamps.

The companies say the figures are misleading and reflect the fact that either the employees are choosing to work part time or that the entry-level workers may have been on public assistance when they first started. "We think we help move more people off public assistance than any company out there," Lundberg said.
Ocasio-Cortez then accused Kessler of relying on a Walmart-funded paper to make his point. In fact it was from an NYU professor for a Center for American Progress–hosted forum.
Since @AOC accused The Fact Checker of relying on a Walmart-funded think tank paper when we fact-checked her, we need to set the record straight. She's wrong. Don't always believe what you see on Twitter. The article has been updated with a note explaining the provenance. pic.twitter.com/9vVZNMuEPh

— Glenn Kessler (@GlennKesslerWP) January 25, 2019
QUICK HITS
Starting on Friday, Central Americans who attempt to enter the US without papers at the port of entry at San Ysidro—the most popular official border crossing for migrants seeking asylum in the United States—are going to be turned back to Mexico while their cases are pending. The shift was initially reported by Reuters, citing a Mexican official. A DHS official confirmed the plan to Vox.

The policy change means that people who are trying to exercise their legal right to seek asylum will be barred from the US for as much as a year while they wait for their claim to come before a judge. It is the most sweeping development in Trump's ongoing crackdown on asylum seekers, who are largely from Central America, and disproportionately children and families.
Hey wait a minute there is something to celebrate tomorrow. Jan 25th is the 102 anniversary of the first #sexworker rights march in the US. Great archival pics and reporting here…#twitterstorians https://t.co/OTmDnHCUAe via @Hoodline

— Eurydice Aroney (@eekiemout) January 25, 2019