As Marijuana Legalization Expands, the NFL Clings to Prohibition. For Now.
Marijuana is fully legal in 10 states, which are home to eight NFL teams (25 percent of the league), including the Los Angeles Rams and New England Patriots.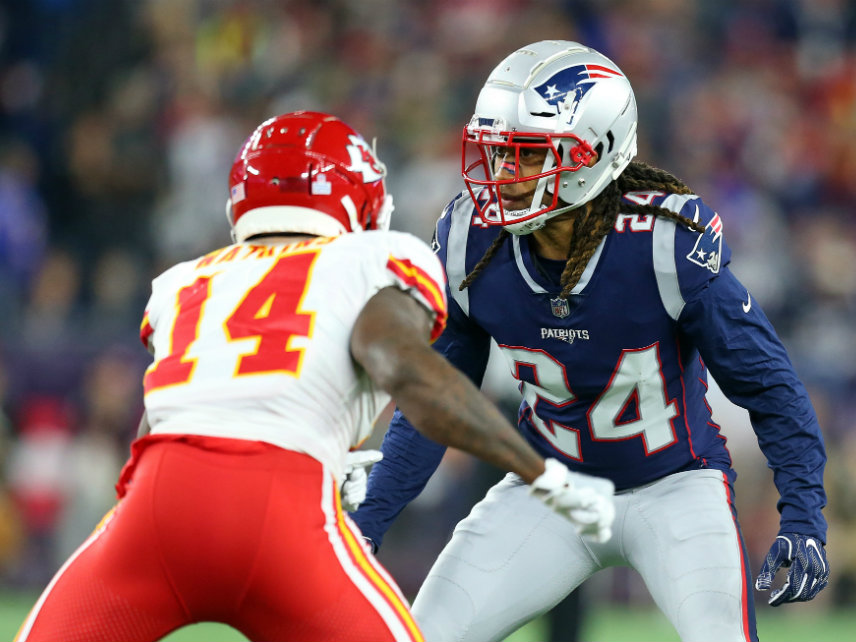 Half the players taking to the gridiron on Sunday with a shot to play in this year's Super Bowl spent the current season in places where marijuana is legal—and, legal or not, weed use is widespread in the National Football League for both recreational and medicinal reasons.
But as the social stigma and legal prohibition of marijuana use is fading across America, the NFL remains stubbornly committed to keeping the substance outlawed.
For now.
Last month, NBC Sports' Mike Florio reported that team owners are increasingly interested in legalizaing weed, though it remains unlikely that the league will adjust its current policy before 2021 when the owners and the players' union are scheduled to renegotiate the collective bargaining agreement.
"The NFL realizes that there's no longer any good reason to keep the best football players from playing football over marijuana," Florio wrote. "But the NFL isn't yet willing to make dramatic and wholesale changes to the marijuana testing policy because the NFL hopes to dangle the changes within the context of collective bargaining, securing a concession from the union in exchange for softening a policy that badly needs to be softened."
By then, America's most popular sport will have fallen even farther behind the country as a whole. When the Denver Broncos and the Seattle Seahawks played in the Super Bowl in February 2014, they were the only two teams in the league hailing from states where weed was legal—a super bowl, indeed. Just five years later, there are 10 states where recreational marijuana is legal, and those states are home to eight NFL franchises (25 percent of the league), including the Los Angeles Rams and New England Patriots, who will play in Sunday's conference title games.
While the NFL has never allowed players to use marijuana for any reason, there is a well-documented history of teams handing out pharmaceutical pain-killers by the handful. "The medicine being pumped into these guys is just killing people," former player Nate Jackson told Rolling Stone in 2016, as part of an excellent piece on the league's nonsensical marijuana rules and how they've led to an over-reliance on opioids.
No wonder so many players have opted to violate the league's marijuana ban. Last year, recently retired tight end Martellus Bennett estimated that nearly 90 percent of NFL players use marijuana at least occasionally as a treatment for football-related ailments.
"There are times of the year where your body just hurts so bad," Bennett said on a Bleacher Report podcast. "You don't want to be popping pills all the time. There are anti-inflammatory drugs you take so long that they start to eat at your liver, kidneys and things like that. A human made that. God made weed."
As Florio notes, most players—perhaps as many as 95 percent, he estimates—know how to beat the league's drug testing these days, so there is little reason for the players' union to make major concessions in order to get the league to legalize. Some owners, like the Dallas Cowboys' Jerry Jones, have been pushing for the league to drop its prohibition on marijuana for a while. The rest will eventually come around to reality.
In the meantime, the NFL will continue looking like a reflection American society as a whole: a place where marijuana use for a wide variety of reasons is increasingly common and accepted, even if still technically against the law—and where enforcement of prohibition is increasingly viewed as either a joke or a vestige of flawed, outdated ways of thinking.