Seth Rogen Serves Up '80s Wall Street Dark Comedy with Black Monday
Cocaine! Lamborghinis! Don Cheadle!
Black Monday. Showtime. Sunday, Jan. 20, 10 p.m.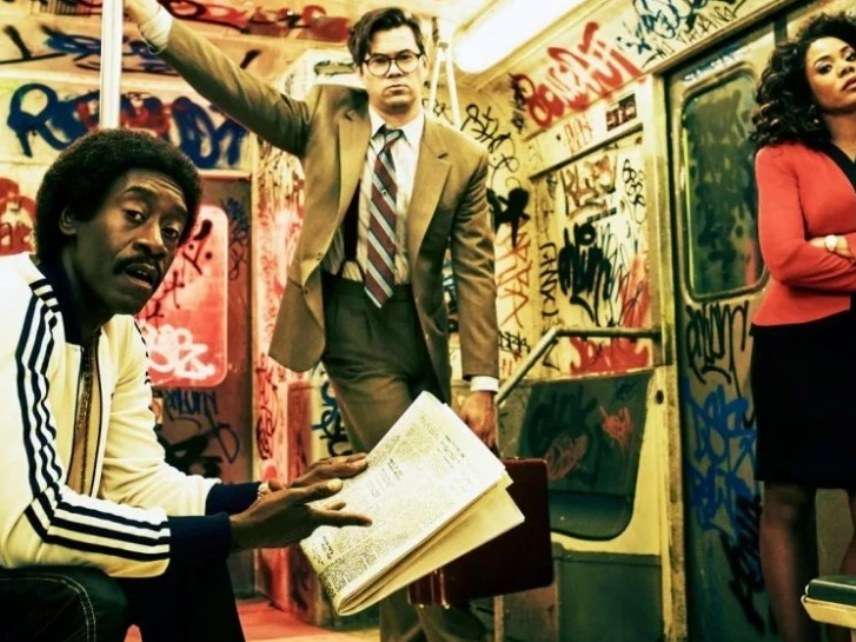 The texture of Showtime's Black Monday may be divined from two observations, both from the first 60 seconds or so of the show. First, the show opens with a body plummeting from the upper floors of a Wall Street to land on a car below. Second, this is a comedy, splattered brains and all.
Tales of frat-boy dementia among investment bankers are not uncommon these days. Showtime itself has already done two: Billions, soon to start its fourth season, and House of Lies, which lasted five.
But this is the first time anybody has unleashed director Seth Rogen, the overlord of Hollywood juvenilia, on the subject, and Black Monday is every bit as madly, sickly funny as you might expect.
There's a cocaine-dispensing robot, a Lamborghini limousine, and bad-boy badinage like "I have never fucked my brother!" Mega-rich traders snatch toys from children to give to their own kids. The amount of cocaine- and sexual-debauchery lends new meaning to such economic jargon as Gross National Debt. (Two words: Autoerotic asphyxiation.)
At the center of the melee-a-minute action is Maurice Monroe (Don Cheadle, in a role startlingly similar to the one he played in House of Lies), boss of The Jammer Group, a trading house of underdog outsiders that's short on ethics but lonnnnng on cocaine.
The megalomaniacal Monroe wants to be known as "Black Moses" but will settle for "Mo the Marauder." His thirsts for drugs and the financial blood of his enemies run neck and neck; his business ambitions almost always entail corporate rapine and ransack.
Black Monday gets underway on October 19, 1987, when a quarter of Wall Street's wealth turned to dust in a single day and some mavens really did go hurtling out of windows just like the one in the show's opening scene.
But without even identifying the victim, Black Monday immediately flashes back a year and turns—when it is not knee-deep in cocaine and polyamorous coupling—into a bit of a mystery: Who was that unrecognizably splattered person? And did he or she really jump?
Perhaps coupled with that is the recent object of Mo's unwelcome affections, a family-owned blue-jean factory in New York that he believes can be looted for its real estate holdings. But it's proving more difficult than he expected. Steps must be taken.
Don't worry, though. We're not in Agatha Christie tea-and-crumpets territory here. Black Monday, unlike most other reductionist Wall Street projects, has no moral or political axe to grind; its point is to produce laughs (maybe "inflict laughs" is a better way of putting it) without imagining it can save the world.
To do so, the manically funny Cheadle has been surrounded with a host of nutso co-conspirators. There's Andrew Rannells (Girls) as Blair Pfaff, a dorky new Wharton grad who thinks that Wall Street is all about algorithms. Watching the shrieking, punch-throwing rabble rolling around him on the floors of the trading pits, he reconsiders: "If this is trading, I may have picked the wrong career." His nut-crunching girlfriend Tiff (Casey Wilson, Gone Girl) thinks otherwise. And Mo's top trader Dawn (Regina Hall, Insecure), is as potty-mouthed and coke-nosed as anybody in the company. Which, I assure, is saying something.